OK, y'all get ready cause I'm about to weigh in on the atrocious Southern Charm drama. I don't know what bee flew into Ashley Jacobs' hair, but after three months of dating the T Rav she's abandoned sanity, lost the ability to deep condition, and turned into a Snapped meets The Bachelor crossover!
Essentially there aren't even words to describe how far Ashley crossed the line, however, the cast, including the target of the tiger's eye Kathryn Dennis, were asked if they feel Ashley went too far in Hilton Head. Craig Conover definitively summed it up with, "Yes would be the understatement of the century." I fully expect this to be cross-stitched on a pillow and delivered to Ashley very soon.
And sometimes, if only to spite Naomie Olindo, Craig makes total and utter sense. 
As for what prompted Ashley to traverse to the dark side, Naomie blames it on the al-al-al-cohol. She revealed that Ashley "rippled like 9 tequila shots before we sat down" and turned "disgusting."
"I was expecting Kathryn to be the one to get defensive or blow up, and she held her own." remarked Dani Baird. "I just felt sick to my stomach. Terrible, terrible. Like their kids are going to see that one day." Dani is the best friend. Period. She was Kathryn's most vocal defender – and the only one who legitimately intervened. Unlike Whitney Sudler-Smith who sat there salivating over the potential of Kathryn exploding, and since he's now vegan Kathryn turning crazy is the new chicken.
"Despite my differences with Kathryn, Kathryn's making real attempts to better herself and I thought she was wrongly accused." Whitney reflected. The ever benevolent Shep called Whitney's decision to remain at the table, "such a brave choice." Just stab me with a spork, because: No – speaking UP would've been a brave choice, not smacking his lips in the hopes that Kathryn would lunge at Ashley with said spork. Whitney sitting there mute and hungry is actually pathetic.
As for Kathryn, she recognized right away that Ashley was trying to bait her.
"I like blacked the f–k out; disassociated, and was like in shock panic," Kathryn explained in the Southern Charm Aftershow. "Old Kathryn would've flipped the f–k out and gone apeshit on her – basically been the equivalent of her. But everyone saw that she was just in there trying to entertain. She was on display – she was enjoying it, and when I saw that I was like, 'Hm… you don't deserve a response.'"
Meanwhile, rumor has it that Thomas is consulting with a new crisis management PR rep explicitly for damage control in an attempt to combat his sexual assault allegations and Ashley's behavior.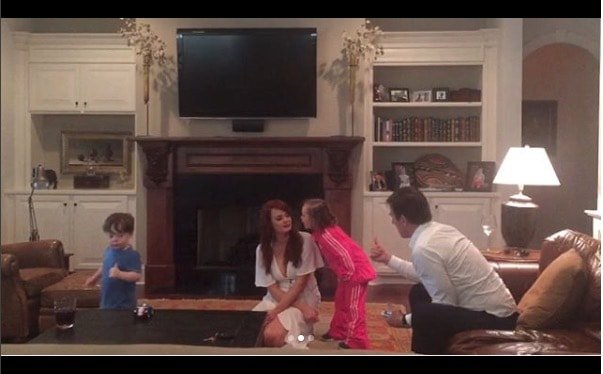 [Photo Credits: Instagram]
To make it appear like everything is hunky-dory co-parenting heaven, this weekend Thomas posted a video and photos of him and Kathryn dancing and playing with Kensie and Saint. Ashley was nowhere in sight (unless she was taking the video, but somehow I (ahem) highly doubt it.).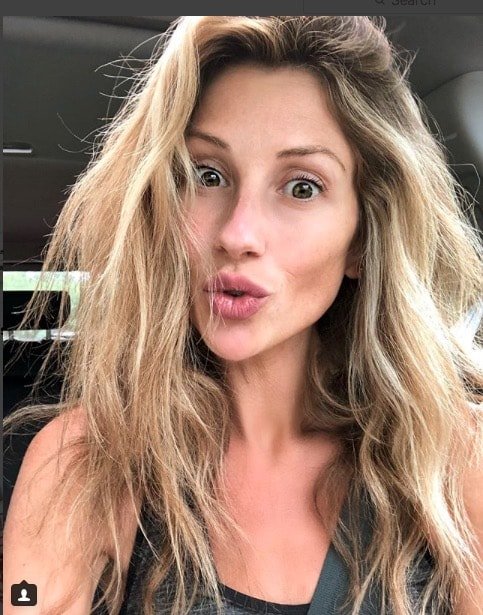 Ashley still feels no remorse for her behavior and instead challenged Instagram to try and understand her point of view. "This quote really spoke to my heart and I wanted to share it with you all- 'It's easy to judge. It's more difficult to understand. Understanding requires compassion, patience, and a willingness to believe that good hearts sometimes choose poor methods. Through judging we separate, through understanding, we grow.' At the end of the day we're all human beings… thank you SO much for your love & support Xx".
Yes, Ashley, we're all human beings – even Kathryn. Maybe you should take a lesson from her in how to act like one.
TELL US – RHETORICAL QUESTION TIME: DID ASHLEY GO TOO FAR? DID THIS INCIDENT CHANGE YOUR OPINION ABOUT KATHRYN?
[Main Photo Credit: Instagram]
https://www.instagram.com/p/BjdIkOLA6_l/?taken-by=ashleyhjacobs