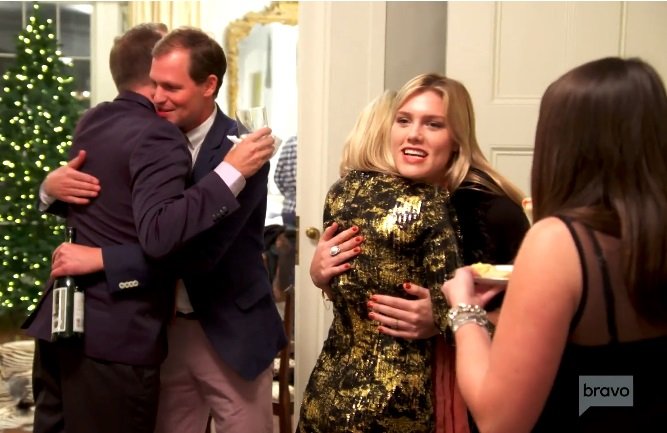 So last night was the season two premiere of Southern Charm Savannah, and I'll let you decide if it should have been #RenewedByBravo. After its weak initial run, the show didn't get nearly the traction as its franchise flagship. Now, on the heels of an explosive and exceedingly popular season of Southern Charm, will Savannah be able to keep up any momentum? Only time will tell.
I know you forgot who these people were. Don't feel bad, I did too. Allow me to provide you with a quick breakdown before the recap. Catherine Cooper will never hold a candle to the Kathryn Dennis comeback kid. You recall she turned down the proposal from her on-again, off-again beau Lyle MacKenzie to create some finale drama. Her bestie and mentor Brandon Branch joins the cast as a full-time player after many a cameo on season one. Hannah Pearson dates Louis Oswald. You remember them because she cries a good bit and has a lot of random ambitions, and he's an overgrown frat boy with a sock collection and penchant for funneling beer. Daniel Eichholz is the hot guy who took over his father's law firm and works hard to never offend. He's minimal drama at best. You remember Happy McCullough…oh wait, you don't. You don't remember Hagood Coxe either, but, as opposed to the case with Happy, it's because Hagood wasn't a part of the cast last go-round. Ashley Borders was the resident society rebel who may have had a moonlighting gig at the baggage terminal for Delta. Caught up? Yeah, I won't remember them next week either…
After reminding us of the thwarted proposal, the show opens with Catherine's new apartment. Turning thirty-three hit her hard. Jobless, manless, and clueless, she welcomes her father into the giant, historic, downtown pad he's paying for through the nose. He apologizes for putting so much pressure on her to marry Lyle. Geez, he does favor his brother, Oscar-winning actor Chris Cooper from American Beauty. Just a fun fact for you! Catherine shares that she and Lyle have taken some time but are now on the path to a committed relationship…or breaking up again. She tries to explain to her dad that she desires a courtship with Lyle while they are living in the same city, but it doesn't change the fact that Lyle's feelings are incredibly hurt. One or the other. Lyle shares the same saga with Louis on the golf course. Louis urges his friend to put his foot down, but Lyle prides himself on being non-confrontational. Louis hates that his friend is being so disrespected. All of Savannah is gossiping about what Lyle refuses to see. Lyle ends the lecture with his goofy laugh.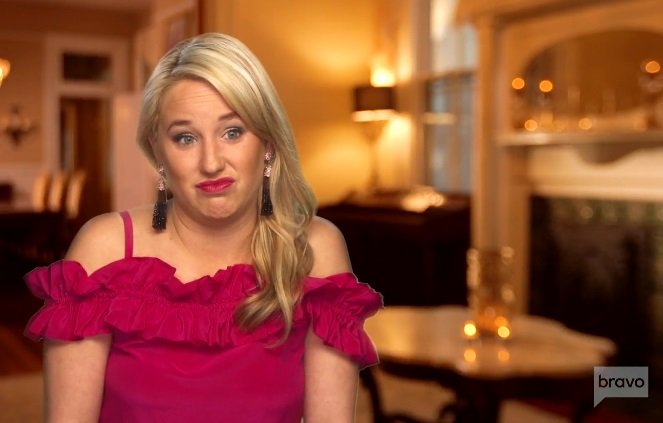 Daniel and Hannah are heading out on a picnic. They catch-up over finger foods and Bocci ball. Daniel has hung up his party life in favor of furthering his career. He has learned a lot working at his father's law firm, but it's losing its luster. Daniel is itching to start his own business. Speaking of entrepreneurs, interior designer Brandon is cocktailing with his husband Jim. The couple chats about their upcoming eleventh anniversary. In lieu of recreating a former Italian getaway, Brandon wants to throw a lavish fete.  He dishes on Catherine and Lyle's dysfunctional relationship while pondering the guest list.
That evening, Catherine meets Hannah for dinner and drinks. Hannah admits that she and Louis are taking a break. After five years together, Hannah wishes they were much farther along in their relationship, but Louis clearly isn't ready for the next step. Catherine concedes that Louis may not yet be prepared to give up the party scene. The girls are joined by newbie Hagood who is dating one of Catherine's friends from high school. Hagood reveals that Lyle has been bending her ear about his relationship with Catherine. Hannah thinks Catherine is overly rationalizing her situation with Lyle. She needs to stop analyzing everything and listen to her heart.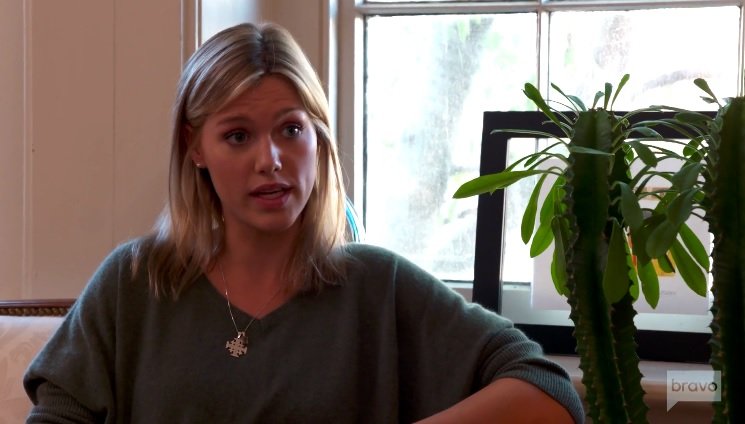 Hagood is prepping her downtown digs for a visit from her mother. Hagood is from the raging metropolis of Darlington where her family owns a thriving rice plantation. Hagood wants to spearhead her family's next endeavor–a sake (sahh-KAY, if you're Hagood) business. Her day job is being a scientific illustrator, but it doesn't pay the bills. Her mother, who has a lot of opinions, wishes her daughter would focus more on art and less on Japanese alcohol. The following day, Hagood, a self-proclaimed tomboy, heads out fishing in Bluffton with Daniel and Louis. She scores the first catch of the day. Louis opines about being dumped by Hannah, which is different from her "taking a break" version. How very Ross and Rachel! Louis is losing himself in his sock business, and he's worried he's just going to get farther away from wanting something serious. Hagood counsels Louis not to waste Hannah's time if he's not willing to put a ring on it. She claims that Southern women are expected to be halfway down the altar before thirty, so he shouldn't continue to waste Hannah's time. Daniel is blown away by Hagood's assessment. She should be a therapist!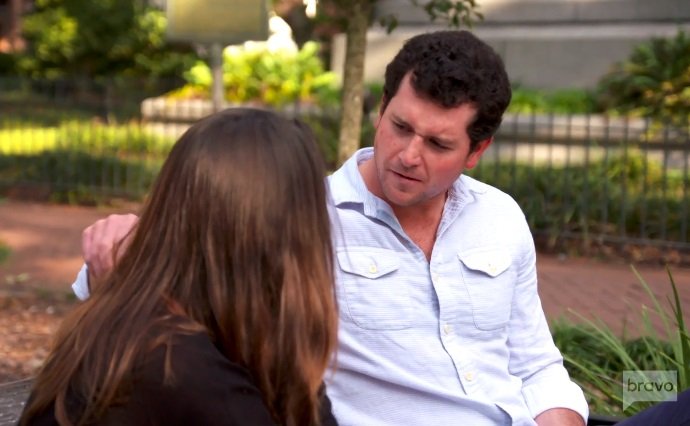 On the day of his anniversary party, Brandon is transforming his backyard into a formal fantasy land. He's joined by his party planner and over-the-top caterer who is ready to deliver on tomato sandwiches and cheese straws (yum). A few blocks away, Hannah meets Louis in the park. She wants to talk to him about Brandon's party. They'll both be in attendance, but neither is going with a date. She jokes that she's riding with their mutual pal Daniel because she got him in "the divorce." On that topic, Hannah wishes that Louis would stop telling people she dumped him. They are taking a break so he can focus on bettering himself and being accountable. Not to be a nag, but Hannah needs Louis to prove himself. He encourages her to take this time to meet some "new friends" as in another guy. When she takes offense, he claims to be teasing. It's too late. Hannah storms off and Louis seems majorly relieved.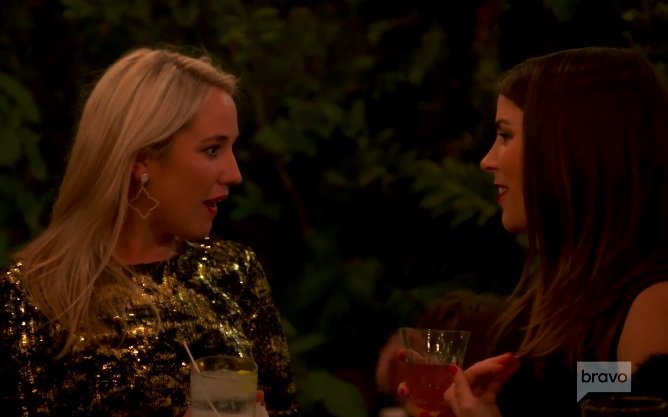 The Savannah crew preps for Brandon and Jim's soiree. Brandon jokes that people in Savannah take cocktails very seriously because it is frowned upon to pop Xanax in public. Preach, Brandon. Lyle arrives to escort Hagood, and he educates her on what to expect while chugging his drink in anticipation of facing Catherine. Meanwhile, Hannah goes to fetch Daniel who missed the dress code memo. At the party, Louis teases Catherine about being one of the boys. He's jealous that she's (f)un-employed, but she counters that she worked hard to get to a place where she could take time off from the daily grind. Sure she did. Hannah clings to Catherine, nervously laughing about her earlier conversation with Louis. Can Catherine believe that Louis suggested she get new friends? He was probably insinuating that Hannah's friends like Catherine and Lyle aren't good at relationships so she should find some better role models for their ongoing love story, right? RIGHT?? Catherine giggles, but she knows Louis was telling Hannah nicely to cut the cord.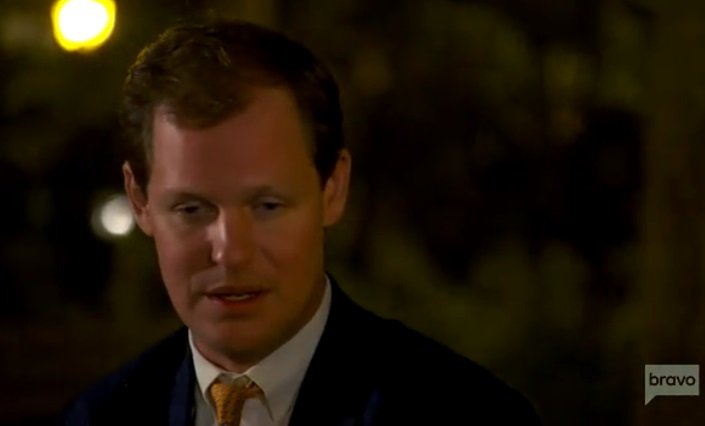 Hagood gifts her hosts with some sake (not her own), and Brandon loves the way the word crashes off her tongue. He cheers, "Sahh-KAY, I'm so gay!" He's a refreshing full-time addition to this group for sure. Catherine awkwardly compliments Lyle on his tie, but he's not biting. The tension is placed on hold as Brandon gives a sweet toast to his true love. Catherine corners Lyle and requests a private chat. They find a quiet park bench. She choppily tries to piece together sentences which gloss over the fact she completely humiliated him and end with the revelation she's ready for a serious boyfriend now because everyone else is coupled up they are good together regardless of what happened in the past. He isn't putting up with her willingness to sweep things under the rug. Lyle is peeved that she is disregarding how she treated him after all he did for her to make their long-distance relationship work. He burned up the highway. He gave her a credit card. WHAT?? Why is she now just realizing how great he was to her? Catherine suggests they go to a counselor. Lyle is willing, but again, he's confused as to why she didn't take that recommendation when he begged her to go. Why now? He remains a gentleman but admonishes her as to why she'd think someone would ever propose twice. Maybe someday she'll realize what she lost. Ouch.
TELL US – WHAT DID YOU THINK OF THE SOUTHERN CHARM SAVANNAH SEASON TWO PREMIERE? WILL YOU KEEP WATCHING? 
[Photo Credit: Bravo]