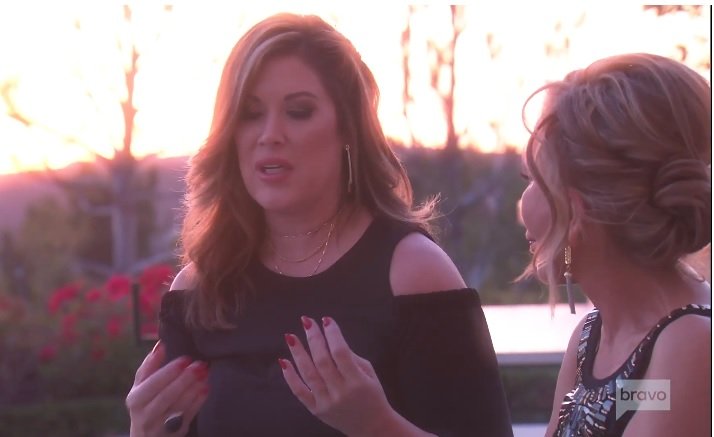 Moral compasses aside, the ladies are making their best efforts to get along on tonight's Real Housewives of Orange County. In the wake of Gina Kirschenheiter's divorce announcement, Vicki Gunvalson is still spewing her "stay married" advice. However, this time it's poor Steve Lodge who is the captive audience. She really tries to work marriage into about every conversation with this man, doesn't she? The best part of this story is that her holier than thou conversation happens at a biker bar after an afternoon of riding a motorcycle with her man. Talk about a fish out of water!
Meanwhile in the OC, Emily Simpson admits that she loves living so close to her in-laws. Not only does her pocket MIL provide wonderful insight, but she's a damn good babysitter, too! Speaking of babies, Emily has a tragic past with pregnancies which is what ultimately led her sister to be a surrogate for her and Shane. With nine viable embryos still on ice with her doctor, she is eager to give her own daughter a sister close in age. The only snag in her plan? Shane isn't on board for another child…yet.
A new episode of RHOC airs tonight at 9 PM/ET on Bravo! Check out a preview of Vicki pontificating about her divorce regrets before barreling off into the sunset Easy Rider style!
TELL US – SHOULD VICKI MIND HER OWN BUSINESS WHEN IT COMES TO GINA'S DIVORCE? SHOULD EMILY AND SHANE HAVE ANOTHER CHILD? 
[Photo Credit: Bravo]