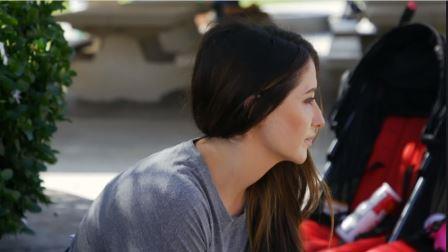 Grab your snacks and your snuggie and let's get into this week's episode of Teen Mom OG. Will Catelynn Baltierra agree to counseling and to watch previous seasons with Tyler? Will Cheyenne forgive her dad and cease her tantrum emotional breakdown? So many questions so little time.  Last week's episode left us hanging and I am hoping the viewers get everything we are craving and more.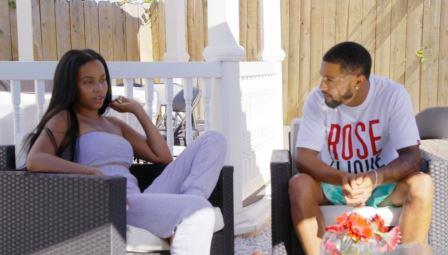 Cheyenne is still mad at her dad because he says his love has conditions. She decides to go back and try to appeal him and discuss her feelings about the topic further. Still in good spirits despite his daughter stomping off, Cheyenne's dad breaks down exactly what he meant by his statement. All's well that ends well and they both decide to drop the conversation and enjoy the party. Little do they know this argument will be a drop in the bucket in comparison to what will ensue later.
More drama unfolds at the BBQ when Cheyenne feels disrespected by one Zach's friends and he refuses to confront him and defend her honor. She even pleads her case to Cory to throw out the offensive friend, but Cory wants no part of the drama. Good idea Cory, you already are in a weird semi love triangle, no need to complicate things further when you are outnumbered by Zach's friends. Cheyenne ends up causing a scene outside of the house and screaming angrily that Zach and his friends need to leave. Zach's response to the offense is to coddle talk to his friend and subsequently order him an Uber, since he has been drinking and still is… from a bottle right outside the house. Seriously, were everyone and their mother invited to her family home for this party?
After thinking things over, Cheyenne invites Zach to her mom's house because she feels bad about blaming him for not defending her. They both agree that the whole situation could have been handled better, but she should trust that he has her back. They end up resolving the issue and sealing their make up with a kiss. Too bad poor Zach doesn't realize Cheyenne probably will always be drama and make his life hell complicated.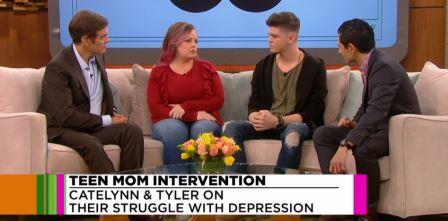 Catelynn Baltierra
Catelynn and Tyler were invited to Dr. Oz Show to speak about mental health.  She reveals she learned in treatment that her anxiety and panic issues stem from trauma, such as the adoption, miscarriage, childhood and other things have taken place in her life. Catelynn feels people can be ruthless in assumptions about her life because many thinks she is only running away from her problems. I feel bad for Catelynn, I hope this latest stint in treatment has given her some coping skills and she can move forward in a positive direction for her children and husband.
On the show, the doctors get both Catelynn and Tyler to communicate honestly with one another. They even get further guidance after the show in the green room. Their disconnection is even more evident when asked what they feel is their lowest point. Catelynn feels their lowest point was years ago and Tyler says it was that day. Maybe they do need to watch the show and all the rough cuts on a daily basis while filming because obviously they are living in alternate universes when it comes to their problems.
Tyler hangs out with his friends at the pool hall and reveals his frustrations about his marriage and Catelynn coming back from rehab. He wonders will there ever be a time when he can depend on her for his needs. I just shook my magic 8 ball and it said 'All signs point to NO'. Sorry Tyler but you may always be the one who has to pick up the pieces. He may want to start saving up for another horse or a porcupine or whatever Catelynn deems calming to her next.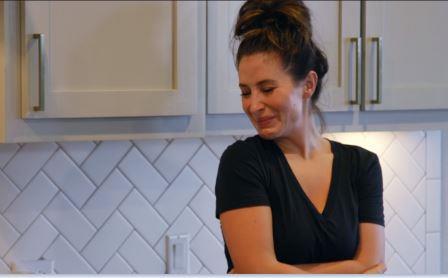 Bristol is in LA with the kids while Tripp practices for Dancing with the Stars Junior. She thinks the space from Dakota will be good for them both.  During the trip, she hangs out with her sister at the park and they discuss how Bristol will have to stay in Austin for the girls, so she can't go back to Alaska with her family. You could have knocked me over with a feather because I was sure she was going to be clicking her heels three times and back to her comfort zone with her family and friends.
The divorce is moving forward and since Bristol has been in LA they have only communicated through their lawyers. Dakota is very frustrated with the lack of communication and how he doesn't know what is going on with the kid's schedules.  Dakota decides to call Bristol and there is a painful conversation that takes place where Bristol sounds more like a PR Agent with an agenda than someone talking to the man who she shares a home and children.
Bristol comes back to Austin for a few days to drop off the girls to Dakota and is hoping to avoid seeing her soon to be ex-husband. Since she has been out of town, Dakota feels a huge weight off his shoulders and hasn't been this happy since 2015. He even takes it upon himself to move all of her things into a guest bedroom. Something tells me that we are about to witness a freak out moment when she returns and sees he has touched her things in 5…4…3…2…1!
For some reason, Bristol seems shocked that all of her things have been moved as if she hasn't made it clear to this man that they will be getting a divorce and leading separate lives and letting her lawyer be her mouthpiece. I could swear she said she hoped he wasn't home when she arrived, but then proceeds to play the victim and say she is disappointed he isn't home and her stuff was moved. Bristol, sorry but give me a break, I'm not buying the fake crying tears. This was the most emotion I have seen in relation to her husband since she joined the show.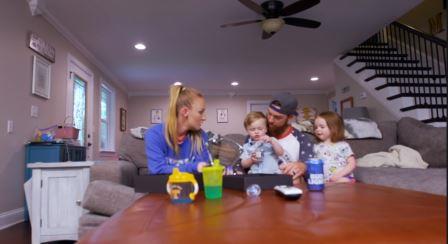 Maci was diagnosed with Polycystic Ovary Syndrome after Bentley was born and she has decided to become an advocate to support other women and bring about awareness.  She speaks in Washington DC in hopes of helping getting a bill passed for an awareness month in September for PCOS. Maci even unexpectedly receives an advocacy leadership award for using her platform to speak about the syndrome.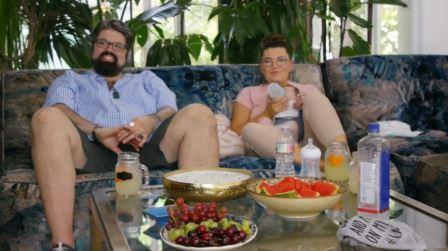 Amber and Andrew are taking the baby to visit his family and friends in LA for a month. Gary and the family decide to visit Amber and the baby before she leaves.  He reveals to Amber he has been on the hunt to find his biological father. He thinks his mother may be hiding some valuable information that could aid him in his search. He seems really nonchalant about the topic; it would be hard for me to be so close to my mother if she wouldn't help me at least meet the other side of my family unless she was protecting me from some type of imminent danger.
Gary and his mom have lunch and have a conversation about the mystery of his dad. Weirdly, when asked about details that will help the search, she only remembers he was "stocky like Gary" and had brown hair…ummmm wth??? This sounds more like an episode of Maury than a scene from Teen Mom, I am just waiting for someone to say "you are NOT the father" and his mom to fall out on the floor. Luckily, Gary has a private investigator that will potentially solve the case.
Amber and Andrew hang out in LA with Andrew's friends. They are all excited to meet the baby and surprisingly they all seem pretty normal. Personally, I am more eager to meet Andrew's family and witness their dynamic with Amber. Leah should be joining them soon for a visit, since they will be in LA for a month. Let's hope this time little Miss Leah has cleared her schedule to hang out with her mommy.
This episode gave me a little of everything I needed to keep me coming back from more. Some of my questions were answered and new ones are now born. Stay tuned for the next Teen Mom OG, something tells me if it's this much action this early in the season its bound to heat up even more as we go forward.
TELL US – DO YOU THINK CHEYENNE OR ZACH WERE WRONG FOR THE WAY THEY HANDLED THE SITUATION AT THE BBQ? WHAT DO YOU THINK OF DAKOTA MOVING BRISTOL INTO A GUEST ROOM WHILE OUT OF TOWN?
[Photo Credit: MTV]