Do you remember Jim Marchese? Of course, the longtime Real Housewives of New Jersey viewers know who he is (unfortunately). However, he hasn't been mentioned on the show since Season 6, which was the worst season of the show by far. His wife Amber Marchese was a one and done Housewife, but Jim was the one who stirred the pot that season.
Jim tweeted (and surprisingly didn't delete) a very jarring statement. He chimed in on a recent scandal involving comedian Kevin Hart. In all honesty, "cringe-worthy" doesn't even come close to describe Jim's remarks.
Let's backtrack a bit. Kevin was slated to host the Academy Awards, but he lost the job when a controversial tweet surfaced. According to an article from The Verge, he tweeted this in 2011: "Yo if my son comes home & try's 2 play with my daughters doll house I'm going 2 break it over his head & say n my voice 'stop that's gay.'"
So where does Jim come into this mess? He quoted a tweet from someone who said "You would have a tough time finding straight men that would not agree. People are allowed to have opinions that offend you. Deal with it."
Then, Jim added, "So true NO STRAIGHT MALE wants his son to be gay. A gay son is a curse that takes away your #family traditions #heritage #lgtbiq is a parents nightmare that destroys families. Ruins holidays like #Christmas #KevinHart we support you! #LiberalismIsAMentalDisorder."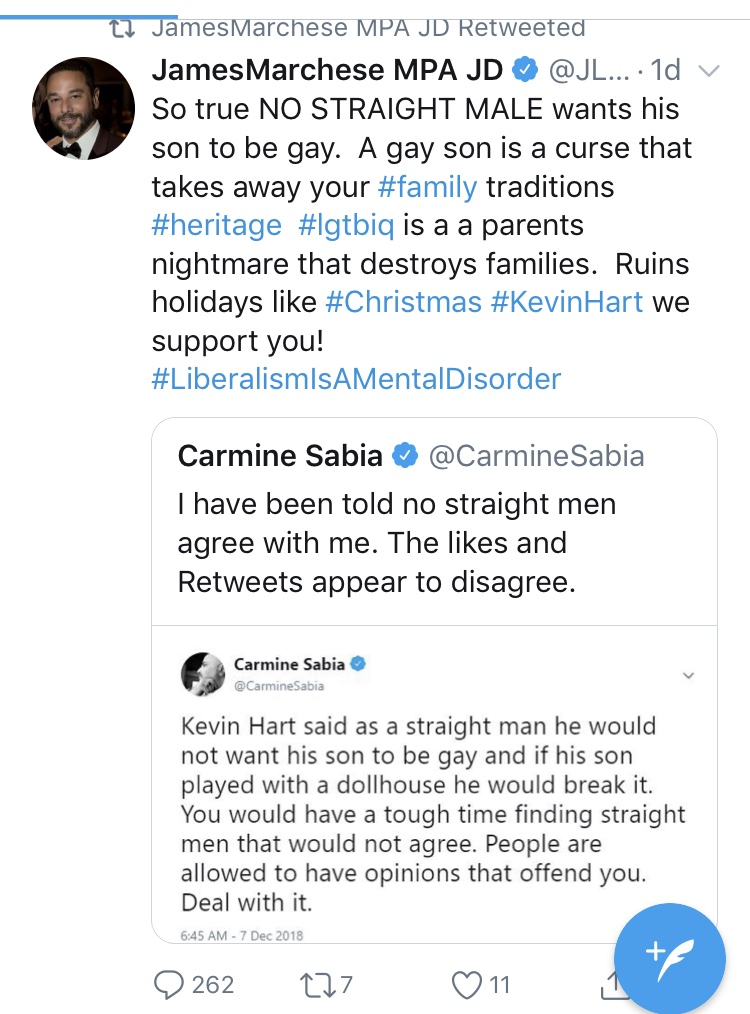 Not only did Jim tweet that, but he actually retweeted his own disgusting statement.
TELL US- WHAT DO YOU THINK ABOUT THIS TWEET FROM JIM MARCHESE? ARE YOU SURPRISED THAT JIM MARCHESE TWEETED THIS?
[Photo Credit: Bravo]