Well, well if you were yearning for more Amber and Jim Marchese in your life, you're in luck. They are returning to reality TV in a new show later this year. Plus, Amber is writing a book about her experiences surviving cancer and the new diet she developed.
Oh, and if you believe Jim is entitled to more money to fuel his delusions, the former Real Housewives Of New Jersey star also plans to sue Virgin America airlines for $100 million after they kicked him off a flight for allegedly grabbing Amber's neck. 
CLICK THE CONTINUE READING BUTTON FOR MORE!
A few months ago, in an Instagram message to her 'fans,' Amber revealed, "Sorry I have not been on social media in some time. I have been working on a wonderful project with Jim that I cant wait for all of you to see. It's been tough, but the message is real. It puts the real back into reality, nothing like I have ever seen before. I am super proud of this project from production, crew, and cast. love you all and please let me know how you are doing!! #staytuned #missingyouall #love #work #family #friendship #newpath #neverstop"
Earlier this week, Jim confirmed the news on Twitter. "We are off #rhonj but have new show coming later this year. We cannot say which one yet but follow & see." 
Hmmmm… why do I feel like they're going to end up on Marriage Bootcamp? I mean, it would only make sense, right? Speaking of, last month Jim was arrested in L.A. when the couple was in town filming. 
Yesterday we learned no charges would be pressed against Jim following his arrest for domestic violence charges. Amber bailed Jim out of jail – spending $50,000!! (#NotWorthIt) – and insisted they were engaged in foreplay, not fighting, and were in the midst of drunken celebration coming after three weeks of shooting their new show.  
In a statement to People, Jim and Amber express their outrage over Jim being falsely accused (I'm sure it's the fault of over-zealous haters from RHONJ, right?!), and as a result they plan to sue Virgin for $100 million. 
"It's embarrassing and humiliating," bemoans Amber of their experience being cuffed, interrogated, and Jim being arrested – all because of a misunderstood gesture! 
Recounting the incident, Amber insists, "Jim put his hand behind my neck and leaned me closer to him. It was hard to hear. So he pulled me closer so he could whisper to me so the other passengers couldn't hear us." 
Jim blames the flight attendant who was delivering Amber a glass of wine and misconstrued his touching gesture. "My understanding is that flight attendant saw my arm around the back of Amber [during the PDA], and that where the accusation came from." 
Once off the flight, after a very rowdy removal, the couple was separated and cuffed. 
Amber claims officers tried to talk her into saying Jim "attacked her." And choked her. Which, obviously, she refused. "[An officer] says, 'You're not going anywhere until you're tell me what happened,'" claims Amber. "I'm sitting there and say, 'Officer, nothing happened.' He bluntly says, 'Why don't you tell me how your husband attacked you.'"
"I am no victim," she declares. 
They also complain that there was no medical assistance there – which seems strange to them given that Amber was allegedly the victim of domestic violence. They say police did not question fellow passengers, to their knowledge, but they did take photos of Amber's neck for evidence. Doing due diligence, Jim and Amber took their own photos as well. 
In more positive news – I guess – Amber plans to document her life in a new memoir, detailing an anti-cancer diet she created. She should pass that info along to Brooks Ayers … oh wait, he already found life-saving juice.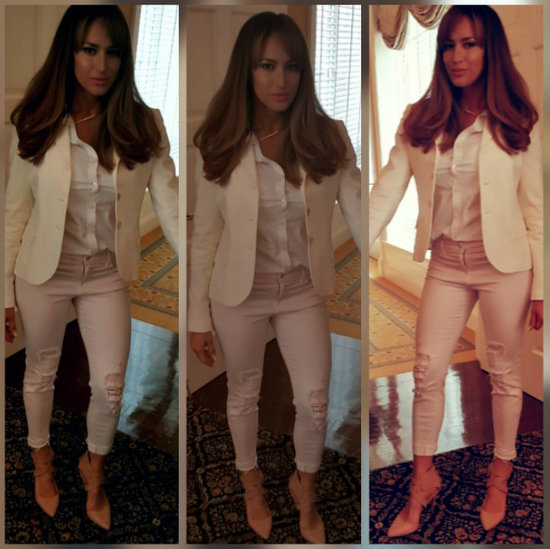 "Ahhh…joining the #narcissist movement. Just kidding, I worked my body hard in the last year and results are showing. Spent the winter at 145 pounds at 5'6 building muscle. I safely and slowly have brought my goal weight down in 2 months to 129 pounds. I have literally but a glute that was never there naturally," Amber shared. "I created a diet that is anti cancer, anti fat gain, anti aging. I do not eat chemicals, additives, gmos or any other crappie that this 'food industry' wants to kill us with (not to mention what it is doing to the environment). I feel better than ever before in my life. I am writing a book. Stay tuned. #raw #phytochemicals #nutritarian #healthy #nutrition #health #rawchef #eathalf #anitcancer #breastcancer #cancer #fuckyoucancer #cancerdoesnothaveme" [Photo Credit: Instagram]
Sometime tells me the best detox Amber could do would be cutting the Jimsanity out of her life! 
TELL US – DOES JIM HAVE A CASE AGAINST VIRGIN? WILL YOU WATCH THEIR NEW SHOW OR READ AMBER'S BOOK?
[Photo Credit: Derrick Salters/WENN.com]