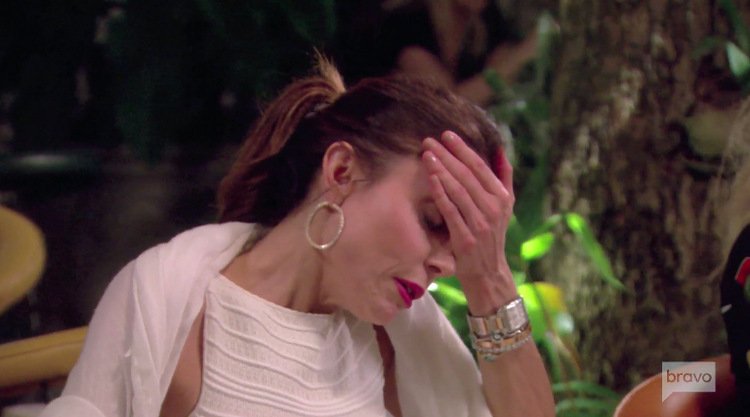 Bethenny Frankel alluded to an abusive relationship with her ex-husband, Jason Hoppy, on the Real Housewives Of New York City.  When she suffered a panic attack on a girls trip to Columbia, some of the women were less than sympathetic to her plight.  Bethenny anticipated a bitter custody battle.  And she's certainly getting it.
Some of the details of her situation are now coming to light.  On Wednesday, Bethenny took to the stand and recalled instances of alleged abuse and obsessive behavior.  Sadly, her daughter Bryn is often used as a pawn in the manipulation.
The Skinnygirl founder recorded a series of phone calls between Jason and their 8-year-old daughter.  Page Six printed the full conversations in an article covering the custody battle.  In one call, Jason is quizzing Bryn about Bethenny's love-life and asking repeatedly, "who's mommy's friend?"
Jason then speaks directly to his ex-wife, "Bethenny, I hope you're not recording this, Bethenny … Which boyfriend do you have now, Bethenny? I see how you want to do things, Bethenny, I got it."
In another call from 2015, Jason is heard telling Bryn he is not allowed to speak with her, "I don't know why mommy's making it so difficult. I don't know if she's recording,"
He then seemingly shifts blame to Bethenny, "you'll be with daddy soon, that's all I can control. I'll try to call you later. I hope mommy will let me talk to you."
Bethenny's response was that Jason "didn't pick up" when she called at the prearranged time.
But Jason's alleged abuse didn't stop there.  Page Six extended their coverage on the courtroom drama.  Bethenny claims his "increasingly abusive and hostile" behavior included threats such as, "if you leave me, you are dead to me. I want nothing to do with you."  And, "this is war, I'm going to destroy you, I'm going to ruin your life."
Bethenny also described the alleged occurrences at the Hudson Street apartment that the two shared even after she filed for divorce.  Under great duress, she recalled "rotting food in the refrigerator, dishes piled to the top. He would go to the bathroom in the toilets and wouldn't flush them. He would whistle and sing and slam doors."  And, "he did everything he completely and possibly could to torture me."
This was the apartment that Bethenny redecorated and sold on the show.  Viewers can recall the immense relief she felt at closing that chapter of her life.  It's clear now why the apartment triggered her so much.  Hopefully, both Jason and Bethenny can come to a custody agreement and co-parent in a healthy way.
TELL US- WHAT DO YOU THINK OF BETHENNY AND JASON'S RELATIONSHIP?  WHAT WOULD BE THE BEST CUSTODY ARRANGEMENT FOR BRYN?
{Photo credit- Bravo}