Last night on Married to Medicine LA, Dr. Britten Cole faced the reality of the summer ending. She needs to figure out if her family will move to LA with her. The only person she must convince now is her husband, Mack Major. Currently in Florida, they live in a beautiful home and Mack is unwilling to settle for a "shack" in the city of LA. He is willing to continue to look for the perfect home for his family to be in one place. Let's hope they can get it together. Her husband is very handsome (stay close Britten)!
Asha Kamali-Blankinship reveals to her husband, Larry Blankenship, that she is still emotional about meeting his ex at Shanique Drummond's husband's birthday party. She is better than me because I wouldn't have admitted to the ladies or anyone that it bothered me that much. In an act of desperation, Asha and her husband go to the fertility specialist. Maybe she will feel more secure with the ring and a baby. The doctor's advice is basically for them to have sex every day. I hope they didn't pay too much for that consultation. That is common sense.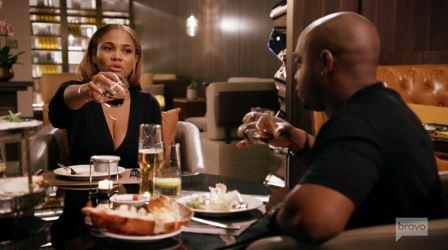 Shanique and her husband, Robert Drummond go out for a date night. Little daddy Kane looks more like her son than her date. SMH…  Robert reveals he wasn't happy about the drama at his birthday party, especially concerning his longtime friend (Larry's ex). Robert confirms there was overlap in Larry's relationships with his ex and his wife Asha while they were dating. Uh oh… I can just see this becoming a  story line that never dies. I don't think it even matters now that they are married, but it just might to Asha. Hopefully, Shanique will keep the gossip to herself and just stay out of their marriage.
Dr. Imani Walker tells her husband, Phil Johnson, that she wants to contact her father. She hasn't seen him since she was eleven when he left for his drug addiction. In her twenties, she did a background check and was able to find him. Now she is ready to talk to him. Her husband is nervous about Imani's dad coming into her life and disappointing her again. Imani sends a text her father asking to meet him. He literally only texts back "I'm at work. I have to think about it." I think I am with Phil, maybe this wasn't a good idea.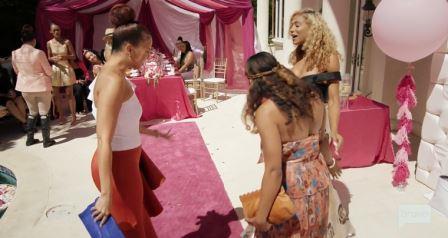 Jazmin Johnson is throwing a "Dollhouse" themed brunch for the ladies. The girls have to dress as their favorite Barbie doll for the party. This would be a super cute idea for a child's party. I am not sure about middle-aged women. Most of the attendees did not heed the theme of the party. I don't see a lot of "Barbie" styled guests. To be that rich and still not be able to dress should be a crime for some of these ladies. The best dressed of the group were Jazmin,  Dr. Noelle Reid, and Britten.  Although no one has actually seen Jazmin's husband, whatever he does, he must do it well, her house is beautiful.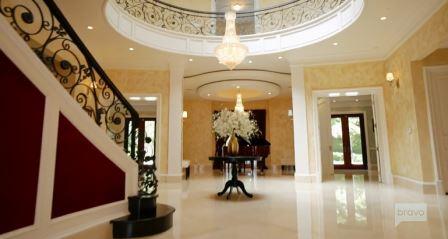 Asha is still upset with Shanique because of Robert's birthday party. Asha pulls Britten aside to update her on what's been going on with the baby discussion. Britten isn't buying Larry's excuse about finances and thinks there must be something else discouraging him. Britten becomes emotional talking about her family leaving.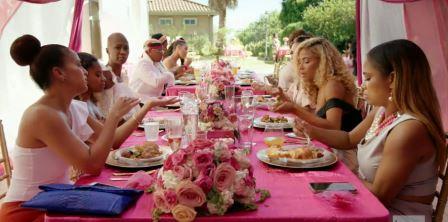 Noelle tells Jazmin she was offended by her invite to the brunch. She feels like dolls are a reflection of society's norms and children's self-esteem is affected by those images. The topic brings up a great conversation with the women. Jazmin explains that she views "Barbie" or a doll as anyone you admire. In the end, the ladies had fun and everyone got a chance to see Jazmin's home. Seriously, she needs to a part of the Real Housewives franchise with that home.
Just when we thought this would be an episode with no drama, Imani, Britten, and Shanique go out to dinner. Imani questions whether Shanique and Asha are okay. In a strange twist of events, Shanique reveals she DID tell Asha UP FRONT that Larry's ex was going to be there. This is nuts, I don't understand why Asha acted like she was blindsided.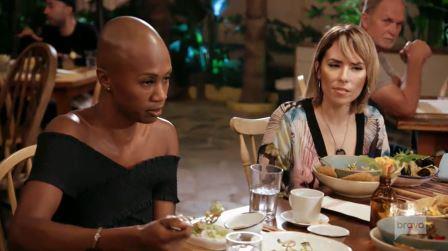 Shockingly, Imani tells Shanique her bestie Jazmin's house looked like a "drug dealer house". WTH… Why would she say something like that? That is highly offensive. Personally, I have never been to a drug dealer's house, but I'm sure it just looks like the home of a person with money. Imani, I am sure if you went to another successful person's home you wouldn't say that, so why say it about your friend? I thought her house was stunning, the jealousy shade is REAL! Lesson of the day, don't count other people's money! Instead of HATING strive for more for yourself…
TELL US- DO YOU THINK ASHA'S HUSBAND, LARRY IS READY TO HAVE A CHILD? WHAT DID YOU THINK ABOUT JAZMIN'S DOLLHOUSE BRUNCH? WERE YOU SURPRISED TO FIND OUT SHANIQUE GAVE ASHA A HEADS UP ABOUT LARRY'S EX COMING TO THE BIRTHDAY PARTY? DID  YOU THINK JAZMIN'S HOUSE LOOKED LIKE A "DRUG DEALER HOUSE"? DO YOU THINK IMANI WAS HATING ON JAZMIN'S HOUSE AND HUSBAND'S SUCCESS?
[Photo Credit: Bravo]