Last night's episode of 90 Day Fiance The Other Way is one portion of what we have ALL been waiting for!!! Forget the lovey dovey fluff and the smoke and mirrors. Let's get down to business! I want to know who is actually still together and who was in it for all the wrong reasons. Most of us can ascertain the difference.  But don't we all just want to know if our suspicions were right. I know I do!
The episode promises drama galore between the cast and couples. There is also a surprise guest who drops a bomb on Corey. There is also a mention of divorce. The cast will look back at some of the most intense moments of the season. Let's discuss all the juicy details in the 90 Day Fiance The Other Way recap!
The episode begins with the entire American cast on the couch, along with Jihoon Lee. Aladin Jallali, Evelin, and Ronald join the discussion via video chat. Karine Staehle was unable to attend the Tell All.  Jenny Slatten is hopeful that Summit will be able to sneak away. The foreigners all agree that the Americans complain a lot and expect everything to be the same as in their country. I agree. I have said several times that it's clear none of these people did any research before moving.
The host asks everyone if they were aware of what they were getting into with their relationships. Jenny, of course, denies knowing that Summit was married and is still heartbroken. Everyone was shocked to learn that Summit was married. Jihoon feels like Deavan Clegg was more romantic before she moved to South Korea. I guess it's hard to be romantic when you are forced to live with your in-laws and realize you are broke.
Paul Staehle thinks relationships take time and he is still learning Karine. I will not even comment about my feelings about the fact that they are still talking via a translator app, after all this time.  Laura is on the verge of tears when she explains she thought she knew what she was getting into because she was already married to Aladin.
Tiffany admits that she had many doubts about her relationship with Ronald. Corey out of nowhere gets some balls and tells Tiffany she made a poor decision moving her child to South Africa with a man who has addictions. I agree, but I am shocked he can see someone else's predicament so clearly, but can't don't the same in his own relationship. Corey goes further and questions whether Ronald just wants a visa.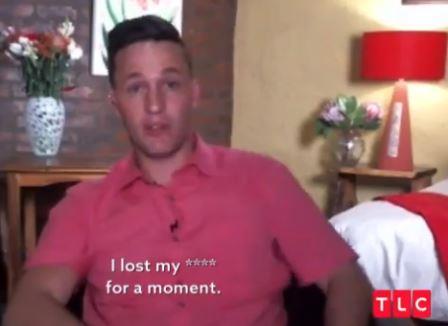 The clap back comes swiftly! Ronald rejoins the video chat after getting angry and hanging up. He immediately clarifies that he has an addiction, not multiple addictions. He tells Corey the plan was always for Tiffany to move to South Africa, so how could he only want a visa?Evelin jumps in and restates that addiction is hard and that Daniel is too young to be involved. Tiffany says it's easy to look at another relationship, without pinpointing the issues in your own. She reminds Corey his trust was tested when Evelin cheated on him and Ronald has never done that. Damnnnnnn!!! That had to burn, Corey!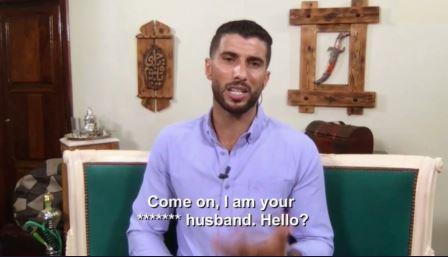 Laura Jallali and Aladin's sex life is discussed. Aladin doesn't "accept" that Laura feels the need to have a vibrator. Laura informs us that culturally there are certain acts that he won't perform. Wow… I wonder what he refuses to do. Obviously, she isn't happy with whatever he does do. Aladin doesn't like the discussion about his performance and demands they change the topic. He accuses Laura of being disrespectful by even engaging in the conversation. I guess he will really be livid when he sees her interview footage in all the episodes. Clearly, the jiggy-jiggy isn't all that great!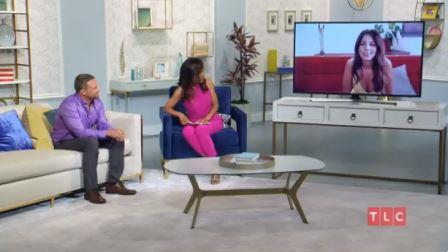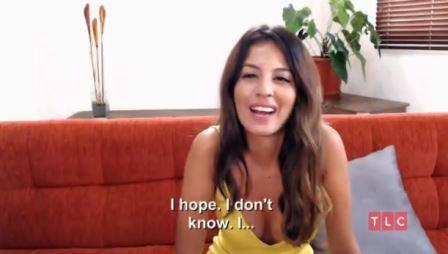 Corey and Evelin are brought out alone to get the deets on their wedding. Corey confidently says their wedding will take place within the next 6 months. Evelin giggles and says she doesn't know about how that will happen so quickly when several things need to be figured out. Corey then riddles off a list of requests Evelin has made for him to complete before they can get married. The list includes, learn Spanish, immerse yourself in the culture, talk with her family more and get a six-pack to be more attractive. Umm… WTH??? Evelin laughs and casually says that it is true because Corey has gained a lot of weight. I can't see under his shirt, but he looks the same to me.
Corey, when are you going to cancel this gold digger? The ways she treats him is embarrassing. The host points out that Evelin isn't wearing her engagement ring. Hmmm… take note Corey, this woman doesn't want to marry you. Although he has been granted an extended visa, she still has given him a long list of hoops to jump over. Which I suspect will never be done to her satisfaction in her eyes.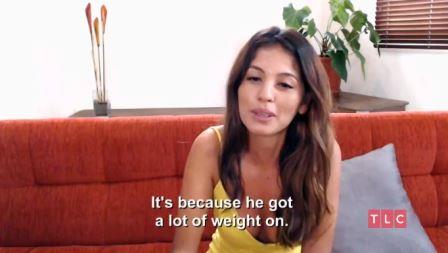 Corey reveals he has invested almost $50,000 into their relationship. He now only has $1,500 in his bank account. Corey, you can't be this naive. SMH… When asked what would happen with the bar, if they break up, he doesn't know. Evelin immediately says that he should leave it to her. Of course, she thinks that: she is the only one benefiting from their relationship. Evelin explains that in the Latin culture a man should take care of his woman.
A video montage is played addressing Evelin's infidelity. Corey is visibly upset. There is a difference of opinion on whether they were on a break during her tryst with her ex. It wouldn't matter if she cheated or not, the fact remains she just doesn't seem that into Corey. She gushes over her ex and then seems indifferent to Corey. Wake up, man!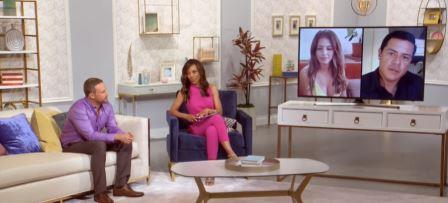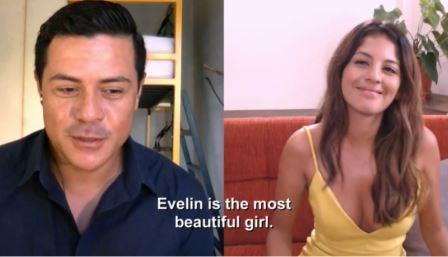 Corey seems confused when the host wants to bring his only friend in Ecuador, Raul on video chat. Uh oh…. I smell a setup. During the season, Raul confessed he had a fling with Evelin as well. Unseen footage is played where Raul and Evelin confess their love for one another, although hers is only in a friendship type of way. Evelin asks him to stop telling Corey things he doesn't need to know. Raul tells Evelin he will always be there for her. He then tells the camera, one day they will be together.
Corey is extremely hurt and feels like his "friend" is trying to break up their relationship. Raul claims he respects their relationship, but if they break up he would be happy to be with her. What kind of friend plots to take your place behind your back?  Raul even says he still wants to be his best man. Hell no, Raul would have to go!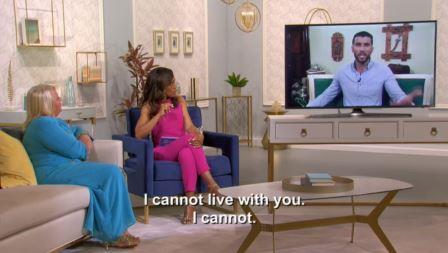 Aladin and Laura reveal that their relationship definitely isn't as happy as they once seemed. Aladin accuses her of constantly disrespecting him. The two argue about her going to get a coffee without telling him and how he should always know what she is doing. Laura accuses him of changing his feelings about her now that she has run out of money.  She reveals that he wants to break their commitment. I knew Aladin was a smooth operator. He clearly only wanted her money. I'm sure many hopeless romantics really believed he may have truly loved Laura. I must admit, he is a grade "a" hustler because at times he did seem sincere.  I guess now that her pension has worn out, so has her welcome.
TELL US – WHAT DID YOU THINK OF THE TELL ALL? WERE YOU SURPRISED ABOUT ANYTHING THE COUPLES REVEALED? DO YOU THINK EVELIN IS ONLY USING COREY? DID ALADIN ONLY MARRY HER FOR HER MONEY? WHAT DID YOU THINK OF PART 1 OF THE 90 DAY FIANCE THE OTHER WAY TELL ALL?
[Photo Credit: TLC]