Sometimes a Real Housewife brings an entertaining relative with her; i.e. Teresa Giudice and her daughter Milania, Tinsley Mortimer and her mom Dale Mercer, and Melissa Gorga's husband Joe Gorga. Other times, the "extra" people are just not needed. I may be in the minority, but I'm not craving additional scenes with Kyle Richards' friend Faye Resnick, the Kandi-coated clique, or Tamra Judge's son Ryan Vieth. I'm not gonna lie I feel the same way about Braunwyn Windham-Burke's mom Dr. Deb. And considering the tension between the two of them and the constant unfollowing and then following each other on social media, Braunwyn is picking up what I'm laying down. At least sometimes.
Someone else who doesn't want Dr. Deb around is a shop owner in Mexico. Dr. Deb was accused of stealing 5,000 pesos worth of merchandise, which is about $264 given the current exchange rate.
A woman posted security footage of Dr. Deb along with these words: "We need your help!
This lady and her husband came today at 6pm to my mother's store and left without paying a total of 5,000 pesos, the store was packed and she got confused and a minutes later when she found out they left without paying, they were nowhere to find. If anyone knows them please let me know."
It's not as if Dr. Deb's look is low key. She wasn't able to lay under the radar for long with her colorful locks. Real Housewives of Orange County viewers recognized her and said so in the comments.
However, Dr. Deb had a different story when an Instagram user asked about it. We typed up her (poorly punctuated) explanation and blurred out the Instagram user she responded to. Dr. Deb claimed, "We were vitcims to a common scam where they take your credit card pretend to run it while they distract you, follow you back and get soem family to post things on social media to shame you, and get their family on the police foce to back them up, and use intimidation." That sounds so elaborate. Not that I'm in into criminal activity, but what does the store have to gain from this public humiliation? Sure, they can sue and get some money (maybe). However, this just seems so elaborate. Why not just overcharge on a credit card swipe?
Dr. Deb continued, "Luckily we had a lot of support from the local people in town that knew the store and the scam, we only lost $40 instead of $500 they were demanding for a few pillow cases we had purchased- lesson here- always have them HAND YOU THE RECEIPT! Don't turn your back and have them tell you it's in the bag! Always ask for you receipt!"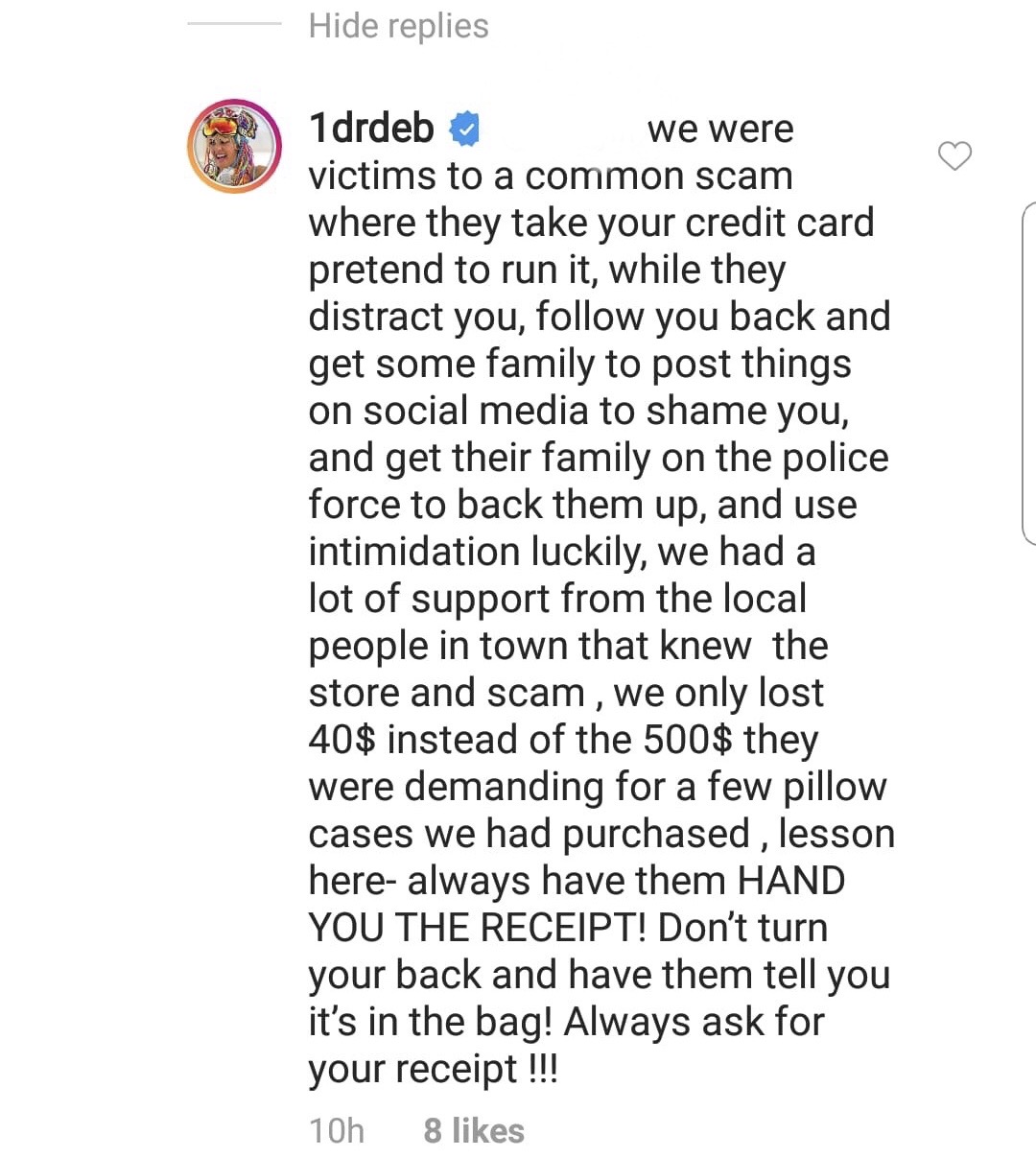 That is…well, interesting. I'm looking forward to seeing the comments section on this one and Dr. Deb's explanation about this "common scam."
TELL US- WHAT DO YOU THINK ABOUT THIS ALLEGED INCIDENT? WHAT ABOUT BRAUNWYN'S MOM'S EXPLANATION? HOW MAD IS BRAUNWYN RIGHT NOW?
[Photo Credit: Bravo]