On last night's episode of Married At First Sight , with less than five weeks left until the end of the experiment, the couples focus on trust and intimacy. The five pairs of newlyweds adjust to married life in their own ways. While passion heats up between some couples, others completely melt down.
There were definitely some shocking revelations this episode. Just when I think things can't get worst for some, they always do. I am starting to doubt the expert's capabilities. It's becoming increasingly obvious questionable advice is being given for the sake of the television show.  The general well-being and emotional health of the participants aren't being taken as seriously as it should with some of these couples. Let's get straight into the recap!
Mindy & Zach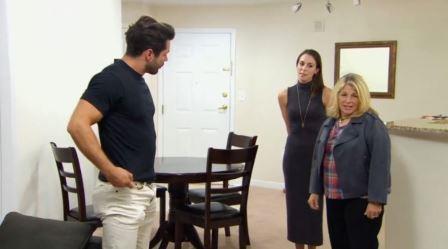 Mindy Shiben may be finalizing realizing no matter what she does Zach Justice just isn't that into her. After a fun night of games, she is shocked that her husband didn't decide to stay the night. Well she would be the only one who is shocked. I don't think anyone in their right mind still has hope for this couple.
Dr. Pepper Schwartz meets with the unhappy couple in Mindy's apartment. Mindy shares that although she likes Zach, he does not act like a husband. She also feels stupid for trying so hard with a person who doesn't reciprocate. Dr. Pepper reminds Zach that before the experiment he said he would give his all even if he wasn't attracted to his wife. When Dr. Pepper points out that he isn't fully participating by not moving in, he is says he will strongly consider it. WTF! This guy is going to have future men on this show thinking they can pick what aspects of marriage they want to complete. Dr. Pepper recommends he either move in or just walk away from the marriage all together. At this point, MINDY shouldn't even want his superficial a$$. Runnnnnnnnnnnnnnnnnnnnn Mindy, run!
Mindy and Zach meet with a tantric therapist for an intimacy exercise. Mindy is falling in love before our eyes while grinding on Zach's lap staring into his eyes. Girl, this isn't going to get him to move into that apartment. Hell it isn't even going to make him spend more time with his wife.
Meka & Michael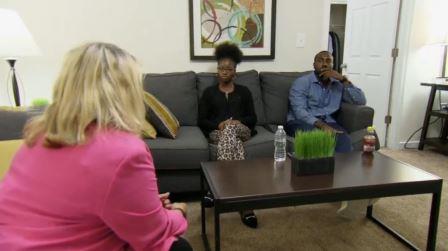 Things are tense in the household after Michael Watson revealed he isn't getting what he needs from Meka Jones. The next morning Meka angrily confronts Michael after he refuses to go into more detail about his request for her to be more vulnerable. Sigh! Can you guys just break up already? These constant fights are giving me a headache. Meka, girl, you have to stop being so aggressive. You are way too young, to be so jaded. Michael, please stop the passive aggressive BS. Are the experts incapable of putting their foot down and being real with the participants? Their meetings seem less like real counseling and more like friendly suggestions. Lifetime, I volunteer my overly critical mother to be a expert. If you want a no nonsense approach, she is the woman for the job. She would have shamed Zach into moving into his marital home the first week. After getting frustrated and leaving, Michael returns home to attempt to have a conversation with his wife. He explains he doesn't feel comfortable when he is met with aggression during a conversation. Meka asks him to stop shutting down and walking away every time they have a disagreement.
Meka confronts Michael at lunch after making a MAJOR discovery the night before. After arriving for a yoga class, Meka learns her husband isn't a yoga teacher but cleans the rooms instead. WTF!!!!!!!!!! It isn't a big deal that he has a second job cleaning. What is crazy is this man has lied about sex, a job promotion and now about being a yoga teacher. Now I totally believe Meka when she accused him early on of demanding sex off camera on the flight to Panama. Out of all the things to lie about, who lies about being a yoga teacher? LMAOOOOOOOOOOOOOOO! I know this show is on Lifetime, but who knew Meka was walking into a classic Lifetime movie. Do the experts not vet these people?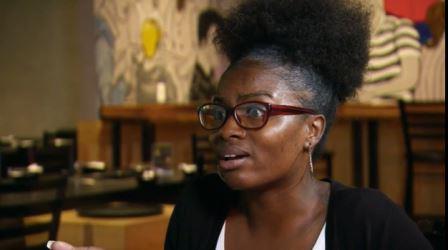 Dr. Pepper shows up just in the nick of time to counsel this couple. Meka tearfully confesses she doesn't trust Michael due to him lying constantly. When Dr. Pepper asks him directly about being a yoga teacher, he has a fishy excuse. I'm sorry, but there are wayyyyyy too many coincidences with him. He finally admits that he lies at times, but blames Meka, as the reason. Huh???????? Dr. Pepper even tries to minimize this grown man telling tall tales every day.  Am I in the twilight zone? On what planet, is this okay? Meka can work on her aggression, but a grown man lying to his wife constantly about EVERYTHING in his life is huge problem. These experts never have women participant's best interest in mind. They encourage them to stay in emotionally unsafe relationships season after season.
Meka and Michael complete a blind trust exercise where they ask and answer questions while blindfolded. They both seem more comfortable being open when the other is blindfolded. Too bad they can't walk through life communicating this way. They probably would get a lot further faster.
Austin & Jessica
While most of the couples are fighting, we can always count on Jessica Studer and Austin Hurd for some good wholesome scenes to balance out the show. This week the two bake cookies to remind us just how boring they truly are. The raciest thing they have done all season is play the intimacy game the experts organized for them. There were body shots, PDA and awkward lap dances, all in one episode. I can't believe it!
Brandon & Taylor
Dr. Pepper meets with Brandon and Taylor to get an understanding of the breakdown in their marriage. Brandon is defensive while Taylor plays completely innocent about the video on social media. Dr. Pepper has to literally explain to Taylor why her video was inappropriate. She finally admits that she was still upset about Brandon's neglectful and disrespectful actions. Brandon doesn't seem to remember his own disrespectful actions, while he is so outraged. Taylor has transformed from the meek wife to someone who no longer cares, before our very eyes. She doesn't think she did anything wrong and is not sure she even wants to apologize. SMH… throw the whole meeting away, this is ridiculous! Knowing Taylor, there would be no way she would be okay if the situation was in reverse. Regardless of what has happened in the past, the video was wrong. Just admit it! Brandon storms out of the room and demands his mic is removed. But before he leaves he drops a bomb, insinuating Taylor may have been unfaithful. He claims she has had many random calls from men late at night which she denies. No need to cry Taylor, this is for the best. Brandon was emotionally abusive and not worth the time invested.
Brandon meets with a friend to vent about his mediation with Taylor. At this point, he is unsure if he even wants to pursue anything with his wife anymore. Taylor reached out a few times after mediation and wants to meet to talk. If they aren't going to take accountability, there is really no point.
Derek & Katie
Derek Sherman and Katie Conrad organize a cooking class for the group after almost burning down their apartment making breakfast. Everyone is in attendance with the exception of one couple. Things get awkward fast when Mindy and Zach still not living together is discussed. The group pressures Meka to give an update on Taylor and Brandon relationship. She explains the situation in broad terms to not violate their privacy.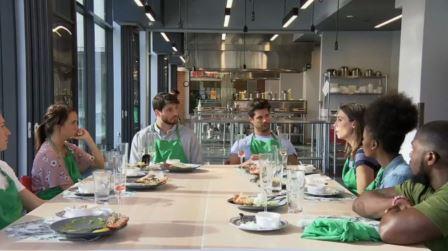 Derek sets up a painting and wine date at home for Katie. This was such a cute idea and way to show his wife that he is actually trying in their marriage. While having dinner, Katie reminds him that he needs to win her over. Although they had sex quickly, she wants Derek to be a "little scared" about whether she will decide to stay with him. Whatever Katie, as soon as he says 'I love you', you will melt like butter.
TELL US – SHOULD MINDY JUST GIVE UP ON ZACH? DO YOU THINK MICHAEL IS A PATHOLOGICAL LIAR? SHOULD TAYLOR HAVE APOLOGIZED FOR HER VIDEO? WHAT DID YOU THINK OF KATIE REMINDING DEREK HE DOESN'T HAVE IT IN THE BAG?
[Photo Credit: Lifetime]