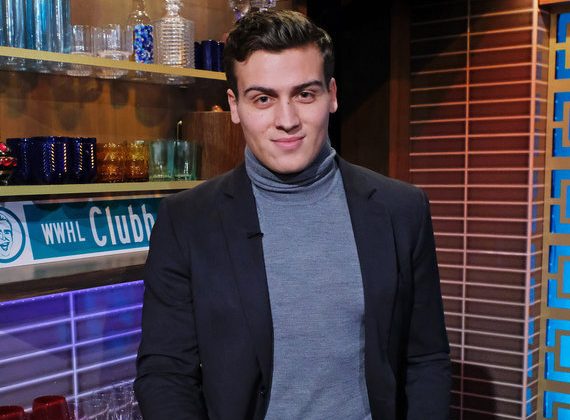 But some fans were bummed when
Gia
went public with a Tik Tok video
introducing her new boyfriend,
 Christian Carmichael 
earlier this year. Many worried that 
Frankie
was left heartbroken and pining for his Jersey Girl. But
Dolores
and Frankie say that there is no need to worry. Frankie is doing just fine and also has a special person in his life.
During a recent interview with Dolores for Hollywoodlife, Frankie popped in to confirm that not only is he is also in a relationship, but he still has nothing but love for Gia.
"I actually do have a girlfriend. Happily in a relationship," Frankie shared.
He did not mention the name of the lucky girl, but how could she possibly be better for him than Gia? They belong together!
"She's got a boyfriend," Frankie continued, maintaining that the two reality stars are still "Very close. We both get along very well. She has a nice boyfriend as well. I'm very happy for her. She's so nice too. Mom is a huge fan."
Dolores explained that the timing is just not right for the young couple. "You know, I was there when he [learned about her boyfriend]. It's not the right time [for them right now]. Timing is everything. We all know how I feel about Gia, but it's not the right time."
"I'm not all for young relationships," Dolores continued, "And I think that when you have somebody, a very serious relationship at an age where you should be finding yourself and growing in college, it's not the time to meet somebody unless it's your later years."
"[Gia's] a freshman," Dolores concluded. "She needs to live a life, study abroad. I don't know about now with the way the world is, but I always said travel, use that time to grow and learn about life, and see things that Teresa and I never got to see. We weren't allowed to go away to college."
It seems clear that both Gia and Frankie have bright futures ahead of them regardless of what they choose to do. RHONJ fans will just have to stay tuned to see what the future holds for this power couple.
TELL US- ARE YOU DISAPPOINTED THAT GIA AND FRANKIE ARE BOTH IN OTHER RELATIONSHIPS? DO YOU THINK THEY WILL BE A COUPLE IN THE FUTURE? DO YOU AGREE WITH DOLORES THAT THEY ARE TOO YOUNG RIGHT NOW?  
[Photo Credit: Charles Sykes/Bravo]