Below Deck star Captain Lee Rosbach recently commemorated the one-year anniversary of his son Joshua's death. That alone must be incredibly difficult, but some awful person has decided to exploit the reality star's pain for personal gain.
Someone claiming to be Captain Lee posted a tribute to Josh along with a fake email address. It's unclear if the man asked people for money or if he was pretending to be Captain Lee for some other reason, but, regardless, it's an awful thing to do. Poor, Captain Lee. The man can't catch a break. Super recently, someone assumed his identity, pretended to be recruiting for a cruise ship job, and asked applicants for money (which made no sense).
Captain Lee warned his followers about the scam on Instagram. He wrote, "This is a photo of my son Josh. I posted a tribute to him from my bride, his Mom and I. Since this posting some demented piece of shit [has] decide to exploit this for whatever reasons and I want to make sure you all know this did not come from me."
Captain Lee warned, "Any post from me comes with a blue check mark verifying that it's actually me This guy is using the email address on hangout as Captainleerosbach243@gmail.com."
He shared, "It is not me and he did not post on my behalf. He is just some demented prick trying to capitalize on mine, Mary Anne, and others' grief. I apologize for this and am taking appropriate steps to find this asshole and see that this is rectified. I'm sorry for any pain this may have caused."
In a Facebook comment, Captain Lee wrote, "OK, I'm beyond pissed. To all of you who replied to this, this asshole is not me. I apologize. Captainleerosbach243@gmail.com you had better pray to God that I never find out who you are, and you can bet your sweet ass that I am looking. And when I find you you will wish you had never ever heard of me."
Captain Lee explained, "The death of my son and the people who share my pain and grief is not something to be exploited by some low life sick prick such as yourself, and you should hope that I never find you because you will not find it to be a pleasant experience, and I am looking."
He concluded, "Exploiting other people's grief to satisfy your own demented pleasure is sick. I'm looking for you, rest assured. [You're] an insignificant little prick, and you will pay for the harm you have inflicted on well intentioned people who are much better than you will ever be. Sleep well tonight."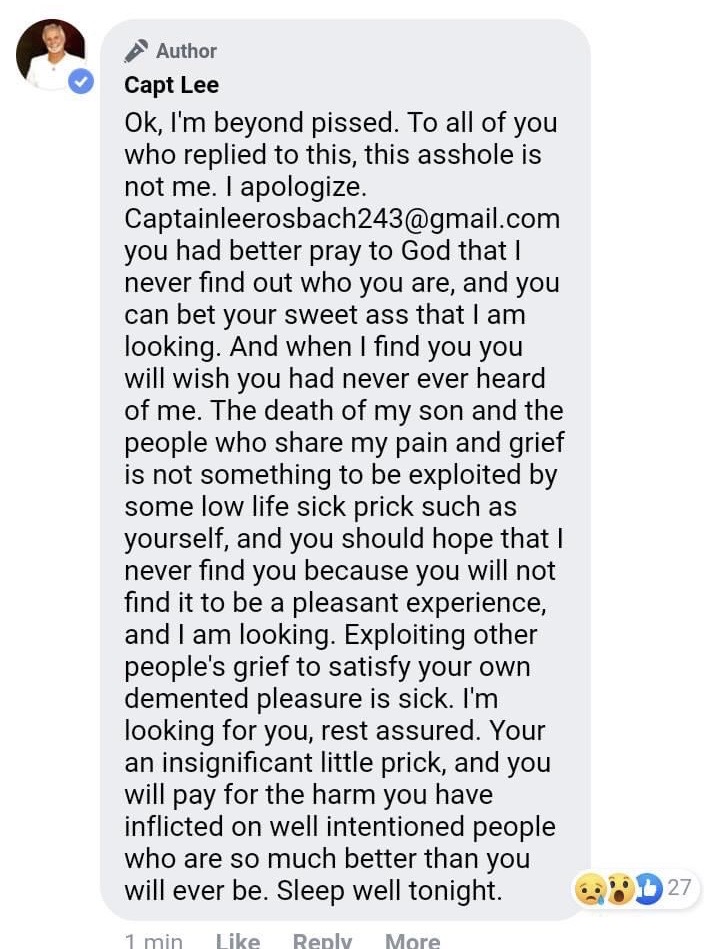 Well said, Captain Lee. Hopefully, this scammer wasn't asking people for money. Whether he was or not, it's truly awful to exploit people's grief.
Check out the Reality Tea Merchandise Store to buy clothes, accessories, mugs, and more!
TELL US- DO YOU HAVE ANY ADVICE OR WORDS OF ENCOURAGEMENT FOR CAPTAIN LEE SO HE CAN TRACK DOWN THIS SCAMMER?
[Photo Credit: Bravo]