Last night's episode of 90 Day Fiance The Other Way was equal parts endearing and just crazy. Well, most of the crazy came from Brittany Banks and Yazan Abo Horira, which is probably no surprise to anyone. I still don't understand if she is just clueless or is being intentionally disrespectful for television. Either way, it's like watching a train wreck, you just can't look away.
Brittany's return to Jordan doesn't go as planned.  Jenny Slatten and Sumit  try to move forward when disaster strikes. Tim's mom's arrival stirs up tension. Biniyam Shibre's long work hours make Ariela Weinberg suspicious. Deavan Clegg and Jihoon Lee face a tragedy and form a new bond. Let's get straight to the 90 Day Fiance recap!
Brittany, 26 (Palm Beach, Florida) and Yazan, 24 (Jordan)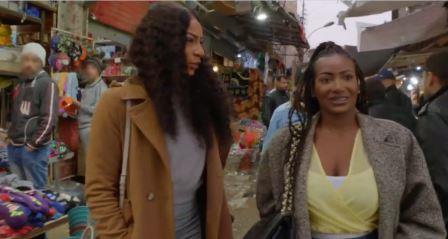 After angry texting and driving, unsurprisingly Yazan got into a car accident. But when Brittany isn't sympathetic, he unleashes his frustrations over everything going on in his life on her. Frustrated, she threatens to no longer come to Jordan. She then remembers that her best friend is coming to Jordan as well. So she decides to go but make it a girl's trip. Insert side eye here. Girl, please! There is no way you aren't going to see Yazan while there. Also, Jordan is not exactly in the top 10 places to party.
Yazan and Brittany haven't talked since their fight. When she arrives at the airport in Jordan, she isn't sure he will even meet her. Brittany gets into a taxi and goes to a hotel when she doesn't see Yazan. He  is infuriated when he gets a glimpse of her leaving without waiting for him. I'm not sure if she did it on purpose, but I can understand why he would believe she did. It's just ridiculous.  I don't understand why they just didn't call each other.
Brittany's best friend, Angela arrives to Jordan unaware that she is now in the middle of a shit storm. Brittany clearly thinks it's cute to be dismissive and disrespectful to Yazan. But she quickly discovers what he was trying to protect her from when she and Angela go out for the day. She literally does everything that Yazan has warned her against in Jordan.
Instead of wearing something conservative, she chooses to go out showing her cleavage. Some people stare and yell out sin when they see Brittany. She clearly has no respect for other people's culture or even her safety. Angela finally manages to encourage Brittany to talk to Yazan and try being nice, for once. I'm not sure what is going to happen when he shows up to find his fiancé drunk at a bar full of men. Sigh! These two are just doomed.
Ariela, 28 (Princeton, New Jersey) and Biniyam, 29 (Ethiopia)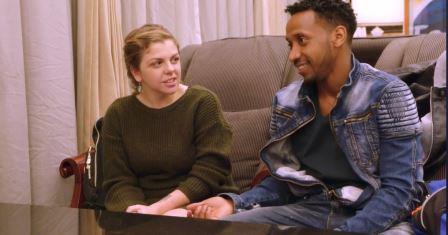 Ariela is experiencing the difficulties of being a stay at home mother in a foreign country. Although she wants to live in a nice apartment, she doesn't seem to want Biniyam to leave her alone for too long to work. Girl, you can't have it both ways. I guess staying at home alone and his job at the nightclub are making her paranoid. When Biniyam's sister visits with a friend she doesn't make it any better by reminding Ariela that the club is where he met his ex. SMH! I don't know if the sister was being passive aggressive or she just wasn't thinking. But all she did was succeed in making sure her brother would be nagged even more than usual.
After joking about Ariela's parent's arriving, out of nowhere she confronts Biniyam on his sister's comments. She even admits she doesn't trust him and that she goes through his phone and calls numbers when he is asleep. Wow! If it's that serious, this may not be the relationship for you.
Personally, I'm not playing Sherlock Holmes with anyone. When she demands his phone, she snatches it out of his hand when he doesn't give it to her immediately. Biniyam you may need to take a day off and let Ariela have a day to herself. She is clearly going insane being cooped up in the house. Even if he is cheating, I wouldn't be calling every number in his phone to find out. Either trust him or exit stage left!
Biniyam and Ariela get into a fight before her parents arrive at the airport. When he informs her that he has to work later that night, she flies into a tantrum. After that long flight, I highly doubt her parents will be awake when he has to go to the club. Poor Biniyam! When he goes to pick up Ariela's parents he is so nervous all he can do is ramble and pass out flowers. Even when Ariela sees her family, she can't hide her frustration with Biniyam. I understand she wants to make a good impression on her father, but I don't think they will fault him for having to work.
Deavan, 22 (Salt Lake City, Utah) & Jihoon, 29 (South Korea)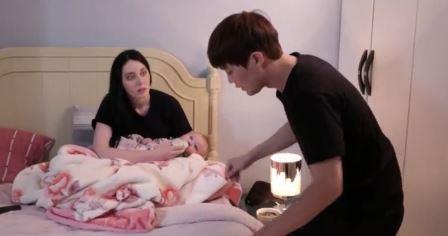 Deavan and Jihoon experience a devastating loss when they learn she suffered a miscarriage during a routine checkup. But through loss, their bond has become stronger. Even Jihoon's mother has made an attempt to support her daughter-in-law after the news. I'm so happy to see his mother step up and play more of a positive role in Deavan's life. She has no family there besides her in laws and it was heartwarming to see everyone support her during a difficult time.
Tim, 34 (Dallas, Texas) and Melyza, 29 (Colombia)
Tim's mother and aunt have finally arrived in Columbia for a visit. Something tells me it is only a matter of time before the ball drops. Melyza isn't even staying at the house while Tim's family is there against his wishes. I don't know how she expects to have a real relationship, if she is unwilling to even stay in the room with her potential mother-in-law for more than an hour.
Although Tim is disappointed, he defends Melyza's actions by reminding his mother she did threaten to call the police on her in the past. Sigh! Regardless of the situation, neither family is going away.  Both Tim and Melyza will have to find a way to move forward. Tim's mother attempts to clear the air when they all go to the market. She tells Melyza that she cares for her, despite their sorted past. It wasn't the apology Melyza was looking for, but it's a start.
Jenny, 60 (Palm Springs, California) & Sumit, 30 (India)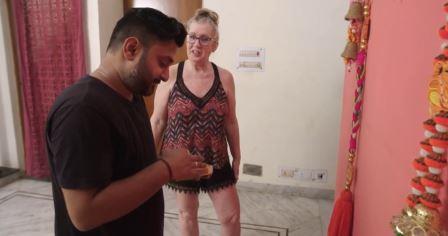 Now that Sumit is finally divorced, he and Jenny feel free to move forward with their plans.  But Jenny is shocked when she learns that Sumit's father still intends to object if they attempt to get married. Regardless, they will still have a traditional ring ceremony. But just when things are starting to go their way, the coronavirus strikes.
Jenny's family is extremely concerned that she is all the way in India during the pandemic. But Sumit and Jenny are finding fun ways to make it through their quarantine. I have to admit, I smiled watching them enjoy one another's company through everything. I was once highly suspicious of Sumit, but I now believe he truly loves Jenny.
TELL US – DO YOU THINK MELYZA SHOULD HAVE STAYED WITH TIM AND HIS FAMILY DURING THEIR VISIT? IS BRITTANY DISRESPECTFUL OR MISUNDERSTOOD? IS ARIELA JUSTIFIED IN HER SUSPICIONS OF BINIYAM WORKING AT THE CLUB?
[Photo Credit: TLC]