Can you hear that? It's the choirs of angels singing to celebrate the return of The Real Housewives of Salt Lake City! After a glorious first season as the talk of the Bravoverse, the SLC Housewives are back for Season 2. And as we all know by now, there'll be no such thing as a sophomore slump happening along the Wasatch front. In fact, this season is going to make Bravo herstory.
Right away, we're treated to a preview of the moment we've all been waiting for since March 30, 2021: Jen Shah's arrest. As promised, the drama went down in the parking lot of Heather Gay's Beauty Lab + Laser as the women converged for a cast trip to Aspen. We see flashes of it all: Jen eyeing the cameras as she gets the mysterious phone call from Sharrieff Shah. Jen asking Whitney Rose to turn her mic off. Telling the women she suddenly has to leave. Feds swarming production just 12 minutes later as the rest of the 'Wives sit wide-eyed and confused.
We see the the moment the 'Wives learn Jen's been charged with defrauding hundreds of (mostly elderly) people across the country in a nationwide telemarketing scheme. And we see Bravo's footage of Jen being escorted in full glam from the federal courthouse in downtown Salt Lake. As the other 'Wives look on in astonishment and horror from their confessionals, a producer asks them all the same two questions: "What do you know that you're not saying right now? Do you know who tipped off the Feds that day?" Like I said, we're witnessing Bravo herstory unfold, people.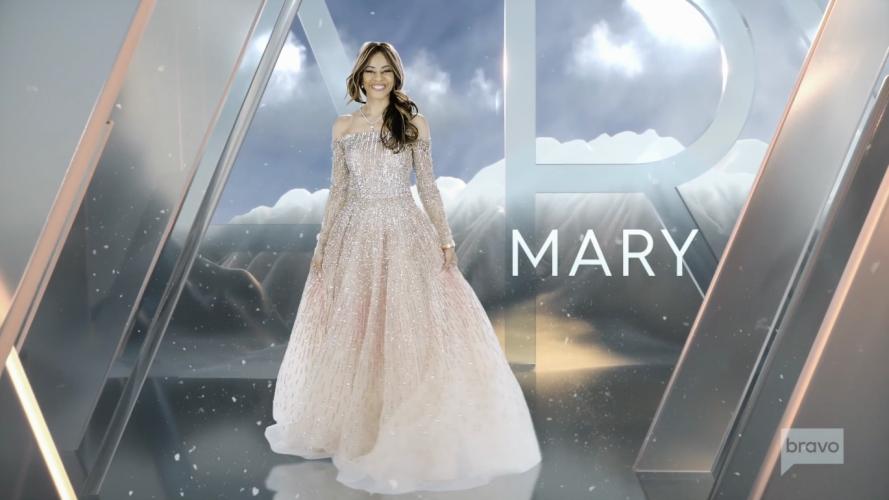 But for now, let's talk taglines! Season 1's bunch were pretty instantly iconic, establishing the Utah 'Wives as the queens of a locale unlike anything in the franchise. Unfortunately, their follow-ups for Season 2 are…a bit of a mixed bag. None necessarily reach the instant heights of their Season 1 predecessors, except maybe Mary M. Cosby's unhinged delivery of "If you come for me, I will send Jesus after you." And Lisa Barlow gets points for leaning into the other women's criticism of her by frostily declaring, "You don't have to like me, I love myself enough for the both of us."
(And yes, I know we're two seasons in, but as a Utah native who was also raised Mormon, it still feels surreal as an OG Housewives fan to hear Heather drop the religion's name into her tagline. Even if it's not quite as clever as twirling to her pioneer ancestors, it's certainly something I never imagined when I first sat down to watch Vicki Gunvalson screech "I don't want to get old!" 16 years ago.)
After the intro, we jump back to two months before the arrest heard 'round the Bravoverse. It's time to catch up on what the 'Wives have been up to since the reunion. And we start with Jen, who's getting a visit from Lisa at her new Shah Chalet 2.0. It was an open secret for anyone who searched Utah property records that the Shahs didn't own their chalet last season. And all I can think watching Jen show off her view, opulent furnishings and exercise-room-turned-closet is how she claimed to have zero assets at her first hearing. Lifestyles of the rich and Shah-mazing is nothing more than smoke and mirrors…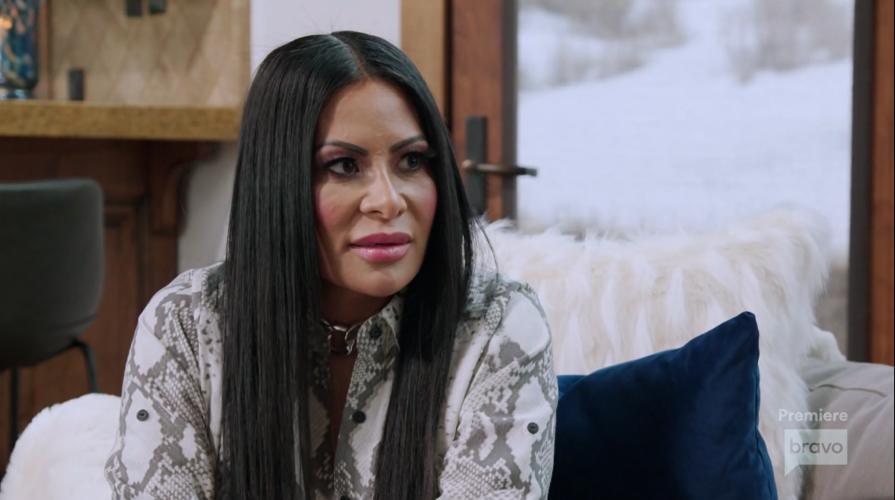 Coming into the season, Jen's essentially an outcast within the group. Lisa's the only one even speaking to her. And all hasn't been well at home either. Apparently Coach Shah filed for divorce sometime after the reunion. In a dose of irony, Jen thought her life was over as she knew it before shooting even began for Season 2. An eerie quality of foreshadowing hangs over every word she says while discussing how to get back in Meredith's good graces with Lisa. All the way up until she concludes the conversation by joking, "Girl, you know I'll go to jail for you. I haven't gone to jail yet." SERIOUSLY.
Meredith and her family, too, moved into a new Park City manse. But while Jen may have been throwing her a $65,000 birthday bash in last year's premiere, she's nowhere near ready to move forward with her nemesis now. And her biggest issue is her former friend's social media tirade against her son, Brooks Marks. She accuses Jen of liking, supporting and reposting homophobic comments in regards to Brooks. And while it's certainly questionable whether calling someone a "privileged twink" is any kind of homophobic slur, Meredith doesn't take kindly to anyone disparaging her family. And for good reason. This year, she's ready to engage.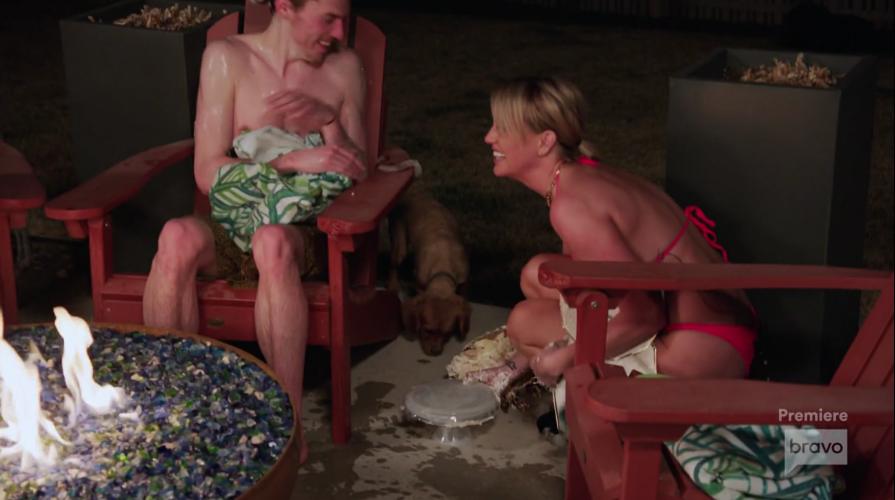 In other news, Whitney is really leaning into her last name by changing the name of the skincare brand she didn't promote at all last season from Iris + Beau to Wild Rose Beauty. She's also partying with her grown stepkids, whom we didn't even know existed last year. Turns out, Whitney's 34 and Justin Rose's three sons from his previous marriage are only a few years younger than her. Which means she's all about doing the shotski and throwing hot tub parties with them to prove she's not a regular stepmom, she's a cool stepmom. Watching a drunk Whitney drop and mutilate that poor birthday cake was easily one of the funniest moments of the night.
Oh, and Mary has finally left her closet! Quarantine hasn't been a great time for the First Lady. Not only was Robert Cosby Sr. stuck in Florida for the first half of it, they haven't been able to hold church services since the pandemic started. And you know how much Mary loves church. So to keep herself occupied, she's decided to start a podcast. One that apparently involves stopping her co-host mid-prayer to chide him for praying with too much Pentecostal vigor. Which, honestly, is something only Mary would do. There's also pretty much zero trace of Mary's supposed podcast on the internet. So if anyone can find it, please let the Twitterverse know.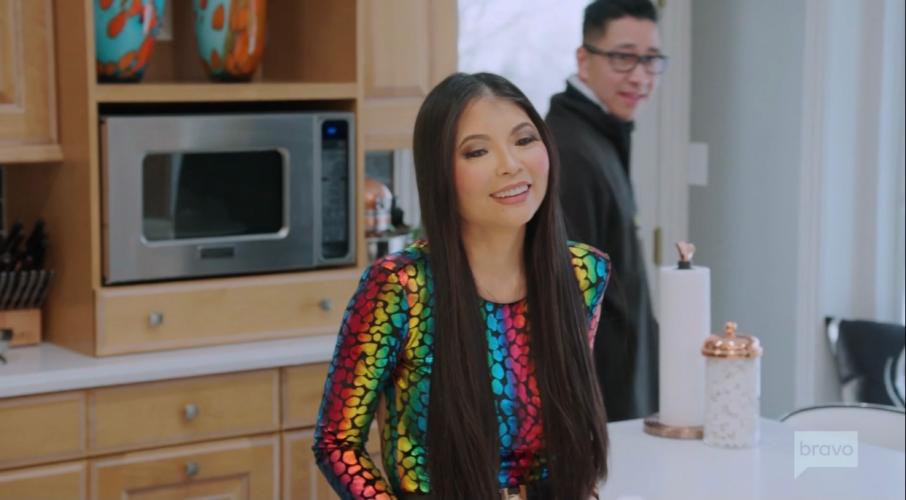 We're also introduced to the newest Housewife in the 801, Jennie Nguyen. The Vietnamese mother of three comes to the show courtesy of Lisa, who is one of her IRL besties. Their teenage sons Jack and Atlas are BFFs too. Judging from her intro package alone, Jennie's story is unlike anything we've ever seen on Housewives. Born in Vietnam, her family fled the country during the Vietnam War when she was just seven years old. However, during their escape they were captured by Thai pirates and forced into a refugee camp. After three years in the camp, Jennie and her family were sponsored by a Christian church to emigrate to the U.S. Which is how she ended up in Long Beach, California. Eventually, she moved to Utah after being set up with her chiropractor husband, Duy Nguyen, and converted to Catholicism. I want to know more about Jennie.
Cut to Heather, Whitney, Meredith and Mary meeting for lunch at Boneyard Saloon and Wine Dive in Park City. They may be dining in a socially-distanced igloo, but all I can think how glad I am that we're not spending all our meals this season at Cucina Toscana (a.k.a. the Rails Steakhouse of RHOSLC). While Heather takes over ordering for the group a la Bethenny Frankel, Meredith tearfully reveals her father has passed away. Meanwhile, Heather hasn't spoken to either Lisa or Jen since the reunion. Only one of those things is surprising, considering she seemed to leave the reunion on good terms with the latter. But now Jen's taking to social media to call her a racist. (Like…huh?) What's maybe more surprising though, is that Heather wants to apologize to Lisa. Surprising, yes, but also nice. Because personally, I really want to see these two make up and join forces.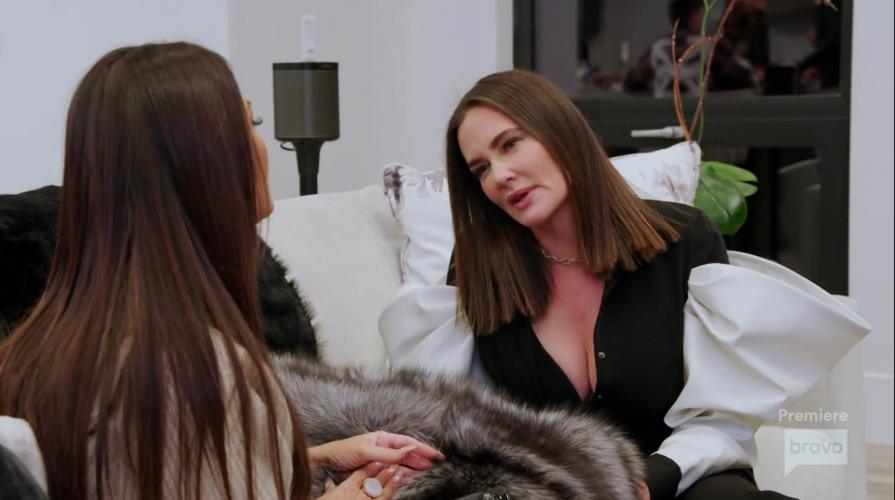 Finally, the action shifts to the Marks' home, where they and the Barlows have gathered to celebrate Shabbat in honor of Meredith's dad. (Remember, Lisa is "Jewish by heritage, Mormon by choice.") But while Brooks is busy trying to remember how to braid challah, the two brunette besties sit down for a much-needed heart to heart. After ten years of friendship, their relationship has been a little strained as of late. And it's all because of Jen Shah. Meredith can't understand why her best friend is seeking out a relationship with her archenemy. And Lisa's in the unenviable space of wanting to play peacemaker and bring the two women back together.
However, Meredith isn't budging — she's adamant she never did anything to Jen to warrant such unmitigated vitriol for the past year. She also shuts down Lisa's attempt to compare the situation to her bad weather feud with Whitney and Heather. In Meredith's eyes, attacking her child goes way beyond whether Lisa and Heather knew each other at BYU. (Yes, this is still hilarious to me.) Mostly, though, I just hate to see these two at odds. At least they end the episode agreeing not to let the Jen Shah of it all get in the middle of their friendship. But as the Markses stumble their way through the Shabbat prayer, I'm realizing that may be easier said than done…
TELL US – WHAT DID YOU THINK OF THE PREMIERE? WHOSE TAGLINE IS YOUR FAVORITE? WHAT WAS YOUR FIRST IMPRESSION OF JENNIE? WILL THE JEN DRAMA CONTINUE PUTTING A WEDGE BETWEEN LISA AND MEREDITH?
[Photo Credit: Bravo]