Last charter! We've made it to the end of the season on Below Deck Mediterranean! Well, almost. The crew still has to get through one more, four-day charter. It's the last challenge. And technically, not everyone's even on board. First, they were operating a stew down thanks to Katie Flood's decision to be a superhuman. And now poor Lloyd Spencer is in the hospital. At the end of last week's episode, Captain Sandy Yawn sent the deckhand ashore due to his skyrocketing blood pressure and chest pains. And there's no guarantee he'll be back before the end of the season.
So now Lady Michelle essentially has a skeleton crew. OK, that may be a bit of an exaggeration. But both interior and exterior are down at least one person. Captain Sandy calls the crew together for an update on Lloyd and an emergency pep talk to rally the troops. It's going to be all hands on deck in ways we've never meant before. There won't be any room for departmental jostling or refusing to pitch in. Somewhat similarly to the first charter of the season, the yacht is in survival mode. Now get into your whites because guest arrival is imminent!
The guests board on anchor for the first time, and it's immediately clear they're a bunch of characters. Demanding characters, that is. They're more than a little rowdy… Champagne glasses are broken, complicated drink orders start flowing, everyone's clothing needs to be steamed, and it's all on Katie and Courtney Veale's shoulders. Meanwhile, Chef Mathew Shea is still fixated on the tiny piece of feedback Sandy gave him during his last dinner, and you just know it's going to sabotage his work in the galley.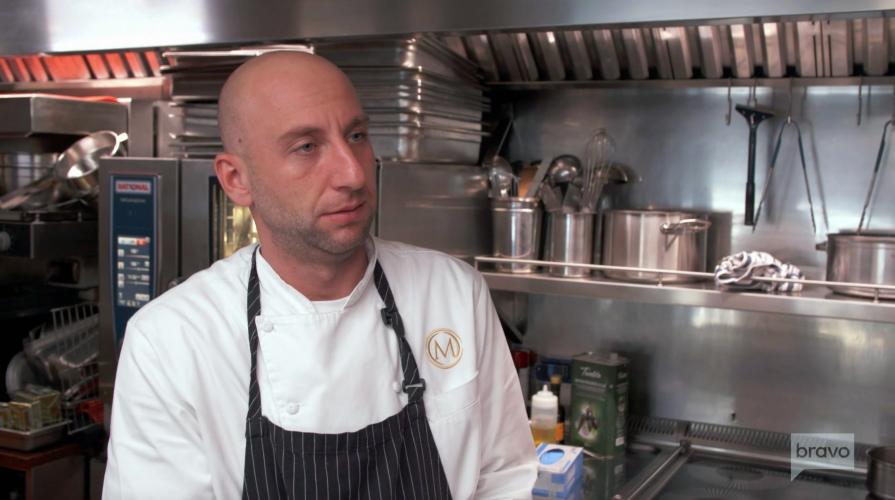 Naturally, Mathew's paranoia is compounded right away when the guests are falling all over themselves during their first lunch. In fact, they think his Mediterranean-style local škarpina needs a little hot sauce. (The word returning charter guest/wannabe Bravolebrity Jemele Hill specifically uses is "bland.") Katie knows this feedback won't be well received. Like, even the tiniest bit of criticism sets Mathew off the deep end. But she still has to be the bearer of bad news. Maybe in addition to his exhausting need for constant validation, the chef just isn't that great at cooking fish?
Meanwhile, Sandy gets an update on Lloyd from the doctor on shore. It turns out the poor guy was having a full-blown panic attack. But they've taken an EKG and he's much more stable now. Still, the deckhand just needs some rest, so he won't be back on board until the following day. At the same time, Mathew's mentally unraveling to Katie, telling her he literally wants to "cry." Over people not loving his fish. Get it together, dude. That's basically Katie's rebuttal to his whining, too. You can be a crybaby after the charter's over. He just so gratingly mopey and "woe is me," I can't even handle it.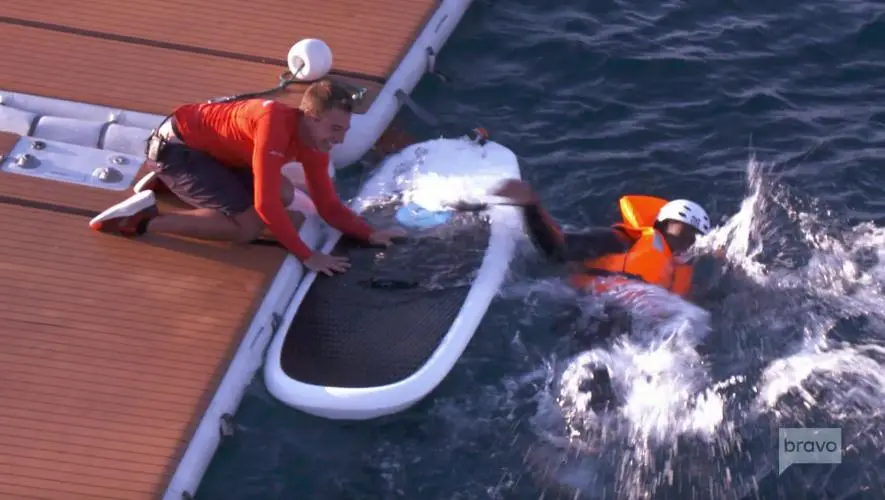 After anchoring in Ostrica, it's time for the water toys to come out and the deck team's opportunity to shine. Though it turns out they do more babysitting than anything else, with Mzi Dempers even taking a jet ski out to supervise. As David Pascoe quips via confessional, they're basically an accident waiting to happen. But at least they can laugh at themselves?
For their first dinner, the guests requested a white party to celebrate Jemele and Ian Wallace's first anniversary. So Katie pulled out all the stops — meaning there's a giant heart made of a bunch of tiny balloon above the table. Mathew turns out surf and turf for the meal, but his constant moping gets on Katie's nerves and she rightly snaps at him to put him in his place. As it turns out, he serves butter-poached lobster, which is the same thing the couple had for their wedding meal. So thanks to that random lucky coincidence, the whole meal goes over well.
What's not so great, for Katie at least, is the guests' penchant for partying the rest of the night. They give her fair warning during dinner, but I doubt she thought they meant they'd be staying up till 4 a.m., demanding massive drink order after massive drink over. Listen. I get that you're on vacation, and also acting out for Bravo's cameras. But at a certain point you're being awfully thoughtless to the people you're forcing to wait on you hand and foot until all hours of the night. Am I wrong here? Poor Katie doesn't even get to bed until after 4:30 in the morning. Paraphrasing the words echoing from Scary Island, put your card games away and GO TO SLEEP!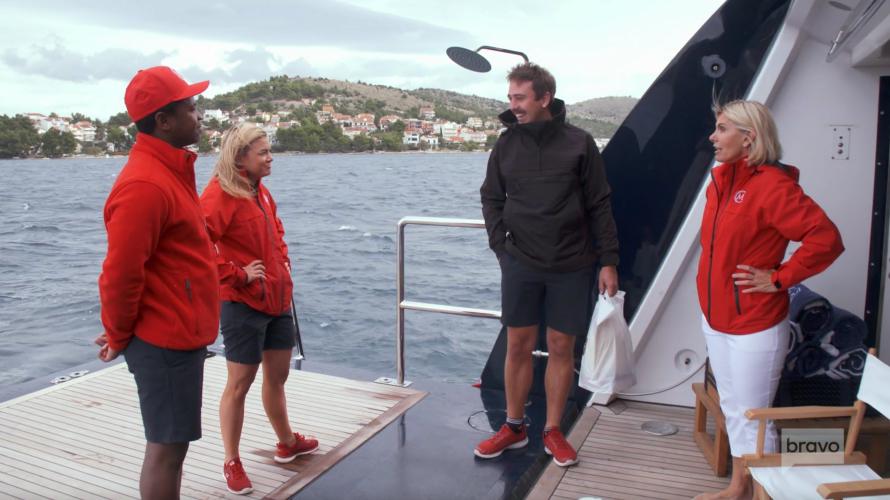 The next morning only day two of the charter, and Katie's running on four hours of sleep. To make matters worse, the weather is gray, cloudy, and generally terrible. Which means the guests will be stuck inside all day with no one to entertain them but the crew. The only good news is that Lloyd returns to the boat with a smile on his face. To take some pressure off the interior, the deck crew organizes an aquatic driving range competition off the laz, and Mzi — a secret golf whiz, apparently — even manages to hustle the guests out of some cash.
That night, the crew throws together a talent show for the guests. With Lloyd serving as MC, everyone shows off their rather questionable talents, from golf tricks and handstands to juggling and cringeworthy rapping from hip-hop duo Katie and Coco. After all, like Malia White, if anyone on the crew was really talented, they probably wouldn't be working in yachting, right? But all that matters is that the guests are entertained, so all the effort should help the tip at the end of the charter.
The good vibes take a downward turn during dinner though, and it's once again thanks to Mathew. He sets out to serve a perfect meal, especially since Sandy's dining with the guests. But some of the guests start tasting beets in the chicken Milanese, which were expressly listed as a dislike on the preference sheet. He served Bull's Blood beets microgreens without reading the "beets" part of the description. Oops. Good thing none of the guests are allergic, but Mathew still lied to the guests without knowing.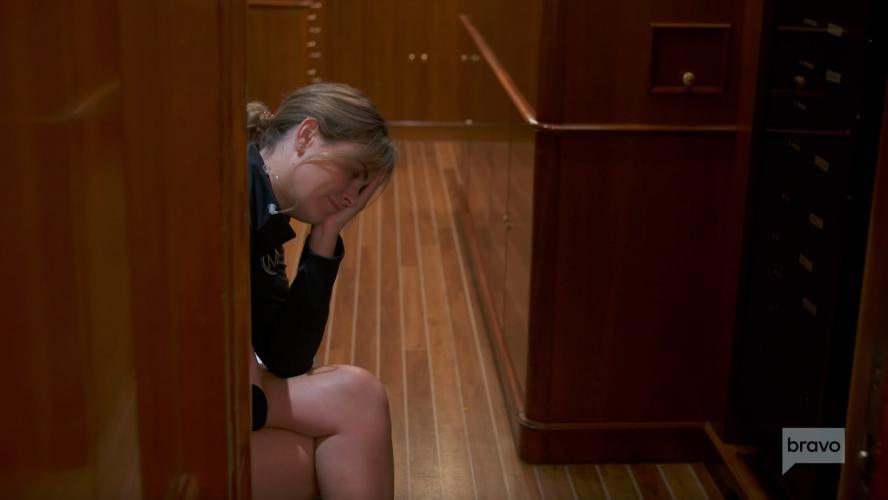 Katie's back on lates for another late, late night. But she does Mathew a serious solid by telling the guests he's asleep when they ask for some late night snacks with their endless drink orders. However, her patience with the chef is at the end of the rope, and she has no time for his complaining and incessant apologies for the beet greens debacle. Once again, the chief stew clocks another 4 a.m. bedtime.
The next morning, Mathew's already in a bad head space. Yes, he's still spiraling over the microgreens from the night before. Or maybe it was the fish from before that. But either way, his mental stability is snowballing. It's the last full day of the season, and he's on the verge of ruining everything. The guests bombard him with lots of different breakfast orders, and it finally sends the chef over the edge. He's breaking yolks left and right; it's so bad, he can't even put a decent breakfast service together. And Mathew being Mathew, no amount of pep talks or positive vibes can pull him out of the spiral. Is the charter season about to end on a bad note because of the chef? Next week, it's season finale time!
TELL US – IS MATHEW THE KING OF GETTING IN HIS OWN WAY? ARE THE FINAL CHARTER GUESTS BEING OVERLY DEMANDING OF KATIE? ARE YOU GLAD LLOYD CAME BACK TO THE BOAT? WHO SHOULD'VE WON THE CREW TALENT SHOW?
[Photo Credit: Bravo]