Welcome to the season finale of Below Deck Mediterranean, where Chef Mathew Shea is still in the midst of a spiral. And it's over every yacht chef's greatest enemy: eggs. The cooking of them, to be more specific. Which is something the vast majority of average home cooks, commuters, and remotely grown-up adults do on a semi-regular basis. Why are eggs the death knell of seemingly every chef on every franchise at one time or another? Well, for Mathew at least, the real problem is he just can't get out of his head. He's whiny, he's mopey, and once he gets even the smallest ounce of negative feedback, he can't seem to take hold of the wheel and right the sinking ship.
However, Mathew's lack of mental fortitude is far from the crew's only worry. It's the last day. Of the last charter. And they have a million things to get done. As the deckhands entertain the demanding guests with water toys, Malia White takes Courtney Veale ashore to set up for the final beach picnic. Which, naturally, is on top of some sort of ancient Croatian fortress that doubles as a film set. Meanwhile, Katie Flood is left to juggle laundry, housekeeping and the guests' constant demand for drinks. (Right about now, the chief stew is finally regretting her decision to work down a stew.) Needless to say, she doesn't have time to coddle Mathew's latest tantrum.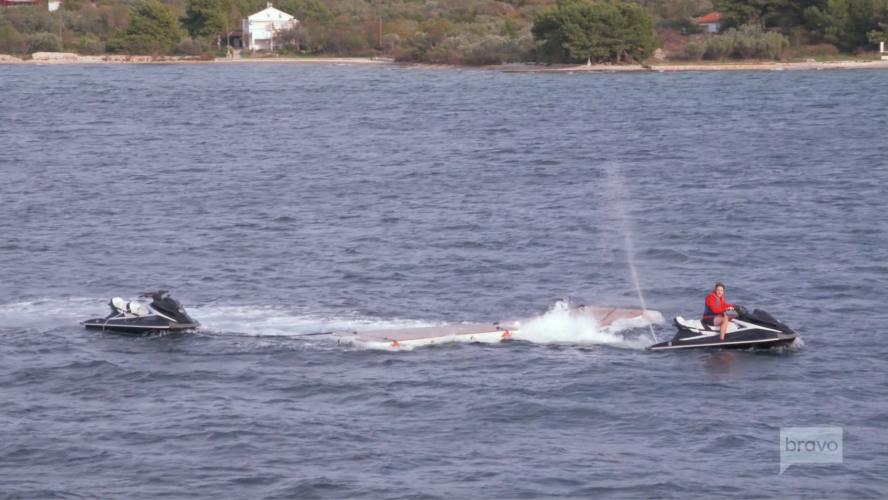 Malia decides to reward David Pascoe for all his hard work during the season by letting him go work the beach picnic with Katie. And almost as soon as he's off the boat, disaster strikes and the anchor starts dragging. In fact, with Lady Michelle drifting into shallow waters, it's such an emergency that Malia detaches the swim platform without even packing it away. Instead, Lloyd Spencer has to hop on a jet ski, attach all the water toys and fend for himself. Thankfully, the crew reacts quickly, and manages to haul anchor without, you know, wrecking the superyacht into the ocean floor. Crisis averted! Look at how far the deck team has come since the beginning of the season…
Instead of dropping anchor again, Captain Sandy Yawn decides to just pick the guests up at the fortress. The moment everyone steps back on the boat, Chef Mathew start peppering Katie with questions about dinner. Should it be a five-course meal? (Absolutely not.) Should he start with shrimp tempura? (She doesn't care.) The chief stew is all the way done treating the chef with kid gloves. And once again, when he doesn't have someone constantly validating him, it's the "worst day ever." Maybe try making your own decisions and doing your own job.
Thankfully, even with Mathew's bad attitude, the final dinner of the charter goes off without a hitch. Well, besides Malia's phone ringing in the middle of service. In fact, it goes so well that the chef even gets an apology from Katie for being so grouchy. Not that he really deserved one, but OK. Meanwhile, Malia recommends Lloyd for the engineer position for the boat's crossing to Spain, which he's thrilled to accept from hot chief officer Marten. And after one last late, late night (on account of the guests refusing to get out of the hot tub until 4:30 a.m.), the last full day of the charter is officially over.
Cut to the next morning. After an easy breakfast containing absolutely zero eggs, the Lady Michelle docks for the final time. And it's time to get these guests off this boat. It's been a long last charter. They've been sort of unnecessarily difficult, and often seemed to take pleasure in running the crew ragged. But maybe it's worth it? Because at the final tip meeting, Captain Sandy reveals they left a tip of exactly $20,000. Which brings the season total to more than $132,000. Just in tips. Ok, maybe I see why people go into yachting now…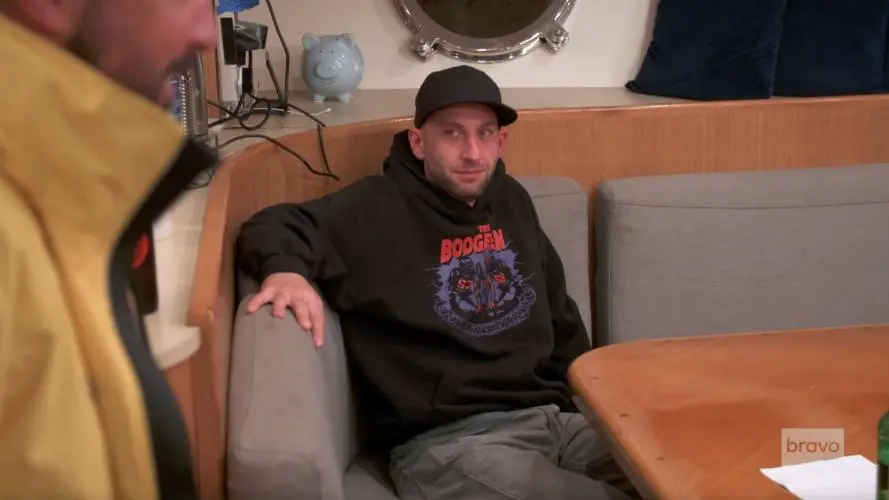 To celebrate a charter season well done, Captain Sandy takes the entire crew out to dinner. But not before inviting chef-in-quarantine to the boat for a drink. You know, as a way of saying "thank you for sitting in a tiny hotel room for the past six weeks." Naturally, Mathew freaks when his Croatian competition walks into the crew mess, and can't even bother deigning to say hello before scampering off to his cabin to pout. Because only Mathew would feel threatened and uncomfortable around a back-up chef after the charter season is over. Eventually, Katie facilitates an awkward greeting between the two. But like, seriously, man…grow up.
During dinner, Sandy kicks off the reminiscing about the highs and lows of the season. Who remembers when the crew had to make the first dinner for guests because Mathew walked off the boat on his first day?? Lol. Good times! And Malia retroactively names David as lead deckhand. Which, like…thanks, I guess? Can he even put that on his resume if it's a title he earned after the fact? Either way, David deserves it, and should've been made lead deckhand several charters ago.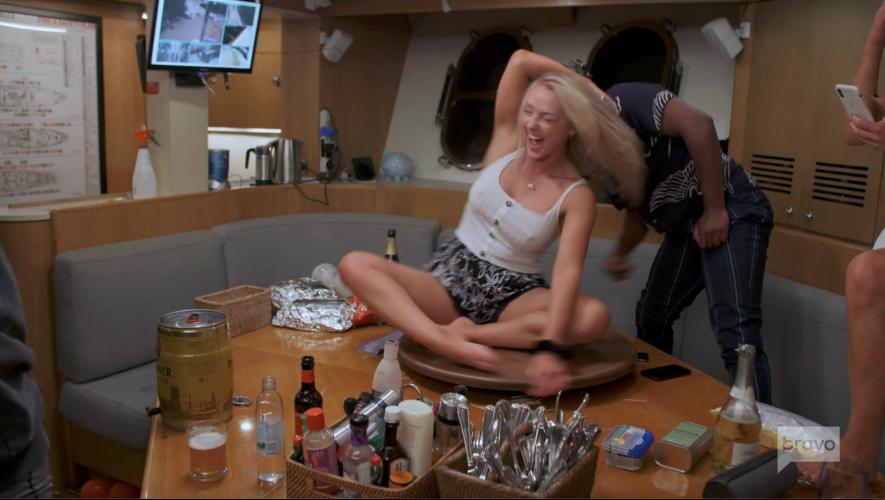 Finally, the crew heads back to the boat for one last night of debaucherous partying. Clothing starts coming off. Giant canisters of alcohol left over from Oktoberfest are shotgunned. Mzi Dempers literally falls face-first over the back of a couch. The lazy Susan in the crew mess is ridden harder than any lazy Susan in the history of kitchen accessories. The night is a sloppy, drunken, happy mess. And Chef Mathew misses basically the entire thing by falling asleep and being helped to his bunk bed.
The next morning, it's time to say goodbye. But only to Captain Sandy, really. And the boat itself. Because the rest of the crew is spending a few days together in an AirBnB in Split. Serious question: has any crew in the history of Below Deck ever gotten along this well? They all love each other so much that, without the toxic presence of Lexi Wilson, there almost seems to be no need for a reunion. But we're still getting one, and it's starting one minute after the finale ends. And so the season wraps on a positive note. But no one is spilling a drop of tea about what really went down in Split once the cameras weren't around. Thankfully, if anyone can get it out of them, it's Andy Cohen…
TELL US – WHAT DID YOU THINK OF THIS SEASON OF BELOW DECK MED? DID MALIA REDEEM HERSELF AT ALL FROM LAST YEAR? IS MATHEW THE WORST? WHO WOULD YOU WANT TO SEE BACK NEXT SEASON? WHAT DO YOU THINK REALLY HAPPENED IN SPLIT?
[Photo Credit: Bravo]