The Real Housewives of Miami Hamptons trip is already off to an explosive start. Everyone came to play at the dinner in last week's episode. At one point it was basically Dr. Nicole Martin versus everyone else. What's clear to me though is everyone in the group is talking about each other behind their backs. There's a lot of whispering and rumors amongst friends in this group.
Nicole's upset at Marysol Patton for stirring trouble at the dinner. She's unable to move on right now and doesn't want to be on the trip. Nicole's talking all the shit she's accused of doing, right? There's no way she'd remain this pressed if it wasn't true. I'm still having difficulty understanding why Nicole has so much to say about people she barely knows. Take the time to get to know everyone before you spout off at the mouth.
Larsa Pippen still doesn't know what happened the previous night. However, she flat out tells Nicole that Marysol's not a liar. Call her messy. Call her whatever you want. Just don't refer to her as a liar. Marysol holds a lot in the vault, and Nicole should be concerned about anything else she said getting back to the target.
Nicole defends herself saying there was a spin put on it by Marysol out of malice. Now THAT's something I can agree with. Marysol probably would've left Nicole out of her line of fire if she didn't come for Alexia Echevarria. As soon as Nicole said anything negative to Alexia's face, it was game on. The gloves came off, and Marysol's ready to go ten rounds.
The entire game was a segue to come after Nicole. As soon as Lisa Hochstein didn't take the bait to say something negative, Marysol was eager to drag Nicole. It was a calculated revenge attack, and I actually totally understand it. Nicole's coming off a bit too faced this season, and this was her just desserts.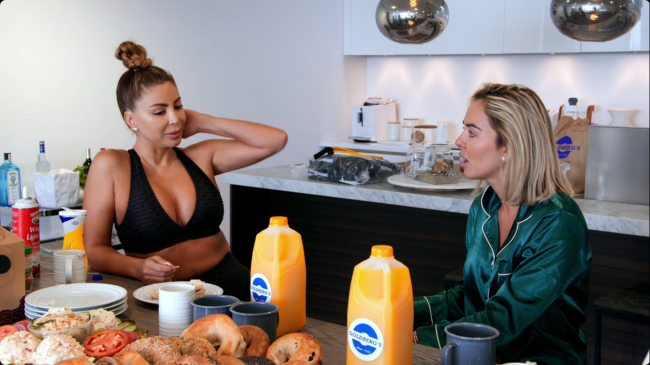 Larsa's hurt by the negative comments Nicole spewed about the OnlyFans account. It's the sole reason Larsa is lashing out and bringing up Nicole's questionable motives for leaving her ex. Nicole calls it a low blow. I'm guessing she doesn't like the insinuation that she's a gold digger who jumped to a new man after seeing dollar signs. That's not something I can really speculate too much on yet. It's a big label to throw on someone.
Julia Lemigova emerges from her slumber and is an instant breath of fresh air. Traveling to New York with fresh eggs is the kind of lighthearted fun I like to see after major drama. She brings such a fun vibe to the group unlike anyone else. She's not the most exciting character on the show, but definitely a good-natured neutral Cynthia Bailey type of person.
Nicole doesn't want the drama to get in the way of what they're in New York for. They're there to support Larsa and her jewelry, so she's hoping they can set aside the bs to do that. I'm sure that's a temporary possibility, but this is Housewives, so it won't be long before shit his the fan again.
Julia's triggered by Larsa's causal nature of throwing digs at Nicole for having children out of wedlock. She's taking it personally. This could be the thing that sends her into the drama for the first time. It would be a welcome but unexpected change.
Marysol's not taking Nicole's apology to Larsa very seriously. She thinks she still feels all of the original intent behind her words. That could be true. However, Nicole might be someone who bows down in the face of confrontation. A lot of people can't speak the truth when forced to do so.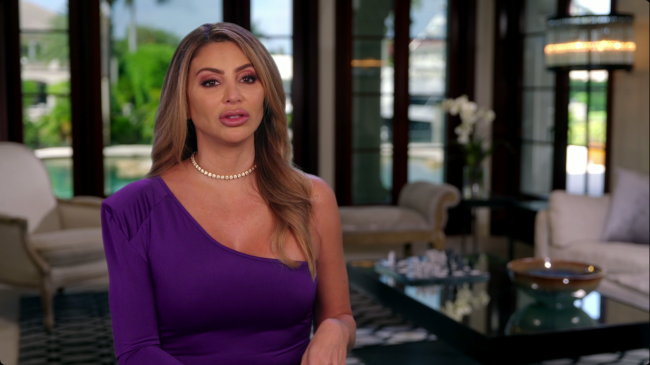 The women are boxing and actually placing bets on who would win in a sparring match. Adriana de Moura looks giddy at the thought of Kiki Barth knocking the f**k out of Larsa. She wanted her destroyed. It's a silly little scene, but the underlying feeling of Adriana's dislike for Larsa is there. That's bubbling beneath the surface just waiting to boil over at the opportune time.
I was hoping we'd never see Guerdy Abraira, but here we are. At least the scene is something heartwarming because she's planning a charity event in her deceased brother's honor. Giving money back to Haiti and the children of Haiti is such a worthy cause. I have nothing negative to say in regard to that. This is a time where Guerdy's annoying and over-the-top tendencies don't need to be picked apart.
I can't get over how rich all of the women are. We haven't seen wealth like this on Housewives since the early Beverly Hills seasons. This is the type of affluent aspiration that I'm trying to watch with these shows.
In the middle of a scene, Larsa asks to be unplugged from her mic to speak with her attorney. Now I need all of the tea. It's funny because any time a Houswife asks to have their mic off, you know that's the real drama. Whatever's on the other end of that conversation is where the juiciest gossip lies.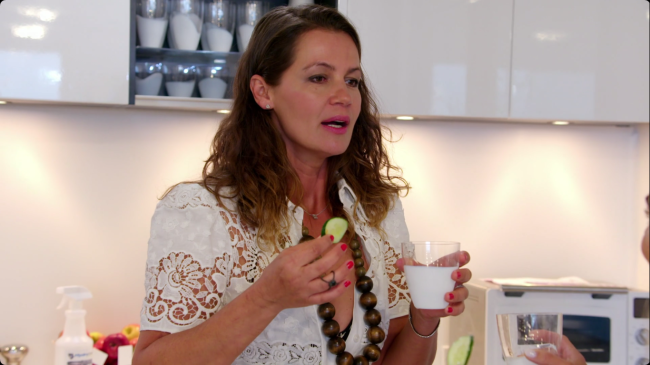 Julia's loosening up all the girls and getting them drunk on shots. I've never been more here for someone. She genuinely wants to have a good time with everyone and get out of her comfort zone. This is a lot different from her day to day of goat milking and chicken chasing. This is so far out of what she's used to, but she's making the most of it!
I don't remember the Miami ladies being this damn funny in the original incarnation. Everything out of their mouths is pure comedic gold. The vibe of this series is unlike any in the entire franchise. Peacock's knocking it out of the park with their versions of Housewives. More, please.
Guerdy shows up for dinner, and Alexia tells her she's lucky she came today and not the previous night. Could you imagine Guerdy in the mix for that war of words going down the prior evening? I think it would've been a hell of a lot more annoying. She's already crying at the idea of the conflict because she has a lot going on. Please be a one and done. Do not come back next season.
Nicole calls Marysol a sociopath for wreaking havoc the way she did at the prior dinner. I think it's hilarious. Marysol's a pro at the genre and knows what to do to make a scene good. Unfortunately for Nicole, this time it was at her expense.
Julia gets down on her knees to present Adriana with a ring. What the fuck am I watching? What in the Twilight Zone is going on? Everyone's confused as fuck. It's a promise ring, but it's still weird. The way it was gifted felt like a full proposal. What a bizarre storyline because I'm forever dismayed and bewildered. Julia's such a vibe though.
TELL US – TEAM NICOLE OR TEAM MARYSOL? WHAT DO YOU THINK OF JULIA & ADRIANA'S FRIENDSHIP? DO YOU TRUST NICOLE? 
[Photo Credit: Bravo]