Rumors had been swirling since the conclusion of Wednesday's Premiere Episode of Celebrity Big Brother…what the heck was going on with the live feeds that we were told would be on Paramount+ directly following the episode? Was it just a technical glitch or something more sinister? Many people online speculated that perhaps someone had already quit (which is more common than you'd think with the Celebrity Edition of the show), and that CBS was trying not to expose it on the live feeds. We won't know for sure what the reason was, but I can confirm that the live feeds were up and running after tonight's Thursday episode…and we'll have to wait for the two-hour live episode on Friday night hosted by Julie Chen Moonves for any real answers, if answers are given at all, for the delayed feeds.
The game has definitely started now – live feeds or not – and it was evident by the amount of game play and maneuvering during Episode 2. Recently crowned HOH, the UFC Champ Miesha Tate, was busy deciding who to target and who to bring into her alliance, but not quite as busy as Todrick Hall was…this dude was literally brought into alliances representing everyone in the house, except for Chris Kattan and Todd Bridges. For Todrick, it represents just how likable and trusted he is…he could be a real threat to go to the end, if he is able to juggle his multiple alliances and allegiances. Kattan and Bridges on the other hand, have contributed next to nothing to the game other than the occasional laugh and some epic snoring. Both Kattan and Bridges seem uneducated in the game of Big Brother, and at least their portrayals thus far paint them as two outsiders who will find themselves outside of the house sooner rather than later.
But of course, because Kattan and Bridges are the easy targets, Miesha wasn't all that interested in nominating either of them. She instead had her mind set on getting rid of Teddi Mellencamp, and it was made quite obvious to Teddi on numerous occasions that Miesha might be after her. Her fears were confirmed when Olympic Ice Skater, Mirai Nagasu, told Teddi about Mirai's direct conversation with Miesha. Miesha's antenna had already previously gone up in regards to Mirai, who she pegged as being a fierce competitor during the first HOH comp. But after losing trust by telling Teddi of Miesha's plans to have her back-doored, Mirai ended up finding herself up on the block as one of Miesha's two nominees.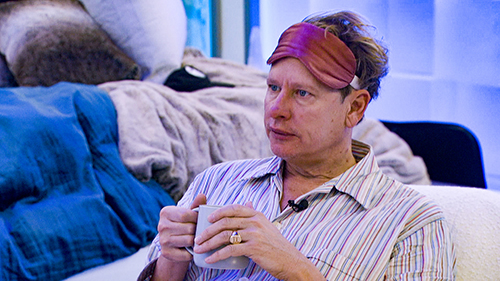 The other nominee was a headscratcher, with Carson Kressley picked as the second nominee for eviction. He is beloved by the entire house, and was only put up as a pawn by Miesha. But as we all know from watching this game even in passing: Pawns often go home. It appears that if noms stay the same, Miesha will be wanting Mirai evicted, while if she were to pull herself off, she'd be able to fulfill her back-door plan and would put Teddi up in Mirai's place.
Alliances are all fun and good, but true allegiances aren't revealed until that first vote. The most notable of all of the alliances – and the only named alliance thus far – is the "Formation" alliance consisting of Cynthia Bailey, Shanna Moakler, Todrick, Carson, Mirai and Teddi. If this alliance is a "true" alliance, then that means that Miesha just put up two members of Formation and if things stay that way, they would no longer have the majority to keep one of their own safe…and if Teddi goes up in Mirai's place that also doesn't do any of them any good. Look for this group to push Miesha to put up someone not of their six, should she need to name a replacement nominee.
While I mentioned that Todrick Hall had positioned himself nicely, so has Chris Kirkpatrick of NSYNC. Chris and Todrick seemed to form a genuine Final Two alliance, and Chris K. also has the ear and a close bond with Miesha. The only contestant not yet mentioned has been Lamar Odom, who did get included in Miesha's alliance, but who spent most of this episode pining over his ex, Khloe Kardashian. Odom too, does not seem long for this game.
This episode also revealed what was in the "Gala Gift" hinted at in the first episode, and it ended up being a hand-bag hat, created by the famed Big Brother designer, "Mon Won." The hat ended up on the head of Cynthia Bailey, who gained immunity through the first eviction ceremony. The prize comes with a curse though for another houseguest, and it was made clear that ANYONE other than Cynthia (and presumably the HOH Miesha) could be going home, even if they weren't nominated. That is definitely an "unexpected" twist and makes predicting who the first boot will be next to impossible.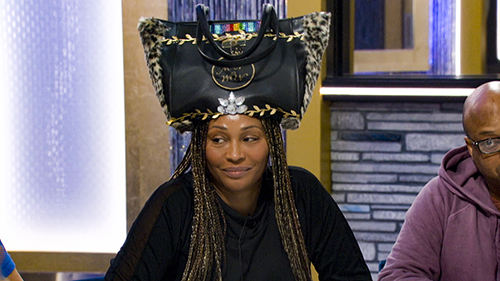 As It Stands:
Head of Household (HOH): Miesha Tate
Nominees: Mirai and Carson
Safe: Cynthia (Mon Won Hand-Bag Hat)
Next Episode: The next episode of Celebrity Big Brother is a two-hour live episode airing Friday, 2/4, at 8pm EST. The first POV competition will play out, we'll see if it ends up changing the nominees, and in a live vote, we'll see who is evicted from the Big Brother house. Who knows, we may also get answers as to why the feeds were down for the first 24 hours.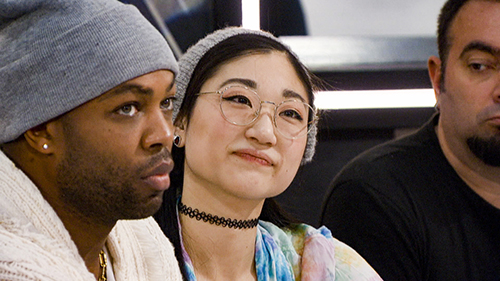 Here's the upcoming Celebrity Big Brother Episode Schedule:
Week 1
Friday, Feb. 4 – 8-10 PM (two-hour live episode, see who is the first celebrity evicted from the Big Brother house!)
Week 2
Sunday, Feb. 6 –  8-9 PM
Monday, Feb. 7 – 9-10 PM
Wednesday, Feb. 9 – 8-9 PM
Friday, Feb. 11 – 8-10 PM
Week 3
Sunday, Feb. 13 – 8-9 PM
Monday, Feb. 14 – 9-10 PM
Wednesday, Feb. 16 – 8-9 PM
Friday, Feb. 18 – 8-10 PM
Saturday, Feb. 19 – 8-9 PM
Week 4
Sunday, Feb. 20 – 8-9 PM
Monday, Feb. 21 – 9-11 PM
Wednesday, Feb. 23 – 8-9 PM (finale)
Quick Note! I appreciate that you are reading this recap! Those that have followed me also know that I am also a RottenTomatoes-approved film critic and I encourage you to check out my past movie reviews and my TV show (episodes are also available online at the website, www.MovieShowPlus.com.) As always, the easiest way to get all of my Celebrity Big Brother and Survivor coverage and movie reviews is to follow me on Twitter – @tomsantilli – or on Facebook.
TELL US – WHAT DO YOU THINK OF THE NOMINEE CHOICES? WHO ARE YOU ROOTING FOR? WHO ARE YOU ROOTING AGAINST?
[Photo Credits: Screen Grab/CBS (C)2022 CBS Broadcasting, Inc. All Rights Reserved]