Real Housewives of Beverly Hills alum Camille Grammer has some thoughts on Lenny Hochstein's new fembot bride-to-be. In all fairness, Camille probably feels some type of way after how her ex left their marriage.
Lenny is still married to his Real Housewives of Miami spouse, but that didn't stop him from getting engaged. Shamelessly and publicly both Lenny and Katharina Mazepa shared their joy as future husband and wife. In one particular Instagram post, Katharina gave herself a pat on the back for getting that ring. It must have triggered Camille because she didn't mince words when giving her opinion.
Que es basura?
Katharina was on the receiving end of one giant ring and a doctor who has an AARP card. Lenny's fiancée showed off her 12-carat bauble that allegedly set Len back about $1.5 million dollars. That's a lot of cashola for something that looks like you could get in the Dillard's costume jewelry department.
Despite this, Katharina bragged to her followers with a post that read, "I don't cook, I don't clean, but let me tell you how I got this ring." By answering an ad in the back of a magazine? TELL US, sweetie – don't gatekeep the good stuff.
Most people thought Katharina's effort was leaning towards the unnecessary side, and said as much in her comment section. When @the_bravo_chicks shared a screenshot of Katharina's handy work, Camille 007 came in for the kill.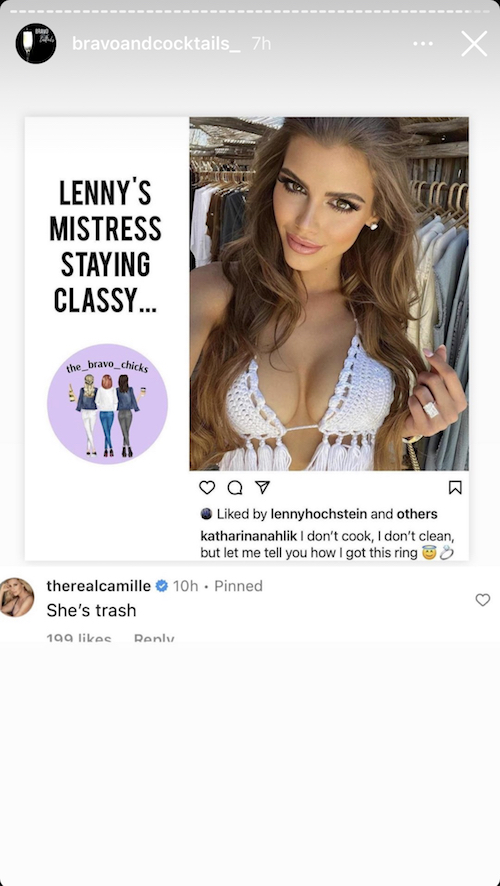 There's no doubt how Cammy feels about the situation after writing, "She's trash." Bravo and Cocktails shared that little beauty. Obviously, Camille isn't thrilled with anyone who messes around in a marriage after what she went through with Kelsey Grammer. Truthfully, Camille's response was probably on the kinder side of what Katharina received after her post.
But don't worry about Lenny's current wife Lisa – she's boo'd up with another man! Lisa has been tripping the light fantastic with her new beau in Europe this summer and she seems very happy.
Real Housewives of Miami is scheduled to return to Bravo later this year.
TELL US – WHAT DO YOU THINK ABOUT KATHARINA'S POST? DO YOU AGREE WITH CAMILLE'S OPINION?