We all knew technology would eventually be the downfall of civilization, but who would have thought a text chain could bring down the Sister Wives family? Just kidding, this isn't the Y2K scare, but the smallest spark would have set the Brown's already unstable family foundation up in flames. It was sad to hear that the older kids of Kody Brown had to let their opinions be known over a high school texting scandal that drew clear lines in the sand on the recent TLC episode. 
How It All Started
A simple idea for a kids-only Christmas gift exchange between Logan Brown, Leon Brown, Maddie Brown Brush, Aspyn Brown, Mykelti Brown, Paedon Brown, Gwen Brown, Gabe Brown, and a few others, including Robyn Brown's children, should have been harmless and helped fill the family with the holiday spirit.
Instead, adults (cough Robyn cough) inserted themselves, creating more drama and bringing out a Grinchy side. Robyn claimed she was actually trying to help, but in the end, she caused more harm than good. 
It All Fell Apart When the Parents Got Involved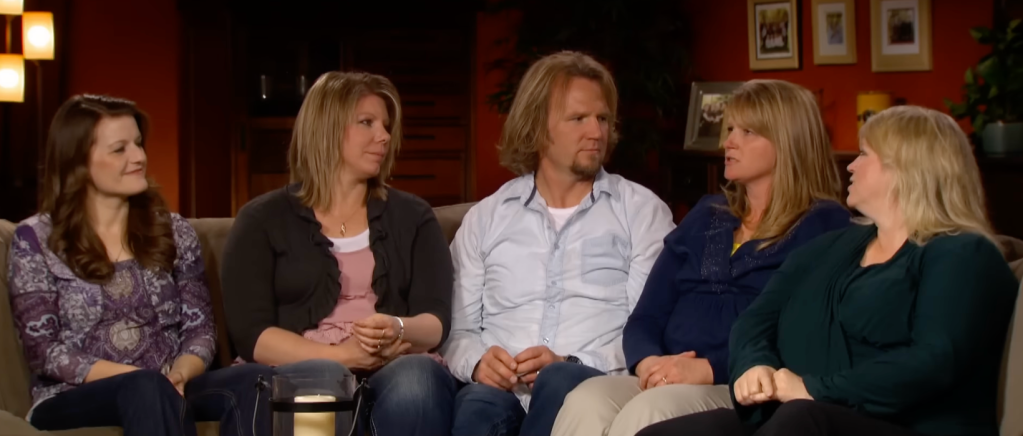 Paedon shared in a confessional that Kody and Janelle Brown's son Logan created a group chat for his siblings about doing a possible gift exchange. Some then decided to loop in the five parents as well. Paedon noted that was when the conversation turned messy.
He claimed Robyn kept trying to get them on a video chat to discuss details. What was so hard about picking names out of a hat? It wasn't like they were living under Warren Jeffs's strict rules of no internet, as they have plenty of holiday apps now for this specific issue. 
Robyn then shared, "I was pushing for the video chat for the sake of the kids, but after too much pushback, I finally went, 'Why am I trying here? I'm out, this is an effort in futility.'" Naturally, the entire conversation spiraled out of control. Christine Brown noted Robyn said her kids "don't even remember who their siblings are." The mother of six then clarified that the entire text chain "got blown out of proportion that they didn't want to hang out and all these hurt feelings about when Robyn first came into the family came out, and it's like, oh my gosh."
With no other specifics revealed, Janelle ominously noted, "It just kept spiraling, and it was done. With some of the things that were said and expressed, I don't know if we ever come back from it." 
Who's at Fault?
As we all know, it is never the children's fault, no matter how old they are, the parents should have worked their issues out years ago. Now, during the scene, no one seemed that broken up over the argument except for Robyn, who placed herself and her children as the victims. For Kody's older children, it seemed to be the last straw, as it is painfully obvious that the father of 18 no longer has any form of relationship with his older kids from his first three wives.
In a cringey confessional, Robyn couldn't hold back the tears as she ugly cried, saying it was "a horrible day and another example of them not wanting to be family with us." Robyn revealed this is how she felt "from the beginning" and added that her three older kids "did not feel comfortable with the gift exchange anymore." 
How We Think the Sister Wives Text Chain Actually Went
Thanks to some pretty creative Sister Wives fans on Reddit, we have an idea of how the conversation probably went down, and it isn't too far-fetched in our opinion. It probably started something like this;
Logan: "Hey guys– I know things are weird with the parents, but that doesn't have to impact us. Why don't we do a gift exchange? Just us kids? Whadda ya say?"
Paedon: "Great idea!"
Maddie: "Do y'all wanna meet at the B&B? Maybe the day after Xmas?"
Ysabel: "Perfect! No parents allowed! Haha!!"
Hunter: "BYOB.. lol!!!"
After logistics are mentioned, Robyn becomes involved and insists on a Zoom call. But it can be assumed that not one responded or didn't have time, which Robyn then takes personally. The conversation continues; 
Robyn: "You guys never want to do anything with us!! You never wanted to be a family!!"
OG13: "What the actual fu*k are you going on about right now?!?"
Gwen: "If you all are too cheap to buy gifts, just say so! No drama needed! Hahaha!!"
And scene! It is clear that something deep went down between the entire family, but all fans can see is that kids shouldn't be scared of the Grinch. They should be worried that Robyn will steal all their holiday spirit, leaving them with no presents. Bah humbug!
TELL US – HOW DO YOU THINK THE SISTER WIVES TEXT CHAIN WENT DOWN?