It's all building up to this moment. Fans are eagerly anticipating the Real Housewives of Orange County reunion after a stellar season so far. Naturally, the most pressing topic with any Real Housewives reunion are the outfits, of course. After that, it's all about the seating chart.
Proximity to Andy Cohen is paramount. Anyone sitting on the end of the sofas should be wary about their longevity on their respective shows. As for those seated next to the Bravo executive producer can rest easy in the knowledge that they brought enough drama to the season.
Jennifer Pedranti and Taylor Armstrong are the furthest from Andy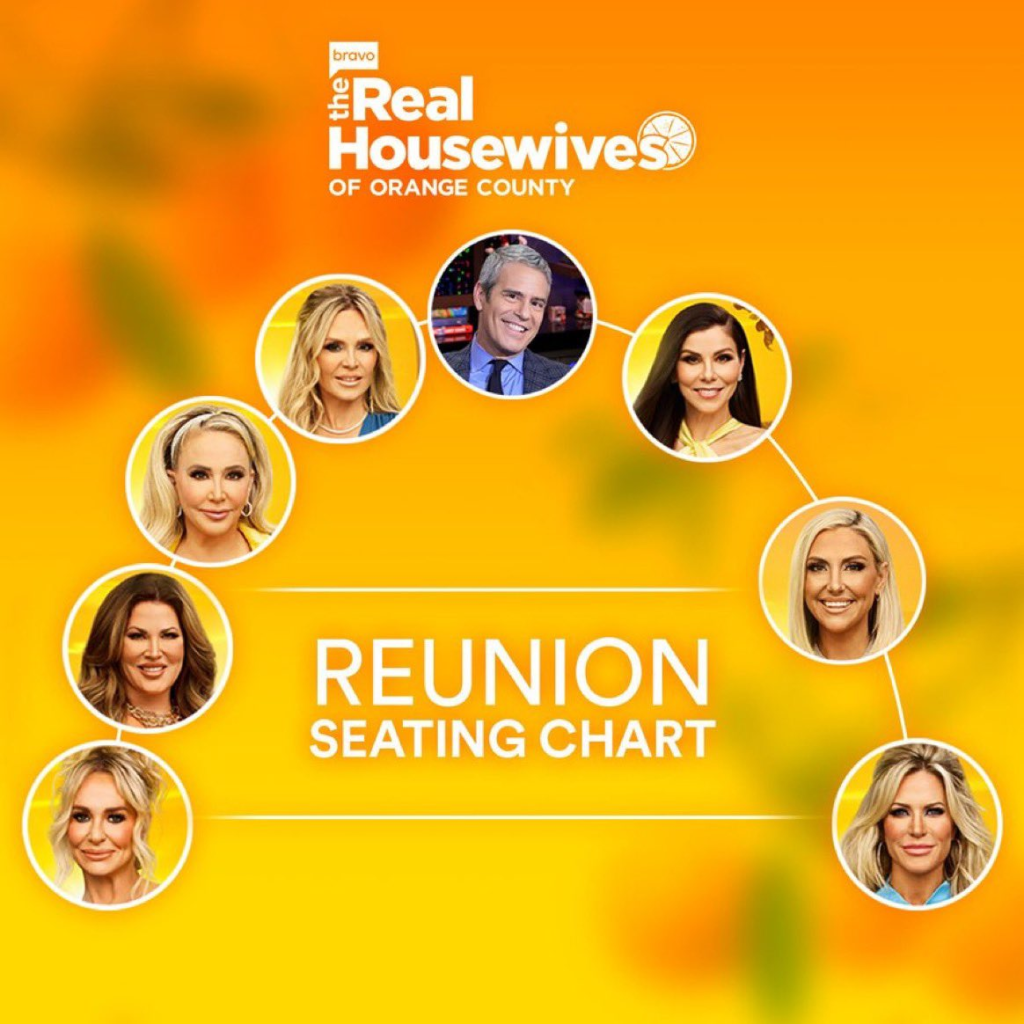 There's no surprise that Tamra Judge got first dibs on Andy's right side. The RHOC star was "on pause" for several seasons, but returned with a bang. No one would expect less from Tamra. The reality TV game is old news for her.
She's been feuding the most this season with Jennifer Pedranti, who was supposedly a friend off camera. Jennifer is seated the farthest from Andy on his left side. She is the newbie, so that's understandable. But one could make the case that she has very much earned her place in the manner that Jen takes on Tamra and holds her own.
Seated next to Jennifer is Gina Kirschenheiter. She would perhaps be better placed next to Emily Simpson. But it's probably best to keep the New York native away from Shannon Beador. There's been too much drama between the two, and Gina is expecting a confrontation.
Perhaps that is why Shannon is seated on the other couch, also second seat in. At least this way Gina and Shannon can address each other across the space. Gina can bring up Shannon's comments about her children for one.
As for Emily, she was placed next to Shannon. It's an interesting choice considering the lawyer's poor opinion of Shannon this season. But a more volatile mix would be if she was seated next to Heather Dubrow.
Heather was placed next to Andy on his left side. She's enjoying the view. And given the state of things currently in the season, Heather will take on Emily, Shannon, and Taylor Armstrong.
Crossover wonder Taylor is seated next to Emily, down the couch. Taylor is quick-witted, kind, and funny but is side-stepping a lot of drama this season. However, it's clear from recent interviews that Taylor and Heather are still in conflict.
How will the season finish out? And is this seating chart any indicator of feuds still to come?
Catch the Real Housewives of Orange County Wednesday 8/7c on Bravo.
TELL US – WHAT DO YOU THINK OF THE SEATING CHART? DO YOU AGREE WITH ALL THE CHOICES? WHAT DO YOU EXPECT FROM THE REUNION?