As the September 17 episode of Real Housewives of New York ended, Erin Lichy and Ubah Hassan stood toe-to-toe. Tempers were high, voices raised and they seemed ready to throw down.
All the drama began when Ubah playfully pushed Erin into the pool in Anguilla. As payback, Erin took possession of Ubah's cell phone when she accidentally left it in the van returning from dinner. Ubah didn't miss it until late that night, and she and Jessel Taank left their room to search for it. When Sai De Silva finally told her that Erin had the phone, Ubah demanded its immediate return. She was angry and didn't find it at all funny.
Some viewers wondered why Ubah had such an intense reaction to Erin's hiding the Somali model's phone. In an Instagram "Ask Me a Question" session on September 18, Ubah explained her response to Erin's prank. In addition, she also spilled some tea on a supposed lie on Erin's part, which will be revealed at the reunion.
Ubah explains her reaction
While most of the RHONY cast seems on good terms with each other, the Ubah Hot founder suggested otherwise. She didn't play coy when answering questions from her fans.
One responder asked, "How do [you] stay centered around unpredictable/difficult people?"
"I don't!" Ubah answered. "I let them have it."
Another follower wanted to know more about Ubah's reaction to Erin hiding the phone, questioning her temper in the process. "Why are you such a hothead about your phone?" they queried. "[You're] the one who left it in the car in the first place."
Come on. People misplace their phones multiple times a day. I'm always walking around the house wondering where I left my phone. That didn't give Erin permission to hide it from her.
Ignoring the insult, Ubah laughed it off, "Well, you know us redheads always bringing the heat!"
Erin turned up the heat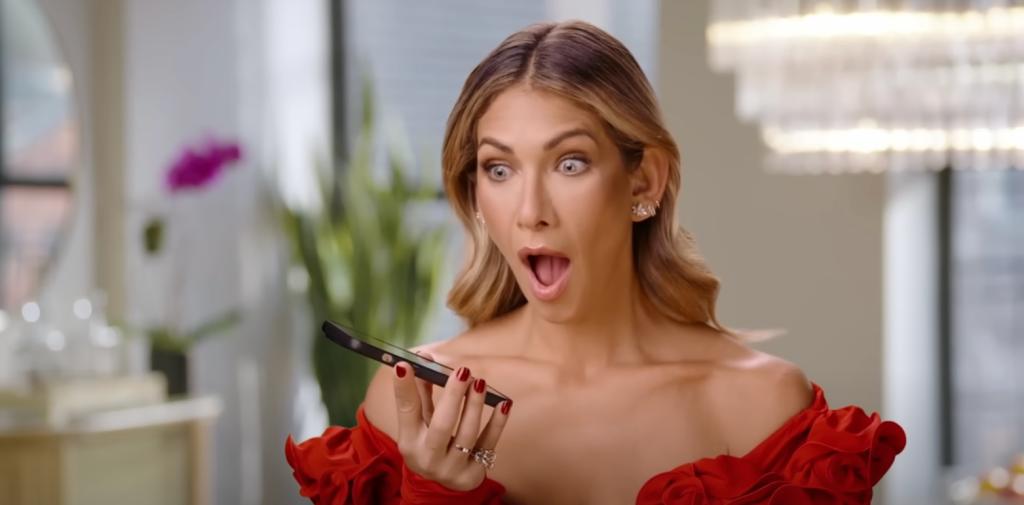 In an addendum, Ubah explained why she lost it with Erin, teasing the upcoming reveal of the aforementioned lie. "The phone was the seed of it all. But she [screams] at me and told me not to mention her f*cking name," Ubah said. "Even though I was [quiet] … and didn't talk to her about my phone to her the whole day. Then, she proceeded to lie about something (watch the reunion)."
On the Watch What Happens Live after show, Erin told host Andy Cohen that she was "stunned beyond belief" by Ubah's reaction to the prank. That shows that you haven't walked in her shoes, Erin, and don't understand what Ubah may have been through. Ubah and her family escaped from a war-torn country. That phone represents the connection to her mom and her sisters. It's a lifeline to her family. You can't just take that away and expect her to think it's funny.
Real Housewives of New York airs Sundays at 9/8c on Bravo.
TELL US – DID YOU GET WHY UBAH WAS SO UPSET WITH THE PHONE BEING HIDDEN FROM HER? DO YOU THINK ERIN WILL EVER REALLY UNDERSTAND? WHAT DO YOU THINK THE LIE COULD BE THAT ERIN SUPPOSEDLY TOLD?