Gretchen Rossi went through the Real Housewives of Orange County gauntlet regarding her relationship with Slade Smiley. The two main players who were on a rampage to discredit the romantic partnership were Tamra Judge and Vicki Gunvalson. Ironically, Gretchen and her man are still going strong, while Vicki speaks of regret in divorcing Donn Gunvalson.
And there is one RHOC newbie who can empathize. Jennifer Pedranti is enduring the endless trashing of her boyfriend, Ryan Boyajian, for the entire season. And Tamra as one culprit is surprising since Jennifer considered her a friend before filming began.
When Vicki was planted into the group for a cast trip to Mexico, it seemed to be for the sole purpose of trashing Ryan again. Hilariously, Vicki doesn't even know Ryan and is speaking as a third party. There was something manufactured about the whole conversation. Yet Jennifer held her peace. And perhaps for that reason, Gretchen reached out to share words of encouragement.
Gretchen calls RHOC cast comments about Ryan "weird and pathetic"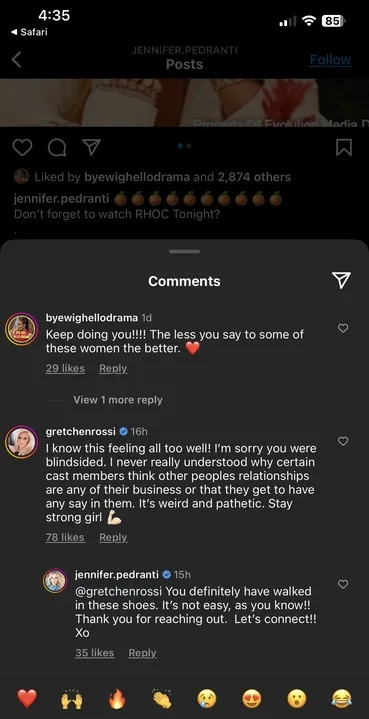 Jennifer posted an image of herself alongside an inspiring quote. The quote read, "still the same girl with the same name. Just different mindset and a new growth game."
Gretchen added a kind message in her comments. And the interaction between the RHOC stars got a lot of attention.
"I know this feeling all too well! I'm sorry you were blindsided. I never really understood why certain cast members think other peoples relationships are any of their business or that they get to have any say in them. It's weird and pathetic. Stay strong girl," Gretchen wrote,
Jennifer responded with an acknowledgement of Gretchen's past with Tamra and Vicki. She posted, "you definitely have walked in these shoes. It's not easy, as you know!! Thank you for reaching out. Let's connect!"
This could be an exciting friendship between the reality TV stars. Assuming Jennifer stays on the show, of course. Perhaps Gretchen could give her some pointers for dealing with Tamra. Or could the mother-of-one make an appearance on the show, just as Vicki was just recently.
At the very least, Jennifer is getting some much needed emotional support.
Catch the Real Housewives of Orange County, Wednesdays at 8/7c on Bravo.
TELL US – WHAT IS YOUR REACTION TO GRETCHEN REACHING OUT TO JENNIFER? HOW DO YOU FEEL ABOUT THE ATTACKS ON HER RELATIONSHIP? DO YOU THINK THERE IS A SIMILARITY BETWEEN GRETCHEN AND JENNIFER'S EXPERIENCES ON RHOC?