It's that time of the week again: Welcome to the Below Deck Mediterranean Season 8, Episode 8 recap! In this week's episode, called "Who Needs Frenemies," the interior team is set to implode. Kyle's tension with Jessika came to a close, but he and Natalya now have their sights firmly set on one another after a boozy night out. Thank god for the deck team, who actually seem to know how to work together in harmony! And Chef Jack of course; he's a good egg. Here's everything that went down in Below Deck Med Season 8, Episode 8!
Is Kyle "bullying" Jessika?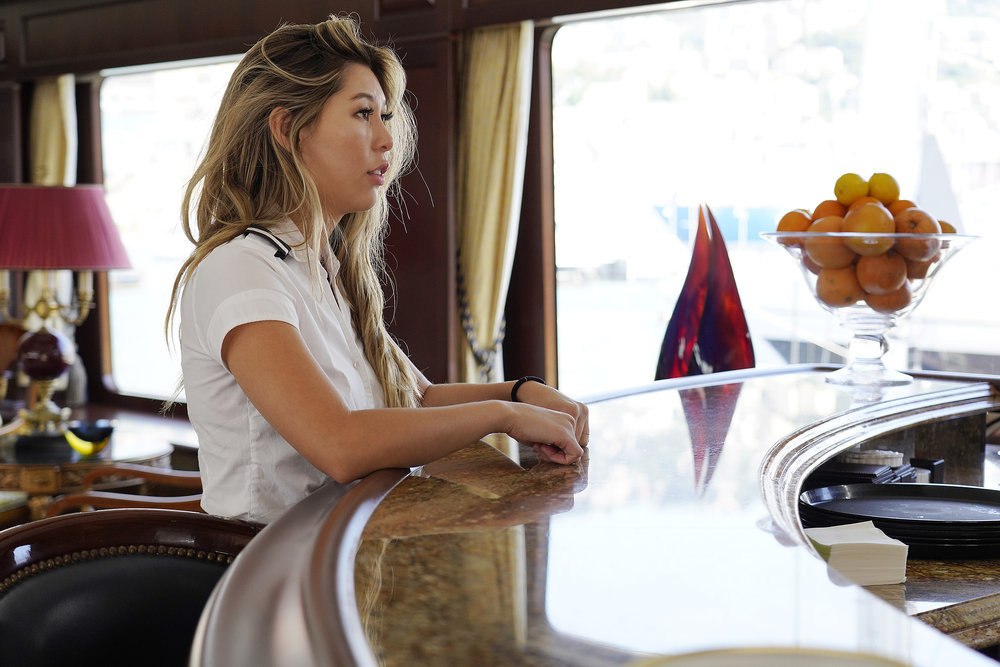 Kyle tells Tumi he doesn't trust "a single f*cking soul on this boat," following his confrontation with Jessika. She had told her chief stew that Kyle makes her feel "green," and he absolutely decimated her in front of Natalya after that got back to him. Jessika thinks Kyle is projecting onto her, and has been "very harsh." For his part, Kyle thinks Jessika was "malicious as hell," and tells her as much when she tries to clear the air. This results in Jessika crying, and having to be comforted by Tumi.
Later on in the episode, after Kyle almost faints due to an anxiety attack, he texts the interior group chat from his bunk. The text ends with him saying he cannot take on other people's dramas, which Natalya asks Jessika about the next day. She implies it was a dig against her, and Jessika agrees. She calls it "bullying" at this point, and takes it to Tumi. The chief stew does a great job of diffusing the situation, and points out that Kyle had commented about the drama between Natalya and her boyfriend also stressing him out. It wasn't a targeted attack on Jessika.
Clearing the air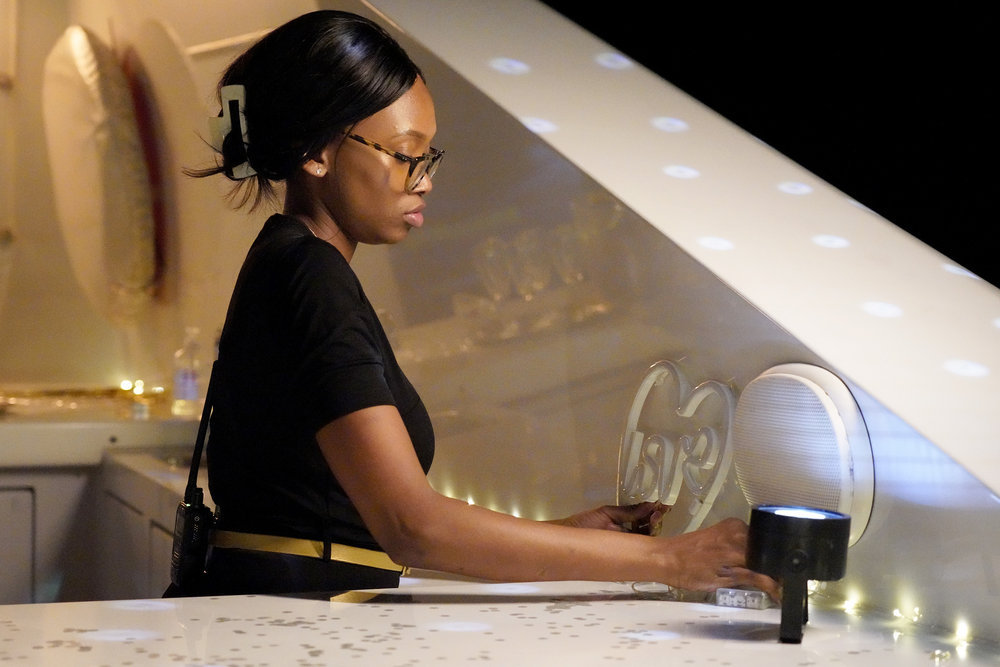 After speaking with Tumi, Jessika and Kyle manage to have a one-on-one conversation. They listen to one another and really get where the other was coming from. The pair come to the conclusion that Natalya is the one pulling the strings, with Jessika calling her "the core of the drama." Kyle apologizes for his approach, and Jessika also says sorry for not thinking before she speaks.
While these two are friendly again, that leaves Natalya pissed off on the crew night out. She sees Kyle, Jessika and Tumi all getting along, and says in confessional they are "the most ingenuine people I've met in my life." It reeks of jealousy – especially when she leaves the first bar early to rush back to the yacht and complain to her gaslighting boyfriend.
Captain Sandy returns to the yacht, and tells Jack to pack his stuff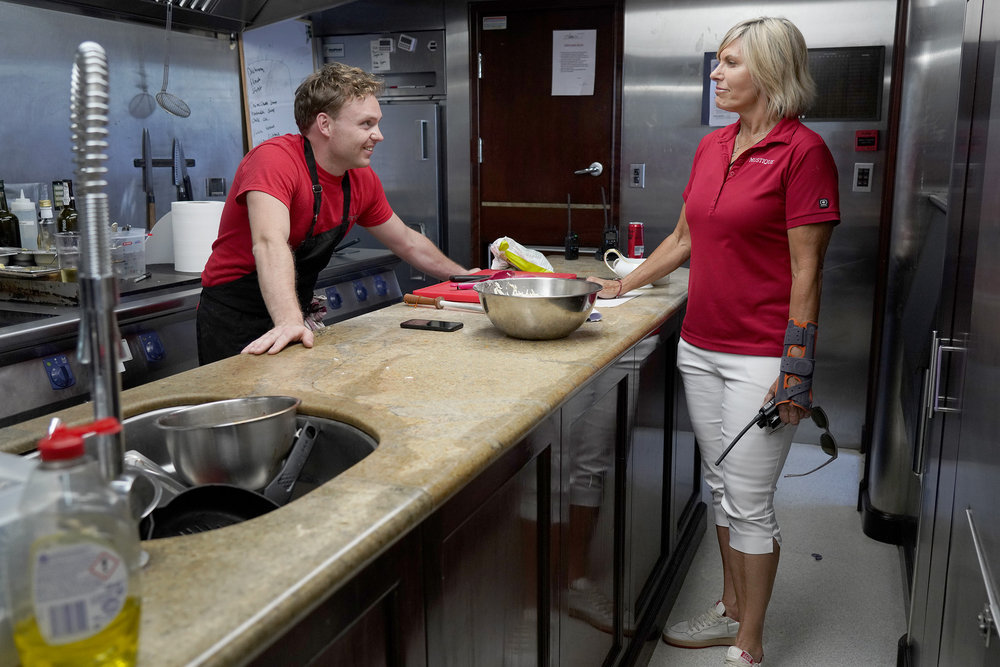 Has Captain Sandy fired chef Jack? Not exactly. While the guests did convince him to take a shot with them on their final night of the charter, his honesty with Captain Sandy means he's fine to stick around. When he did go to confess all in the bridge, however, she made his heart drop. "Pack your shit," Sandy says, before Jack asks for confirmation. "No, I'm kidding … just don't do it again … thank you for telling me." Sandy's got a real soft spot for Jack.
Speaking of Captain Sandy, it turns out she did fracture her wrist! Fortunately, she's able to carry on with the rest of the season, as she's fine to continue driving the yacht. Maybe this will mean more lessons for Luka and Lara in the bridge!
The deck team are the dream team in Below Deck Mediterranean Season 8, Episode 8
Max has really hit his stride. While he makes some mistakes, like leaving his radio behind, Luka knows that the way to teach him is through positive reinforcement. Even Lara and Haleigh seem to like having him around now. He's like that annoying puppy dog who won't stop nudging your leg for attention. You kinda want them to go away after 10 minutes, but they're just so darn cute that you can't help but give them more snuggles.
Following a particularly tight docking, in which the deck team excel once again, Max gets lucky on a night out. The charter guests are free to mingle with the crew now the charter's over, so they meet them at a bar. Max plays a few rounds of tonsil tennis with one he's been getting along with very well. Exactly why Kyle later felt the need to tell him it was never going to work out, because she's a mature businesswoman, is anybody's guess.
Straight people are not part of the LGBTQ+ community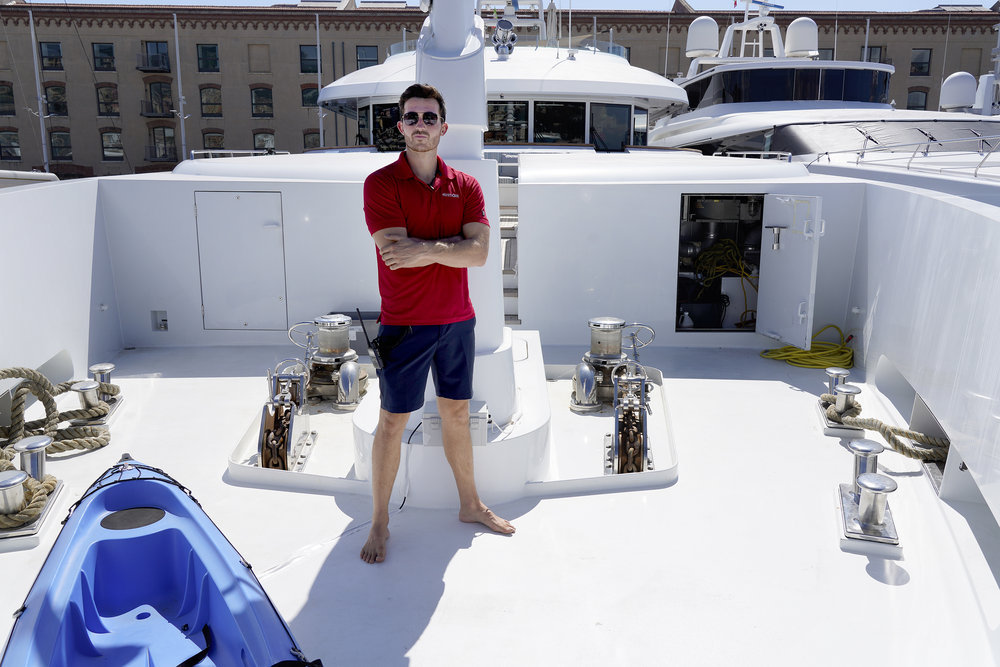 Now as a gay man, let me make one thing clear. Straight people are not a part of the LGBTQ+ community. However, I'm going to excuse Max for his clumsiness and possible ignorance. We have seen how he struggles sometimes with the English language. What he seemingly was trying to do in this chat with Kyle, was say that he wanted everybody to be all part of the same big, happy family. The primary goal is for everybody to coexist peacefully. He was never trying to claim he was a part of the LGBTQ+ community simply because he was an ally.
So, exactly why Natalya got involved and made the most ignorant comment of the night – that if Max would have a threesome with another man he was bi-curious – was completely beyond me. It led to Kyle telling her she would "never control" him, and her telling Kyle to "take a water." He spat back that she should focus on her "own f*cked up life," before topping everything off with the zinger: "Our friendship's never been real." That one's gotta hurt. Natalya and Kyle are as bad as each other. Get them both off the boat and two new stews in, we beg.
Below Deck Mediterranean continues Mondays at 9/8c on Bravo.
TELL US – WHAT DID YOU THINK OF BELOW DECK MEDITERRANEAN SEASON 8, EPISODE 8? IS THIS THE WORST INTERIOR GROUP IN BELOW DECK MED HISTORY?