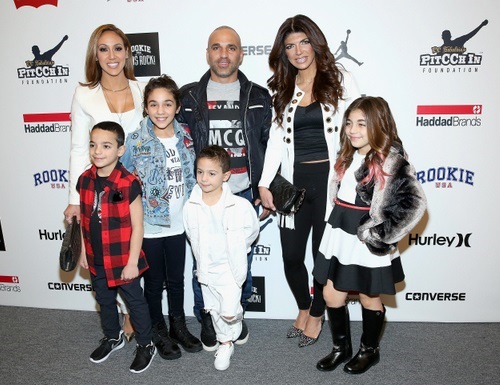 Melissa Gorga and Teresa Giudice were front and center at the Kids Rock! fashion show in New York last night. Melissa and Joe's kids, Gino, Antonia, and Joey, walked in the show, and Teresa and Milania came to cheer them on.
At the show, Melissa sniffed out a reporter chatted with People about her and Teresa's contentious relationship. As we saw on Teresa Checks In, Joe and Melissa spent time with Joe, Gia, Gabriella, Milania, and Audriana while Teresa was in prison. Melissa shared, "Towards the end of her sentence she actually sent me a letter saying how much she appreciated my help with the girls."
CLICK CONTINUE READING FOR MORE – PLUS PHOTOS!
Melissa went on to say that she and Teresa will "probably never agree" about the past, especially not Melissa joining Real Housewives of New Jersey, but the past is the past.
"We both have different versions and probably will never agree," Melissa said about whether or not she joined the show behind Teresa's back. "Honestly, it's in the past and I am not going to let it ruin the relationship we have today."
In one of her 798 post-prison interviews, Teresa told People, "I think Melissa and I just realized what's important in life, that family is the most important thing. We're just going to both be there for each other and not let anything get in the way."
Look below for pictures from the Kids Rock! fashion show. Also in attendance were Traci Lynn Johnson, who was rumored to be joining Real Housewives of New Jersey once upon a time, former Real Housewives of New York star Aviva Drescher, and America's Next Top Model judge Nigel Barker.
Main Photo Credit: Monica Schipper/Getty Images