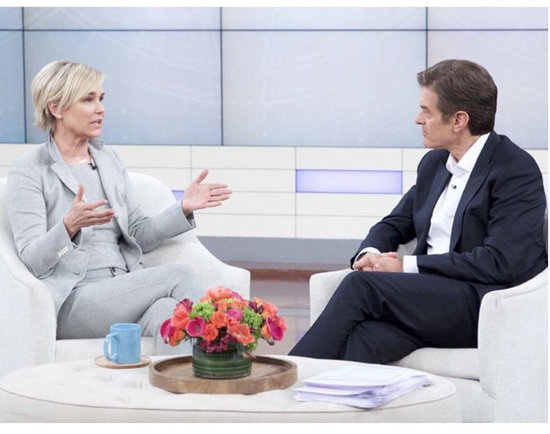 Today Yolanda Foster appeared on Dr. Oz to speak out "for the first time" on her "journey" living with Chronic Neurological Lyme Disease. Yolanda opened up about the impact of doubt, how her marriage and children have been affected, why she continues to do Real Housewives Of Beverly Hills and provides more insight into her medical history and daily life living with chronic illness.  She also reveals previous struggles with Epstein-Barr and Hepatitis B.
Speaking out for the first time? Dr. Oz has instagram, I presume? And access to Bravo? Dr. Oz promises this is a "side of Yolanda" we've never seen before. (It's not.) Is multiple personalities a co-infection of Lyme?
"It's been a long four years," admits Yolanda through tears. "I keep myself motivated for my children, who I need to cure before they go on with their adult lives. It's just gotta get done, and if it's not me, then who's gonna do it?" Doctors? 
CLICK THE CONTINUE READING BUTTON FOR MORE!
Dr. Oz provides CDC data which estimates at least 300,000 people are diagnosed with Lyme each year. Yolanda, her 60% brain miraculously articulate, smirks, "These numbers are just not correct." She claims they're much higher. 
Dr. Oz describes the twists and turns of Yolanda's life: Going from model to single mom raising three children, alone, after her divorce from Mohamed Hadid, then suddenly finding herself ill "with a mystery illness" just as married 'My [Former] Love', David Foster. While Gigi and Bella's modeling careers took off, and she appeared on Real Housewives Of Beverly Hills living the fabulous life, behind-the-scenes Yolanda's battle for health was a shocking deviation from the portrait of "Hollywood royalty."
Appearing in her favorite grey leisure suit, and looking amazingly refreshed for a woman who has denounced Botox and other cosmetic procedures, Yolanda describes the pain and misery she's endured. 
THE JOURNEY BEGINS: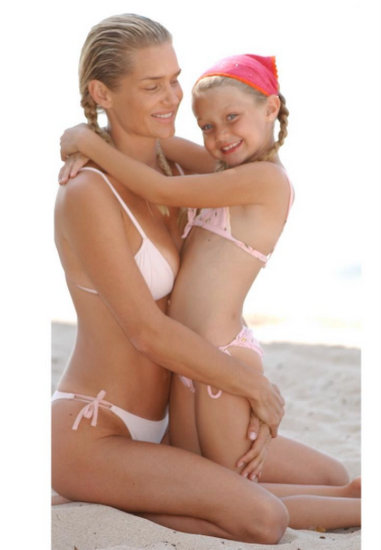 Yolanda provided Dr. Oz with her medical records. He noticed Yolanda was hospitalized at aged 12 (she says with Epstein-Barr Virus), the first of several bouts throughout her life of hospitalization with 'extreme fatigue' symptoms. "Really, I've sort of struggled with this for my whole life," Yolanda concedes. 
Yolanda's mother also suffered from "invisible chronic disease" during Yolanda's childhood. "She would get severe migraines and be in bed with the curtains closed for 2-3 days at at time." Yolanda cries envisioning her mother's silent suffering. "It took my own journey to really understand her journey." Because: All Yolanda, All The Time.
Prodded by Dr. Oz, Yolanda revisits her own lifetime of unexplained illness. In her twenties, living in Tokyo and modeling, she turned yellow. Yolanda was flown back to the US, where a doctor diagnosed her with Hepatitis-B (assuming she used drugs. She doesn't – because she's from Holland). Yolanda discovered the Hepatitis stemmed from having acupuncture performed with dirty needles. EWWWWW!
The Lyme Disease symptoms began in 2011 with bouts of flu-like symptoms, then rings formed under Yolanda's eyes, returning every 3-4 weeks. "After that it started attacking my brain. In 2011, a month before my wedding, I was in the gym, and I looked at [David] and said, 'I can't do it anymore.' It felt like a light switched off." 
Yolanda, who previously could "juggle a hundred things at once," suddenly experienced lapses in normal brain functioning. "I suddenly couldn't put things together anymore. I couldn't remember who we're friends with anymore…," she recalls. I guessed pre-wedding stress, Dr. Oz agrees, asking if the symptoms were similar to earlier collapses. Yolanda denies it. 
Didn't Yolanda previously say that she began noticing symptoms when she first joined Real Housewives Of Beverly Hills? Wasn't she doing some baby goat stem-cell treatment?
Regardless, in 2012, a severely debilitated Yolanda joined Real Housewives Of Beverly Hills. During the same timeframe she was hospitalized and diagnosed with Chronic Fatigue Syndrome. She eschews this. "I knew I had an infection in my brain that was showing a cycle. I knew it because I lived it for a whole year."
DON'T JUDGE ME BECAUSE I'M BEAUTIFUL – THE BATTLE FOR DIAGNOSIS: 
With symptoms not alleviating, Yolanda fought for an accurate diagnosis. There were hurdles.
"The biggest struggle was always that I looked normal," complains Yolanda. Medical reports evaluating her symptoms judged her for being "beautiful."
"It was so disappointing. I would just cry to David, going, if one more person tells me I look beautiful I might just jump out of my skin. It was such an insult because I was so… ill." So that explains Yolanda's sudden penchant for not wearing makeup? "I had no brain function. I would just lay in fetus on the table and have them check me so many times. They just couldn't figure it out." 
A wheelchair-bound Yolanda boarded a plan to Europe. "I had so much inflammation in my brain that I cried for the entire 12-hour flight." Yolanda brought an enormous binder of medical tests, which the evaluating doctor dismissed as insufficient to prove Chronic Fatigue. After an intense battery of additional tests, and waiting six weeks, the culprit was found: "Severe Chronic Neurological Lyme Disease." 
"People started insinuating that I was crazy in the head," she admits. "So finally getting that diagnosis was just, 'Thank you God.'" 
Meanwhile Yolanda continued filming for Real Housewives Of Beverly Hills, signing on for a second season, then a third. 
"It's fascinating, the judgement I've endured from family, from friends, from people at work… ," muses Yolanda. "I had such an extraordinary life! When I got sick I [had] just got married. I mean, look at my girls – don't you think that I would be front row at the Chanel show in Paris watching my two girls ? Nobody would choose to stay in bed 24-hours a day for that many years." 
"To be judged, it's an insult to your integrity as a woman." 
LYME IS A BATTLEFIELD – THE CURING BEGINS: 
After the diagnosis, Yolanda began a 3-month "hell" of thrice daily IV-antibiotics. "It was the start of the journey," she says. "It was so intense – sweating on the bathroom floor, just praying to get through those times." 
Yolanda doesn't know how she contracted Lyme. She supposes a horsefly bite, from living on a ranch in Santa Barbara for 12-years. "I'm such a tomboy, if I would have seen a rash… I'm not that kind of girl that would be like, 'Let's go to the doctor.'" Really? 
IN THE EYE OF THE JOURNEY – YOLANDA'S LIFE NOW: 
Dr. Oz revisits the "unusual treatments" in Yolanda's health journey, which includes visiting 11 countries and 100 different doctors! "For Yolanda Hadid, battling chronic illness has become a full-time job and a global endeavor," Dr. Oz narrates to a slideshow of Yolanda's Sick, Sad, Selfies.
Yolanda shows-off her poster boards, which chronicle her myriad of symptoms spanning years, her co-infections, and the medicines and treatments she's tried, both conventional and alternative.
"Yolanda's life has become a relentless battle against chronic disease," Dr. Oz drones, as we follow Yolanda into her personal treatment room, which she had installed in her new $5 million dollar condo.
Overseen by Daisy, her health advocate, Yolanda begins most days on her in-home hospital bed, receiving an IV, while propped up on an Hermés pillow. The treatment room resembles a spa, but features glass-front medical cabinets, IV poles, and photos of her children modeling. "It's more of a necessity than a luxury at this point," Yolanda declares.
A nurse visits 4 times per week to provide IV treatments for Yolanda and the children. Receiving an IV, while wearing her trusty bathrobe, Yolanda describes Daisy's role helping Yolanda navigate "all the chapters I have been through." Daisy also provides treatments, like ionic foot-baths, which Yolanda believes remove toxins from her body!
Yolanda also has a handicapped tag on her car – Daisy chauffeurs Yolanda to various appointments. 
Yolanda's treatments merge both conventional and eastern medicines, and include essential oils and physical therapy. "I've spent so much time in bed for the past four-years that I have a lot of apathy in my muscles," shares Yolanda. She receives physical therapy from one of the trainers for the LA Clippers!!!! 
Yolanda has no answer for how much money she's spent on treatments, but admits, "It's more than David and Mohamed anyone should have to." 
[Instagram]
Looking over her records, Dr. Oz wonders if Yolanda regrets trying some things. "You're so desperate…" she defends. "But there's a lot of things that I did, afterwards, especially now with my brain function coming back, I go, 'Oh my god! Was I crazy!?'" She recounts going to Tijuana, in disguise, to wait in line to receive fetal stem-cell shots, from "some guy that wrote a book." OH. MY. GOD!!!!!! YES – YOU. ARE. CRAZY. 
"I've done shady things," Yolanda acknowledges to a visibly uncomfortable Dr. Oz. "Like, I'm gonna get this or die trying, but I'm not just gonna lay there and wait for it to go away, because it's not going away." 
HOLY BOOBS BATMAN! THE EXPLANT SURGERY: 
[Instagram]
After one crazy failed treatment after another, David insisted Yolanda undergo a bodyscan, which uncovered leaky silicone from a long-ago ruptured implant Yolanda believed had been fully removed.
With the silicone gone, she's making progress. "It made a huge difference – it changed my life. I'm still dealing with the Lyme Disease, but I don't think I could have possibly stayed alive with this free-floating silicone in my body." 
Yolanda and Dr. Oz go over her body scan – she points out the visible "drops" of silicone. "Who ever said that big boobs are sexy anyway," she lectures, grabbing Dr. Oz for emphasis. "We should just be sexy coming from the inside, right!?"
LYME-MOMMIE LOVE: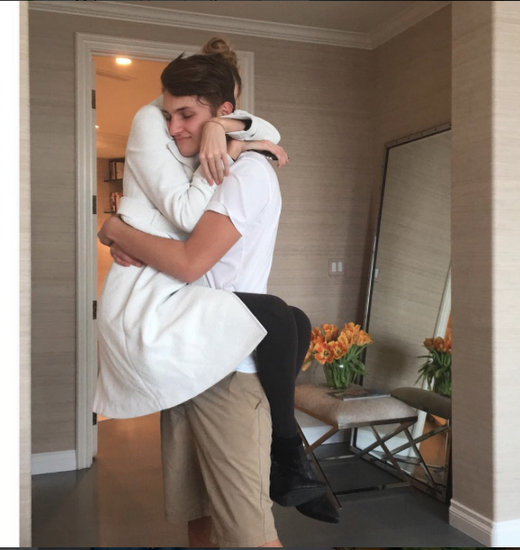 [Instagram]
Dr. Oz glossed over the topic of Bella and Anwar having Lyme, sticking mainly to how Yolanda's illness has affected their lives. 
"My children kept me alive. They're the ones who kept me fighting. There were many days when I didn't want to live anymore, but when you look at your children it's not a choice anymore – you have to keep fighting and searching to get well!" 
Dealing with her illness forced Gigi, Bella and Anwar to "grow up so quickly." 
"I used to be Superwoman! Supermom! All of the sudden I dropped to planet Earth. All of the sudden all they saw was mom in a robe, everyday, seven days a week, months into years," describes Yolanda. "It made them grow-up a lot faster. There were nights Gigi had to drive me to the emergency room at 3 o'clock because I had such severe inflammation in my brain that I'd be bawling, like on the floor." Yolanda laughs at the portrayal of those nights, which included Bella and Anwar riding in the backseat during their frantic dashes to the hospital. "They've been there. They've learned to take charge."
"As mommies we're fixers. I don't have the answer and it's heartbreaking," she says of Bella and Anwar's 'journey'. "Bella, she's just starting her life and to have to survive in the world, and to deal with these severe symptoms everyday…" 
Bella's symptoms began "in her spine" thus affecting her horseback riding. Yolanda was already in bed, "very ill" when Bella started having "big accidents" on horseback. Yolanda made her stop riding and get tested which revealed Lyme. "It's not as severe as mine," notes Yolanda.  
IN HEALTH, BUT NOT IN SICKNESS – DIVORCE, DISEASE, & DAVID: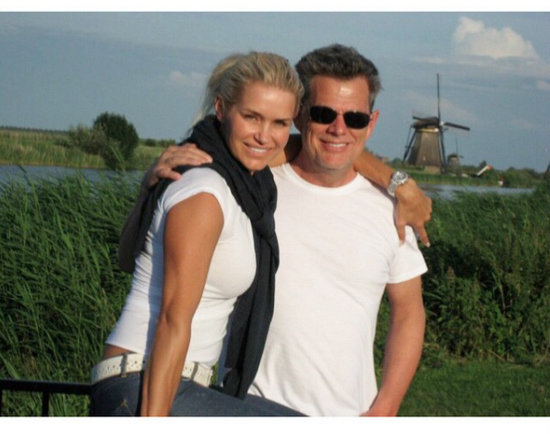 [Instagram]
Yolanda is "still processing" her divorce from David. "I'm not able to really talk about it, but it's part of this journey, I guess."
Dr. Oz reads aloud a loving note from David. "He's the person who was there most of the time. He knows the facts. He's walked this journey with me. The patient suffers, but the care-taker suffers too, because life doesn't only change for us – it changed for the person next to you. David never changed, I changed." 
"I wasn't the woman I used to be, and I probably never will be again," continues Yolanda. "My focus, my energy goes to trying to get well, trying to make a difference, trying to find a cure for my children. David's life is really about being out, traveling, going to concerts – loud music – I can barely listen to the radio!"
REAL JUDGEMENTS, REAL HOUSEWIVES: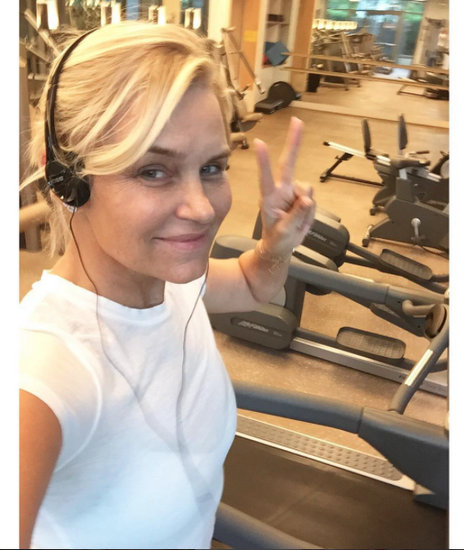 Following a clip of Yolanda arguing with Lisa Rinna about Munchausen, Yolanda remarks, "I was so severely mentally compromised that I couldn't fight for myself anymore." She then admits that right after the explant surgery she had a brief moment of clarity. Uh-huh.  
Yolanda denies being negatively affected by the opinions of the Housewives "I don't think they're damaging me. God gave me this special gift that I'm just able to endure it and stay laser-focused." 
"I want to take away the positives – they opened conversation about what's really going on in today's world because there are millions of people who suffer probably worse than I did," continued Yolanda.  You mean – there are millions without personalized treatment rooms?! No…. 
"I sometimes want to regret it, but you should never regret anything you do in life. It's given me a great platform. I hope to write a book."
BEING A VOICE FOR FELLOW LYMIES:
"I started sharing on social media because I was just frustrated… that I couldn't find a diagnosis," claims Yolanda. "The people inspire me now. They need a voice! I'm grateful to Bravo for having given me this platform. I'm gonna use it to bring awareness. I don't need to sell any bags on on QVC – that's not my journey. It's a much bigger cause."
"It's our job as the chronically ill to educate the world. We all have compassion in our heart, people just don't show it anymore." #CompassionShamingRules
LIVING ON A PRAYER – THE FIGHT FOR HOPE: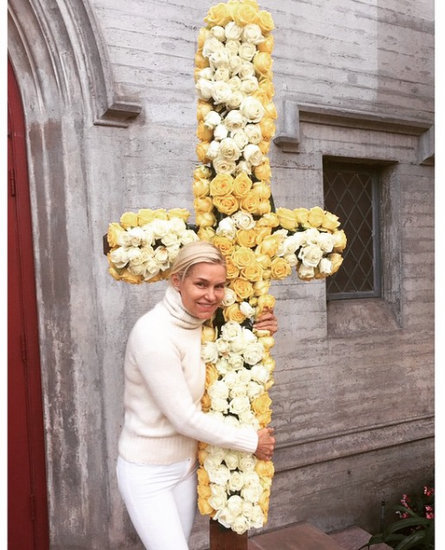 [Instagram]
"I've spiritually grown so much, I'm a different person today," insists Yolanda, who admits to "dreaming" about the girl she used to be with the big boobs and the rich husband. 
Now Yolanda is fighting to regain her life. After not walking or running for years, she's signed up for a HALF-MARATHON this July. Dr. Oz looks incredulous. "I don't even know if I'm gonna make it. I'm not gonna run it, I'll hopefully walk it," clarifies Yolanda. "I'm goal-oriented. I need to get back to that person because I now have so much work to do. I need my brain." 
Yolanda summarizes her battle with Lyme disease as more than a health journey. "It's the journey to my soul and my own strength. And my faith." Dr. Oz unrolls a 2-foot-long spreadsheet of Yolanda's tests from this year alone! She cackles with glee as he presents it to her as a gift. 
TELL US – DID YOU WATCH YOLANDA ON DR. OZ? WHAT SURPRISED YOU THE MOST?
Don't forget tonight is an all new episode of The Real Housewives of Beverly Hills – and Kim Richards is baaaaaack!  It's a double dose of Kim because tonight is also the premiere of her new Lifetime reality show "The Mother/Daughter Experiment."  We'll have both recaps for you tomorrow! 
We'll be Live Tweeting through RHOBH, don't miss it!
[Photo Credit: Instagram]