Earlier this week Catelynn Lowell confirmed that she is in Arizona seeking treatment for anxiety and depression. Naturally this is something she not only shared with the tabloids, but on instagram. Because privacy: What's that?!
On last season of Teen Mom OG, Catelynn opened up about her battle with postpartum depression following the birth of Novalee last year.  
"For everyone that thinks I'm so "strong" I'm really not… one day you will know why. I also can be very weak…," Catelynn tweeted, before confirming she was headed to Arizona on a quest to "be back to my normal self." 
CLICK THE CONTINUE READING BUTTON FOR MORE!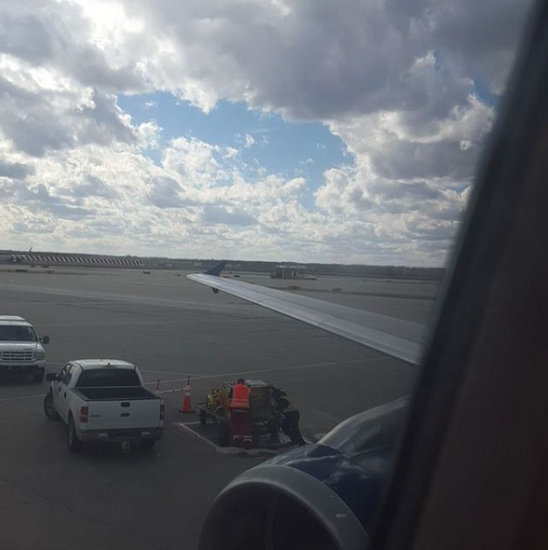 "Arizona here I come… I can't wait to be back to my normal self… this is for me and my family.. Novalee and Tyler I love you both very much!!!" Catelynn announced alongside a photo of her at the airport. [Credit: Instagram]
Catelynn's cryptic tweets got the media curious – as was intended.  "Just let [fans] know that I'm just seeking help for my anxiety and depression at the moment," she informed to In Touch Weekly.
Meanwhile Tyler Baltierra and Novalee were back at home, with Tyler imploding for attention on twitter. He tweeted asking for prayers and reminding us what marriage vows say for those of us that can't re-watch ours on reality TV every time we forget!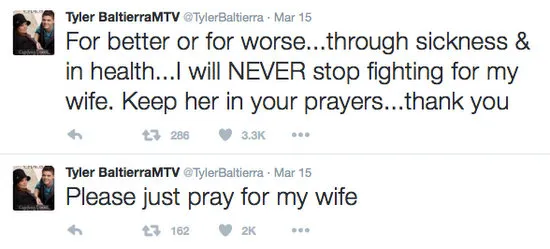 Interesting timing – Teen Mom OG is currently filming. Seems like a continuation of Catelynn's storyline last season. Or am I just a big ole cynic? On the reunion Catelynn revealed she was even suicidal at one point. "It's hard. I  didn't want to do anything. I couldn't even emotionally or physically take care of my own self. I remember sitting in the bathtub and thinking, 'I'm not waking up another day feeling like this.'"
Speaking of, for the naysayers accusing Catelynn of 'Leah Messer-ing', i.e. pretending she's seeking mental health treatment when she's really dealing with addiction, Catelynn sets the story straight. "I'm not in rehab," she clarified on twitter. 
In a statement released to MTV, Catelynn explained her decision. "I'm seeking help for myself and my family. Thank you to all of my supporters. My family and I would appreciate some privacy at this time." Which is why she released it to the media and on twitter?
PHOTOS – CATELYNN & TYLER'S WEDDING
Catelynn has also battled with weight loss as was discussed ad nauseum by Tyler. The couple previously sought help for their issues on Couples Therapy. 
Butch Baltierra affirmed Catelynn has the full support of family and Tyler. "She's doing OK," he tweeted. "She going to go and get better… love her so much."
Catelynn also has the support of several of her Teen Mom co-stars, who reached out on twitter to command her brave decision to seek therapy in front of the cameras again! 
"I love you guys so much..you know that @CatelynnLowell @TylerBaltierra," Amber Portwood tweeted. Tyler replied, "We love ya too Amb…its just hard to see her go through all this & be away from her for so long." 
Amber added, "I know babe you will see her soon and I'm coming out in a couple weeks. Stay strong. Love you." 
Jenelle Evans, who is currently feuding with all of her Teen Mom 2 co-stars, also reached out. Catelynn thanked her for her support – cause treatment pauses for twitter! 

TELL US – WHAT ARE YOUR THOUGHTS ON CATELYNN SEEKING HELP?
[Main Photo Credit: MTV]