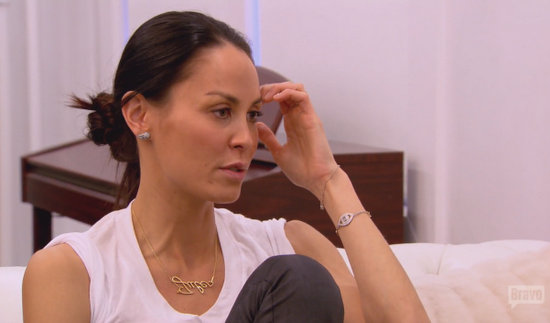 My heart is really aching for Jules Wainstein. In such a short time she went from basically being in the background on Real Housewives of New York to being front page news for the troubles in her marriage with Michael Wainstein. First of all, the divorce news was a major shocker. Then, after rumors that the show was to blame Jules's rep confirms that Michael was cheating. On top of that, the last episode was really not a good look for the couple with Michael's weird insistence on showering and his attachment to his phone.
You know what they say, "when it rains, it pours," and that definitely seems to be the case for Jules these days. There seems to be more drama accumulating by the hour. This is far from an amicable split between Jules and Michael.
CLICK "CONTINUE READING" FOR MORE
As if Jules wasn't stressed out enough, the reality star has been hit with a tax lien! And in case you were wondering, this does not pertain to any joint property that Jules has with Michael. According to the Daily Mail, Jules owes $25,000 in bills related to a New York penthouse that she is listed as sole owner for. Apparently she bought the place with her sisters, but her name is the only one on it. She does not have a job outside of the show and now would be a super awkward time to ask Michael for money, so I'm not sure how she's going to handle this one.
And things have actually become even worse for Jules. The two got into some sort of altercation and Jules called the police. Daily Mail obtained a picture of a police officer carrying a written statement with the words "threatening me… going to ruin my life," blaring and very easy to see. Jules rep has not commented on the incident, but even if that never happens it is clear that the former couple has reached a breaking point.
On top of that, more news is coming to light about Michael's alleged affair: it is rumored that the woman was friends with Jules. To be fair, I have no idea if it  is actually a good friend of hers or if it's just someone she knows, but either way it sounds like an awful situation.
It does make you wonder why Michael insists on showering as soon he gets home and who he is always texting. It's just a sad situation all around.
TELL US- WHAT DO YOU THINK OF ALL THIS JULES DIVORCE DRAMA?
[Photo Credits: Bravo]
Save
Save