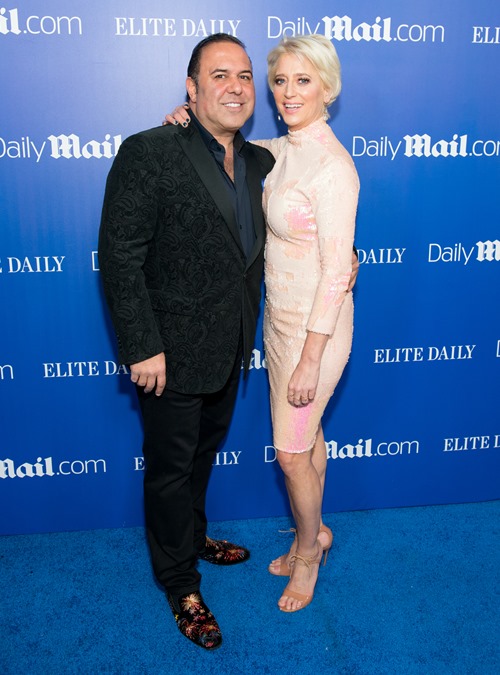 It seems like Dorinda Medley is the only the Real Housewives of New York cast member who supports Luann de Lesseps's upcoming wedding and constant bragging about getting married – which makes sense since Dorinda was the one who introduced Luann to her fiance, Tom D'Agostino. She is sort of obligated to support the relationship. But has the wedding chatter influenced Dorinda to get married to her longtime boyfriend John Mahdessian?
Apparently that's the case. Well, I have no idea if Luann's repetitive mention of her wedding is actually what influenced Dorinda's interest in marrying John, but I think I would want to get married after hearing someone talk about it all the time, too, and I am beyond single at the moment. So, what did Dorinda have to say about the possibility of marriage?
CLICK "CONTINUE READING" FOR MORE!
In an interview with Radar Online, Dorinda exclaimed, "I'm getting married!"
Wait. What? Talk about random! I can tell that Dorinda is into John, but she never seemed like she was trying to rush this in the past. This just feels like it's out of nowhere, but maybe it's just too difficult for me to process more than one Real Housewives of New York marriage at a time?
Dorinda never actually said that she was engaged, so I am a little confused. Is she just trying to be funny by doing her best Luann "I'm getting married" impression or is she just admitting that she is open to marrying John? This is a little bit unclear. Nevertheless, I am hoping for the the best when it comes to her love life.
Dorinda never clarified anything about her relationship status, but she did talk about how she treasures her time with her man which was both on topic and off topic at the same time. Dorinda said, "The thing about New York is that it is so intense. There are just so many people. One of the biggest luxuries for John and I is that we just get to be together."
RELATED: Sonja Morgan Calls Dorinda Medley A Total Fake
That's a sweet thing to say, but I wish she went back to the wedding talk though because my interest was really piqued by the first quote.
"We like to do normal things and just hang out together, watch TV, go for walks and, of course, cook," shared Dorinda. "Our lives are just so busy and hectic in New York that any downtime is great time." John added, "She says that she is the peanut butter and I am the jelly, but together we are amazing."
What is going on with these two!? I have a feeling that we won't get any answers to this question at all, but if we do, I can't see Dorinda just spilling the beans in an interview. She is probably just teasing a plot line for the next RHONY season. So, I can't wait to watch what ends up happening. I just know that there's no chance in hell that Luann would let Dorinda get married before she does.
TELL US – DO YOU THINK DORINDA AND JOHN SHOULD GET MARRIED?
[Photo Credit: Noam Galai/WireImage]