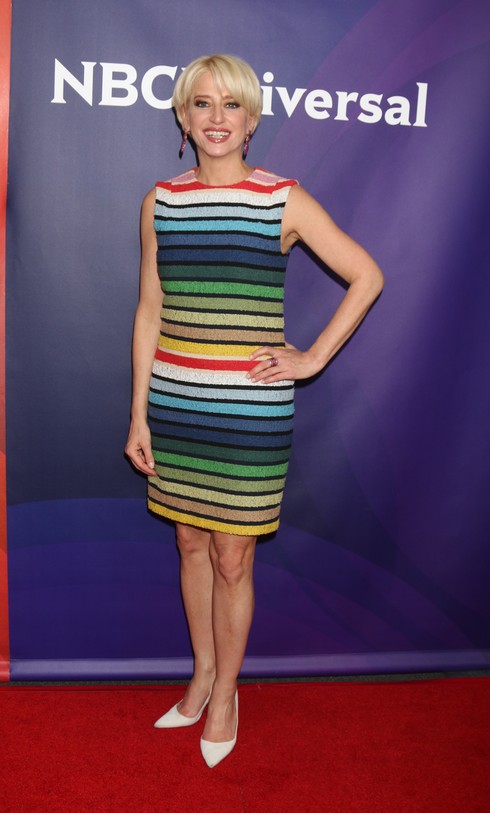 They're baaack! The Real Housewives of New York season 9 filming has started!  Luann de Lesseps and Ramona Singer have both confirmed their return to the Bravo series this week with posts on Instagram, sharing that season 9 filming has officially kicked off.  And in a new interview with The Tomorrow Show, Dorinda Medley dishes on last season regrets, Jules Wainstein's departure, her great respect for Andy Cohen, and more.
Jules leaving the show was a mutual decision, "They came to a mutual agreement. I don't want anyone to think they kicked her off the show. They didn't. They came to a mutual agreement. She went there and said, "I can't talk about my divorce. I can't bring my children on. You can't be in my apartment."  It's a show, if you can't talk about her divorce, her children, or be in her apartment, so, what are we going to talk about?"
Dorinda shared with Kevin that she feels they focused too much on John and not enough on her family life. "I feel bad a little bit that they didn't focus more on the fact that I'm very family oriented: my daughter lives with me ah my life is back you know – it got too focused on John, it just got focused on this dark side, it's not really me. I wake up every morning at 7 o'clock, I walk my dog, I do my thing, and I make my breakfast for my daughter. I'm all about family, I really am."
She doesn't think that people want to see a "dark" show and that they're all fascinating on their own and don't feel that pressure to "perform" or be a certain way when cameras are rolling.
Dorinda wants to be the housewife who stands for more than hair extensions and wine, "When I'm not on the show I go right back to my old life. You know, I'm a Mother, I'm very close to my parents, I'm part of this thing called beautyforfreedom.org, which is a organization that does a lot for uh human trafficking, I'm big involved in that. I find it very important to give back.  You know I don't want to be a housewife that's sort of supporting hair extensions and wine. I just don't, I don't need to do that."
Does Dorinda have any regrets from this past season of RHONY? "No, I don't. Because, here's the thing, I know everyone called me Dorinda the Meddler. I like to be around people. People like to talk to me. I've kind of like always been the mediator in life.  I think it's being a third child. You end up being the mediator. I think that I almost became like a mothering person. I never did anything with a bad intent." She also says that editing doesn't bother her because it often came out pretty funny and people are entertained by it. "It's reality TV. I said it, I own it.  If I go on there and start scripting myself, then you're not going to know me!"
RELATED: SONJA CALLS DORINDA A TOTAL FAKE
On the rift with Sonja Morgan, "I don't have any bad feelings for Sonja. I don't even know why this night in the Berkshires became such a big thing. It was less than 24 hours. I think I made a good decision (to not invite Sonja). I apologized to her at the reunion, I invited her up to my house this summer, she came up with Ramona." She just wants Sonja to move on because it's not that important in the scheme of things. Dorinda did try to chat with Sonja at Luann's bridal shower but she wasn't receptive to that and Dorinda wound up leaving when the stripper showed up.  She said she's 51 and has never seen a stripper and doesn't feel the need to.
Dorinda says things are fine between her, Luann and Tom now. She confirms again that she's a bridesmaid and that Lu and Tom are very happy.  "Let her be excited."  Dorinda says that she doesn't know if the wedding will be filmed or if Lu will get a spinoff because Luann is very zipped about it. "It's going to be a very fun wedding, all of our friends will be there. Remember, we've all known each other for so long and that's what makes the Housewives so great: we all have history." She says it makes it really fun because they all truly know each other.
Kevin mentions that Dorinda's sentiment isn't felt by many other Housewives, like when he had Brandi Glanville on the show, she said being on RHOBH was too toxic and she had to get off the show.  Doesn't Dorinda run into these former Housewives who had a terrible time and don't want to go back on the show?  Dorinda admits that she didn't want to go back to RHONY for another season. "Last season was toxic for me, in fact, I came off the last season, like, I don't want to go on again. It took me a whole summer – I had to go back to the Berkshires. I had to spend time with my parents."  She says after her first season, she couldn't wait to go back, but after last season, "It was really difficult, it got very dark last season. You didn't leave there feeling good about it.  People trying to ruin people's lives, ruin people's marriages. The thing that happened in Miami was very difficult for me."
Does Dorinda ever call Andy Cohen when she's feeling down about the show, etc? She says NO, not at all. He's her boss and has so many shows that he's involved in. "I respect him and don't get him involved in all the emotional stuff. I'll work hard for Andy, I'll show up on time and do what I gotta do." Dorinda says she keeps things very professional.
Dorinda said she filmed her first scenes this week and feels good about it and feels like she's good at it. She's not sure if she'll be doing it in five years, but it's possible.  You can listen to her whole interview here.
Speaking of filming first scenes, Luann and Ramona both shared confirmation this week that they are back in action with camera crews in tow!  See the photos and video clip below.
TELL US – ARE YOU EXCITED ABOUT THE NEXT SEASON OF REAL HOUSEWIVES OF NEW YORK? WHAT DO YOU THINK THE FOCUS WILL BE? WILL BETHENNY RETURN? WHO DO YOU HOPE DOESN'T RETURN?

Photo Credit: Nicky Nelson/Wenn.com
Save
Save
Save
Save
Save
Save
Save
Save
Save
Save
Save
Save
Save
Save
Save
Save