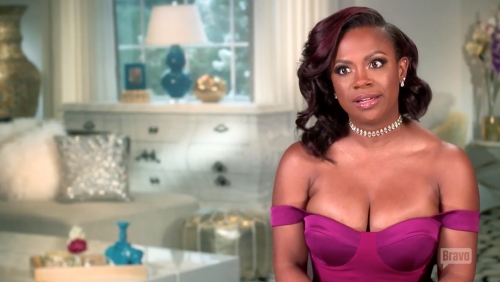 This season of Real Housewives of Atlanta is messier than Bob Whitfield's attempts at dancing and smoothie making, and we're sure to see more of the drama on tonight's new episode. Friendships are tested and tea is being spilled left and right. However, were any of these friendships actually genuine in the first place? If you'd asked me a few years ago, I would have predicted that Kandi Burrus and Phaedra Parks' pairing would stand the test of time. They truly seemed to enjoy each other and have fun together.
Of course, we all know how that relationship has progressed! Thanks to all the not so subtle shade and Phaedra's new alliance with Porsha Williams, the rift between Kandi and Phaedra seems to be widening…and Kandi wants fans to know she's done staying quiet about it.
CLICK THE CONTINUE READING BUTTON FOR MORE!  
Guest co-hosting on The Real, Kandi shared her thoughts on her recent interactions with her former bestie. She reveals, "Obviously the fans don't… You guys don't get to see anything, but what they show you on television. There's a lot of stuff that happens, that you know, you're not privy to. And then a lot of the girls, try to show you one thing on camera, but then they're different off camera, okay. And I have been holding back as far as with Phaedra, I love Phaedra."
RELATED: NENE WEIGHS IN ON PHAEDRA AND KANDI'S FALLING OUT
Of course there's a "but" coming as Kandi continues, "But you know, over the years, when she would come at me and do different things and some things that happened off camera that I was like, I thought was really foul, I held back because I was thinking you know, as a friend, I'm not really supposed to go there. But, as a friend if we fall out, you're not really supposed to dog me and keep doing stuff to taunt me either."
She explains that she was done letting Phaedra's shade slide off her back, asserting, "So this year, coming into this year, I said you know what, from now on every time she say something to me crazy or every time she does something to my husband or my family crazy, I'm just going to let her have it. And that's just how it's going to be," adding, "Don't start nothin' won't be nothin'."
On tonight's episode, it's Sheree Whitfield that is inserting herself in other people's business (what else is new?) by stirring the pot between Shamea Morton and Phaedra.
TELL US – DO YOU THINK KANDI AND PHAEDRA'S FRIENDSHIP IS SALVAGEABLE? 
[Photo Credit: Bravo TV]
Save
Save
Save