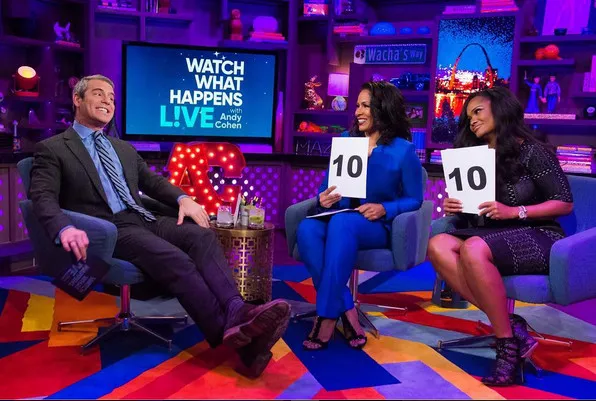 Married to Medicine star Dr. Heavenly Kimes and Real Housewives of Atlanta's Sheree Whitfield hung out in the clubhouse last night with Andy Cohen. On the episode we get answers to: Is Sheree Whitfield living in Chateau Sheree?, Who is the shadiest Married to Medicine cast member? and so much more!
Andy reads Kenya's Tweet about Sheree, and Sheree retorts: "I would rather entertain on a sidewalk than in a dusty home."
One of Andy's poll questions asked if Sheree should've repeated the Phaedra/Shamea/Porsha rumor to the group at Shamea's party. Sheree defends herself, saying she wanted them to have a discussion about it and not talk behind each others back. "I feel crazy being in the middle. I feel fake being in the middle."
A viewer comments about Sheree's shady pot stirring this season. "How am I instigating? I'm not starting any rumors, I'm not talking about these girls. I'm just holding them accountable for their words. Your word is your bond, so if you can talk about somebody, you should be able to say it in their face."
A viewer asks Dr. Heavenly if she's not into her alcohol, why does she get upset about it when it's questioned? "Because I'm a professional and a lot of times the alcohol was a joke, so for somebody to take it too far, that was a bit much."
What does Dr. Heavenly think the reason that Darren delayed his trip to Hawaii and showed up with a mystery injury. "You all want me to be shady! Maybe he was riding a buddy pass! Hell, I don't know."
Why does Bob sweat so much? Sheree says, "Bob is a big guy, he's always hot. I don't know. It's not a medical problem. He's always been like that."
Andy asks what's going on at Chateau Sheree and if she's fully living in the house. "I've been fully in." He says there's a ton of speculation (like Kenya swearing she isn't actually staying there). "I just let them talk, they don't have anything else to do. Sheree spent the last three holidays in the house. I've been there since before Thanksgiving."
Heavenly explains why she calls her husband Daddy. "Because he's everything a daddy should be: he prays, protects and provides for us. But actually him and my son have the same name, so I would call both of them and both of them would answer and I'd say 'no, the daddy' and it kind of stuck."
Andy asks Sheree about the possibility of reconciling with Bob. "It was a lot that we went through so I think we're enjoying each other as friends right now and I get that a lot."
A caller asks Heavenly if she and Lisa Nicole Cloud will ever be friends again? "I think if she owns up to her lies I think we could be friends. I just can't be a friend with a liar. I can't have a relationship with someone I can't trust."
What does Sheree think of Porsha flat out lying about the conversation concerning Shamea? "That was bad. I think she kind of just really didn't want to hurt Shamea's feelings."
What does Sheree think is the real deal regarding the Kandi rumors? Sheree plays stupid, asking "which ones?" Andy clarifies, "the rumors that come out next week about Kandi dipping in the ladypond."  Sheree says that Kandi has admitted to it in the past. "We just didn't know it was with Shamea. JUST KIDDING, just kidding."
Who is Heavenly closest to on Married to Medicine? "I would have to say Jackie. We're actually starting a radio show together, we spend a lot of time together."
A caller asks if Sheree is just on the show to attack Kenya. "What show are you watching? Because she always comes after me. I retaliate but I typically don't start it."
How does Sheree handle her friends flirting with her son? "The friends I have, I've had for a very long time, so it's a boundary that they don't cross."
A viewer asks why Dr. Heavenly is so jealous of the other marriages in their group? "Why would I be jealous of other marriages when I have the best one? Is she watching the show? Who is that? You're not watching, darling."
What did Heavenly think about Quad's comment about the ladies getting surgery? "I think all of us can use help and I think you should be able to get it if you need it – anywhere, whether it's your nose, your ass, your breasts. Whatever you need, you should be able to get it."
Who does Heavenly think is the fakest person in their group? "Mariah. Cause she acts different off camera. She does all that junk off camera."
When did Marlo and Sheree become besties? "I work out a lot, she works out a lot. We live close to each other, so we would run into each other and we would speak. We're friendly."
TELL US – WHO DO YOU THINK IS THE FAKEST ON MARRIED TO MEDICINE? DO YOU BELIEVE SHEREE IS LIVING IN THE CHATEAU?
Photo Credit: Instagram/WWHL
Save
Save
Save
Save
Save
Save
Save
Save
Save
Save
Save
Save
Save
Save
Save
Save
Save
Save