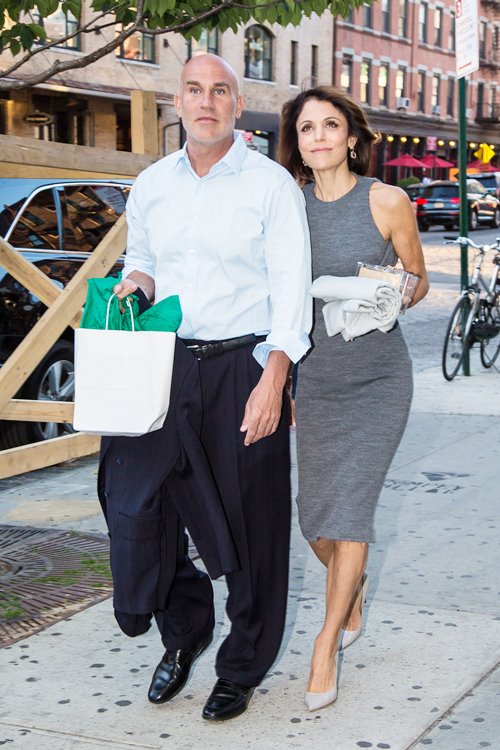 The last Real Housewives of New York reunion was awkward for many reasons, but one of the standout moments for me was when Bethenny Frankel called her new boyfriend Dennis Shields' daughter to verify that they did not have an affair and that she's on good terms with the family. That was beyond cringe-worthy and the complete opposite of being low key. Apparently, that moment was a lot less significant than it seemed because Bethenny says their relationship isn't that serious.
I'm not sure if Bethenny is taking a step back or if she's just clarifying a story that's been out there for a while. It could also have to do with the legal drama stemming from Bethenny and ex husband Jason Hoppy's confrontation at their daughter Bryn's school. Either way, Bethenny is making it clear that this relationship with Dennis is not super serious – at all.
CLICK "CONTINUE READING" FOR MORE!
People reports that Bethenny "is taking a break from their romance — but she's not calling it a breakup."
Let's be clear, that quote wasn't direct wording from Bethenny, but the wording itself was from the article. Still, Bethenny made it clear several times over that she and Dennis were not seriously dating. She said, "I'm not ready to settle down right now. The truth is, the world made it into something more than either of us have."
RELATED: Bethenny Frankel Opens Up About Boyfriend Dennis Shields
Bethenny also said, "I've known him for 27 years and I care about him, but I'm keeping my options open."
I just wonder where this is coming from. Honestly, I forgot Bethenny was even dating Dennis, so I have a feeling that coming forward with this clarification has something to do with all the messy press she got from the Jason arrest. But I'm sure Bethenny will find some way to turn this around and start a Skinnygirl personal security collection with Skinnygirl pepper spray and Skinnygirl security alarms.
Or maybe their relationship has become a factor in Dennis's divorce proceedings? Either way, talking about this does seem pretty random other than Valentine's Day going down quite recently.
Bethenny added, "I care about him but the bottom line is he's still married." She reiterated her other statements when she said, "And I don't want to stop the music yet. I'm not ready to be linked to any one person." We get it. You're single. It's very clear, girl.
RELATED: Jason Hoppy Arrested For Stalking And Harassing Bethenny
Bethenny explained why she just doesn't want to get into something serious these days. Bethenny said, "Given the circumstances of my previous relationship and the torment and difficulties I've had the last five years, I need to balance and rest and reflect. It's very easy to rush something or turn something into a solution, but right now I feel the solution is me spending time with myself and my daughter, trying to regroup and not hurry to find the answer."
Fair enough. I still think it was way too much for her to make that phone call during last season's reunion. That definitely elevated the seriousness of their relationship in the public eye, at least in my opinion.
TELL US – DO YOU WISH BETHENNY SHOWED MORE OF HER DATING LIFE ON THE SHOW?
[Photo Credit: Alessio Botticelli/GC Images/Getty Images]