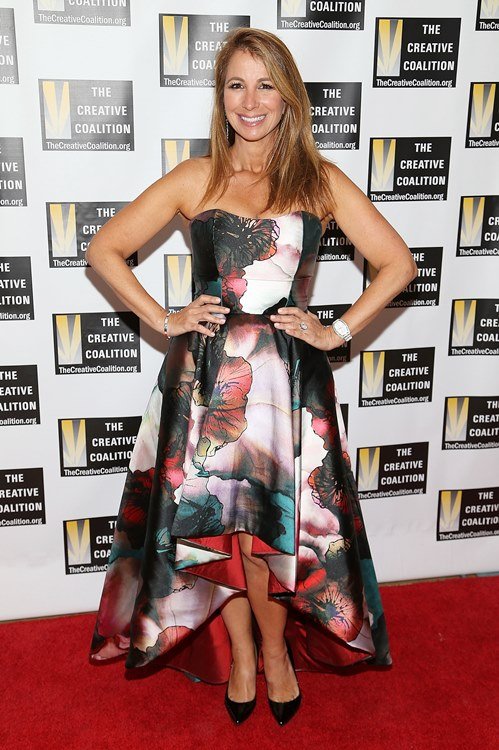 Jill Zarin warns that the "the gloves are off" when it comes to her former friend Ramona Singer's gossip and bad behavior. Jill has finally figured out a way to return to Real Housewives Of New York and the drama is coming with her.
I'm just gonna admit it – some small part of me ADORES Jillusional. She brings the crazy, the denial, the cluelessness, and she is not afraid to throw it all out there. Jill did a live show with Heather McDonald for her Juicy Scoop Podcast where she blew the lid off her issues with Ramona and also suggested that Bethenny Frankel lied about last season's revelation that Tom D'Agostino cheated on Luann de Lesseps.
CLICK THE CONTINUE READING BUTTON FOR MORE!
But first – pressing matters: there is a rumor that last time she was in the Clubhouse, Jill de-gifted (a la Kim Richards and the Blue Bunny) a photo of Ginger that she had given to Andy. Au contraire, says Jill. The true issue is that Andy never displayed a photo of Ginger.
"I got a little jealous – GINGER got a little jealous – when Giggy showed up sitting next to Andy in a frame on the set," reveals Jill. Because Ginger was the first Housewives doggy. With Jill, these little things matter. Ginger begged Jill to "call Andy and complain." She did. Of course. "It didn't do anything," sighs Jill. She concedes that Giggy is much nicer and more adorable, but argues that Ginger has the better personality. "She's a little bitchy – she fits in with the Housewives brand perfectly well."
Jill does praise Lisa Vanderpump's Dog Foundation, but then she turns it back into how Jill is saving Chinese dogs too. She visited China last year and was on "like full alert looking for this… what's it called? Yulin? Horrifying! And you know what, Lisa Vanderpump – if nothing else – and she's done a lot of good for reality TV with that Vanderpump Rules, I mean it entertains me like crazy! But this Yulin thing? I think she's gonna change the world with that. I think she's gonna change China. I told her I would do anything she needs if she ever needs me for anything."
Moving along to RHONY, Jill still has all the feelings. Many of them directed at former and present nemesis Ramona.
Jill was "shocked" when the Tom cheating scandal broke. She scoffs, "I mean, how stupid was he?!" She chalks it up to a drunken mistake. "Bethenny said that a friend of hers sent her that photo – I don't believe her. Her friends don't know who Tom is or what he looks like, so how'd that happen?"
RELATED – Sonja Says Ramona Is Chronically Embarrassing
On Luann's decision to marry Tom anyway, Jill is impassive, "I'm a grownup and this her second marriage. If she loves him and he made a mistake and he apologized – move on. Go for it." Jill touts that an emotional affair or connection would bother her far more than a one-time physical indiscretion (she actually claims she wouldn't be that mad over Bobby having sex with a hooker, though she clarifies he's never cheated and never would).
Jill rips into Ramona for "starting another rumor" that Tom is cheating. "I don't think it's true. You know how I feel about Ramona," she sneers.
"Ramona and I will always be, unfortunately, connected because socially we share a lot of friends. Although I say to my friends, 'Why are you friends with her?' It's like a love-hate relationship with this woman. When she's nice to me, I fall for it every time. When Ramona wants something from me, she starts hovering around me."
Jill claims Ramona sucks up to her every summer because Jill throws a big celeb and society-studded Hamptons party – which also feature lavish gift bags. Last summer, Ramona decided to invite herself. "So she emails me, 'Can I come to your party?' Oh you can't believe her. It gets better," Jill warns. "So I say to her that she can come – she wanted to bring her daughter. And Bobby's like, 'I don't know why you do these things?'"
Jill didn't think there'd be any drama since she's is now off the show and Ramona is no longer competitive with her, cause you know, "Ramona is just so jealous."
According to Jill, the night before the party, Ramona revealed that Avery couldn't come, but asked to bring two other friends since she was staying with them. Jill agreed, but only because she liked the two other people. Why wasn't Ramona at her own house?? Then Ramona complained about the gift bags! She decided she deserved one of the bags reserved for actual celebrities and emailed Jill to ask if one could be dropped off at her house! (Jill said no, obviously). Afterwards, they ran into each other a few times, and it was still fine, but THEN Ramona dissed Jill over her birthday ladies luncheon!
Jill had spent the winter in FL dealing with Bobby's health (his cancer returned). "I always like to be invited. It's just a theme in my life. So, I find out she had this big birthday party in November and she didn't invite me. It hurt my feelings. I'm not gonna lie. I wouldn't have gone anyway, but all my friends were there and she is always hustling me to come to my party every year, then she has a party and doesn't invite me!"
Jill laughs that Ramona has been lying about her age and turned 60 this year, and she reminded us of Ramona's menopausal pregnancy scare in Season 4. "Whatever," cackles Jill.
"I didn't want to start with Ramona; I don't want to fight with Ramona," insists Jill, "We kiss, we say hello, it's all fake and phony and it's all good. And then the show starts … and I have a cameo." Which started the drama anew!
"I feel like Ramona thinks I stole thunder away from the cast," Jill complains. "I guess because the press was writing about me coming back and not writing about her coming back for the ninth time with no story line and no husband!"
As a result, Ramona told Page Six that Jill was desperate to get back on the show, which put a bee in Jill's bonnet.
RELATED – Ramona Tried To Stop Jill Zarin's RHONY Return?
"I don't bug anyone, but if you hit me I'm gonna hit you back and punch you out! I was like 'You f–king bitch! You did not say that?!' First of all, she knows what I've been going through with Bobby. Dying to get back on the show? No. Wanting to do a cameo? Yes," clarifies Jill. "They've asked me to cameos before and for various reasons I didn't, but this time I did, and I'm happy I did. But instead of her being nice … that's what she said. So now – gloves are off! I'm done being nice. And no she will not be at my party this simmer. And she better not crash – cause she's a crasher, you know. She's so mean."
In other dishy reveals, Jill snarks that Ramona Pinot is no more! "I heard she lost that deal. I heard she's looking for another source to make her Pinot Grigio. Where's her renewal cream and her jewelry? Everything she's touched – like Bethenny said – everything she's touched went out of business. Yet she would tell everybody else that they don't know how to be a business person."
Despite the drama, Jill maintains decent relationships with all the Housewives. "I'm really friendly with everyone on the show except for Carole and Bethenny. Bethenny for obvious reasons. And Carole…I never knew her."
For those eagerly anticipating Jill's cameo, it takes place on tonight's episode!
TELL US – IS JILL BEING TOO HARSH ABOUT RAMONA? DO YOU WANT TO SEE JILL BACK ON RHONY?
[Photo Credit: Paul Morigi/Getty Images]