Last night was the series premiere of Second Wives Club, a show that is kind of like Housewives except the women are bonafide trophy wives who are barely old enough to drink. So far, I think the show is kinda fun.
The show opens with Shiva Safai, who we have all met before courtesy of Mohamed Hadid, accessory many a Real Housewives Of Beverly Hills drama, father of Gigi and Bella, and gifter of Lisa Vanderpump's swans. Oh, Mohamed was also married to Yolanda Foster, before she became Foster, although now she's back to Hadid. But I am SO not here to talk about Yolanda. I have done that to Lymes and beyond.
CLICK THE CONTINUE READING BUTTON FOR MORE!
Shiva is essentially the Girl Scout leader for non-primary wives. Shiva could totally start a cult. She and Mohamed have been together for four years, engaged for two – a long, agonizing two years of uncertainty while Shiva waits for Mohamed to agree to start planning the wedding. But Mohamed has been burned by his two previous marriages (ahem!), and since their relationship ain't broke, why use some vows to fix it!? He feels married in his heart, Shiva wants a more permanent connection to his bank account.
Not so for Katie Cazorla, who has been engaged to Walter for six blissful years of junk food scarfing after moving from her car in an LA parking lot to the Rolls in the main house's driveway. I love Katie so far. She's wacky, she has fun, her voice sounds like she sucks on gravel, she's unabashedly a wino, and she makes no secrets about her past. She's in no rush to the altar with Walter, who has two previous ex-wives, but also about as many Grammy's as a certain other ex-husband connected to a certain other ex-wife.
RELATED – Meet The Wives Of Second Wives Club!
Shiva invites the ladies over for a luncheon, which begins with some vigorous exercise – a tour of her and Mohamed's 50,000 square foot, um, well, it seems insufficient to call it a mansion considering that it boasts a "party floor." Veronika Obeng is mega-impressed. She declares Shiva her mentor in all things classy, social climbing second (or third or fourth or fifth) wife – and if Veronika thought she was rich she has nothing on "America's Kate Middleton." Well, I'll concede that Shiva is quite classy.

Veronika is the third wife of Dr. Obeng, a renowned plastic surgeon, which means a direct lifeline to unlimited supplies of Botox. Which Veronika uses liberally to ensure that she doesn't become ex-wife number four!
Lunching atop a table cloth that resembles a garish Hawaiian print shirt, Shiva and the ladies take in the wine, and the view, and hear all about Tania Mehra's hop, skip, and jump to the altar that's happening three months after she became engaged to Dan Bernstein, a "B-list Hollywood producer from the 80's." Despite the tight time frame, the guest list isn't finalized and Tania is more concerned about finding an elephant to transport her to the prenup.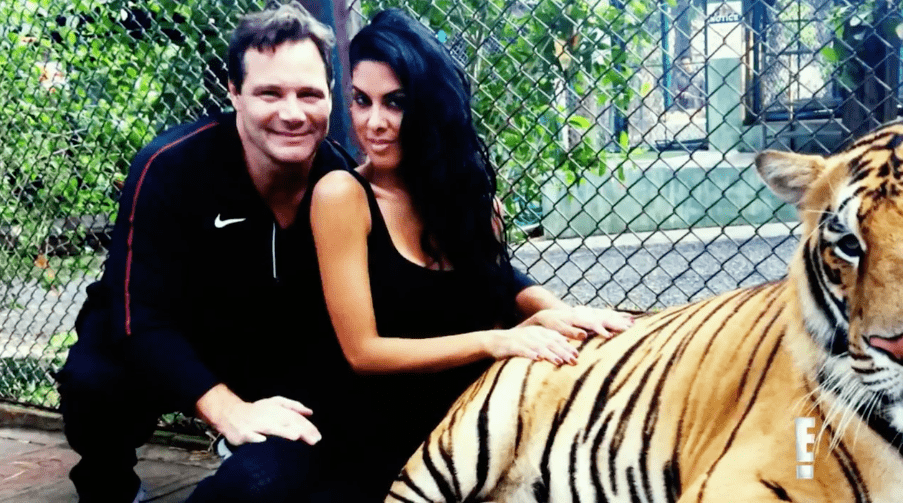 Tania doesn't want to call Dan's ex-wife "baggage," because that sounds mean, but honestly, she just is. And not the cute kind of baggage purchased from Hermes. Tania jokes that she's so desperate to become Mrs. Bornstein The Second, she'd go to the courthouse, but Dan said no. Shiva finds this race to the altar "suspicious" – like if this were 1955 one might suspect Tania's pregnant. Maybe she just really loves her man?
Tania doesn't know if she'll be inviting ANY of these women to her much-sought after nuptials. She acts as if this is the wedding of the decade and people are offering their Chanels in exchange for an invite. I think people would rather attend a Kardashian wedding.
Well, Dan is more impressive than Lorezno Lamas, I suppose. We all know about Lorenzo. He's on wife number five with Shawna Craig, who tells us about Lorenzo's financial problems, illustrated by her out-grown dye job and dated car. The poor sad Mustang, trying in vain to keep up with the Rollses.
Shawna is sweet so I shouldn't poke fun. She's friends with all the girls, but closest to Tania, and she loves Lorenzo so much she's given him everything – even loaning her uterus so his daughter Shayne could have a child via surrogate. Oh my. Shiva sighs that she's so maternal – look at her flock of wayward trophy wives, perched on the lawn, staring eagle-eyed at the splendor while she watches them all like a hawk.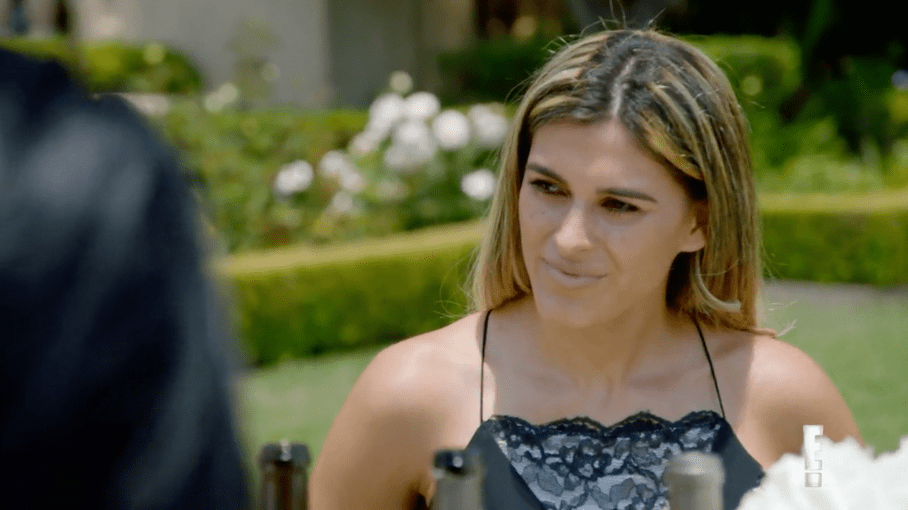 Morissa Surrey is also maternal – she just gave birth to a baby boy and arrived carrying her breast pump like it's a Birkin. Morissa is married to a famous fertility doctor. She rambles about eating her placenta and all the awful, dastardly things things she constantly worries over. For instance, Tania, in a bridezilla rage, could shove her right over the cliff of Mohamed's backyard. Morissa seems normal. I like her so far.
Veronika is disgusted at the thought of eating a placenta – she's had five (one for each baby) and tossed them all in the trash. Katie decides she's smart enough to play the fun, lush of a stepmom who secretly buys you a mini skirt, leaving the actual mothering to the adults. Like pregnancy means less booze!
RELATED – The Worst Reality TV Divorces!
With Tania lording her wedding over everyone, and the awkward tiptoeing around who's invited, Shiva's elegant lunch turned everyone's stomach. To calm them from their busy days of driving around Beverly Hills oohing and aaaahing over their men's successes, Katie invites Shiva and Shawna to her nail salon for some pampering. So Katie LOVES nails! She's had a million jobs before Walter, decided to go to nail school, then opened a salon. Then another (I think?). Good for her.
While the ladies are getting pedis and bemoaning how Tania's weird predatory bridezilla behavior is sucking the life from their friend group, in walks Tania. Uninvited. But no one is surprised. As the other ladies stare on, Tania rattles off more wedding plans – which doesn't include finalizing the guest list, but does include tracking down white horses. Shiva looks as if she sucked a lemon. She is gorgeous, glamorous, and impeccable, yet Mohamed won't even discuss weddings! After visiting her brothers at their gym to lecture them on finances, and facing their questions about when she'll be making it official as Mrs. Hadid, Shiva decides it's time for 'the talk' with Mohamed.
Shiva prepares a lavish tea service to woo Mo around to the subject of a wedding. She's nervous to press him on the issue lest she become "the third failed marriage." I have no doubt that Mohamed loves Shiva, and they do seem very happy, but it's a little strange the way she must flutter around him for fear of upsetting their balance, while she goes on and on about how he has made her feel so safe.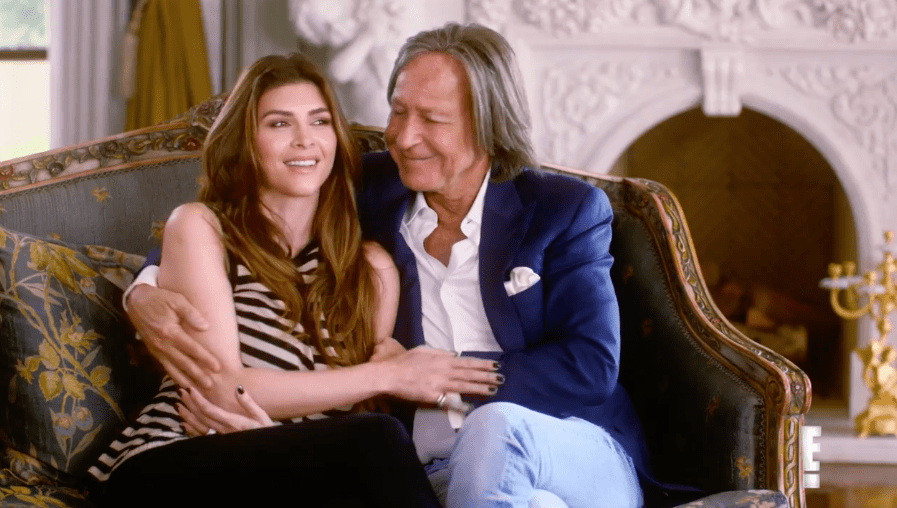 Anyway, Mohamed STILL isn't ready to make an honest woman out of Shiva. Things are perfect, so why bother with messy negotiations over things like prenups? After all, he feels more married to Shiva than he did in his previous attempts! Shiva is dejected, disappointed, and disheartened. Meanwhile, Tania plans away.
Tania has Shawna over to her "crash pad" – aka the apartment she was living in before Dan plucked her out of obscurity a year ago – to personally deliver the much coveted 'Save The Date.' Shawna gasps at how gorgeous it is.
Across town, Katie takes Veronika out to lunch. Veronika just got a Rolls for Mother's Day and is eager to show off the goods. Veronika grew up dirt poor in Oklahoma, and with one failed marriage and two kids under her belt, everything changed when she met Dr. Michael Obeng. They merged their talents – his for lifting boobs and necks and hers for social climbing, and relocated from Ohio to Beverly Hills where his practice really took off. Michael also has two children from his previous marriages, with Veronika they had three more, bringing their Brady Bunch to a total of eight kids. In the land of endless sunshine and bank accounts, things are going wonderfully.
I kinda like them – Michael is loving towards Veronika, who is open about her crazy-side (Dr. Obeng calls it 'the J-word – jealousy') and they work hard together.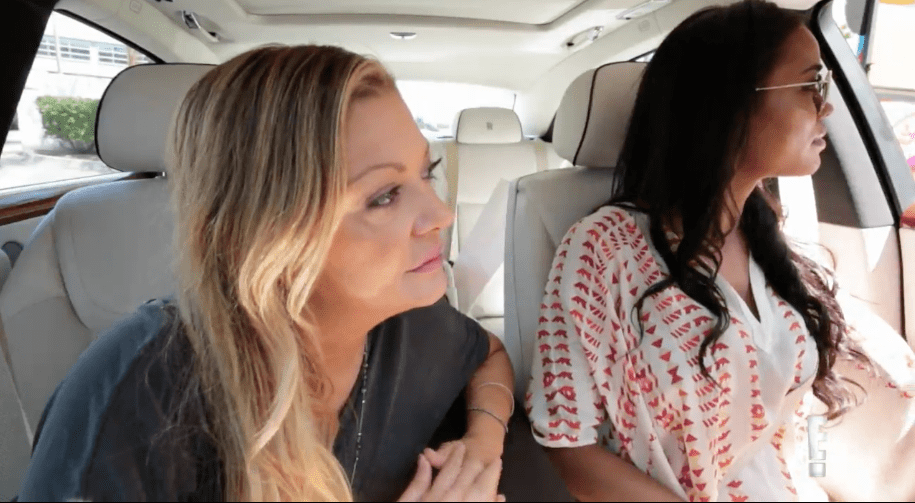 Katie has a surprise for Veronika when she directs her and the Rolls through the Taco Bell drive-through. While Katie rattles off a customized order featuring all her favorite ways re-heated beans and canned cheese can be mixed, Veronika's Rolls gets stuck because it's too big to fit through the drive-thru loop! It's a far cry from Shiva's palatial spread of delicate salads and cloth napkins. Katie isn't worried. She drives the Mercedes through all the time. The satellite cameras will direct them to safety. Safety being the food pick-up window.
Finally they make it to the other side of the parking lot where Katie spreads a picnic of fast food on the tailgate, and Veronika produces a bottle of Champagne from the car's built-in champs cooler. My car has one of those too – it's under the front seat when I run the AC! See – I'm high society.
Veronika pops the cork, nearly taking Katie's head off. But more distressing, it could've damaged a chalupa! Champs and Chalupas turns out to be a lot of fun, and Veronika admits she's glad to have avoided a schmoozy-social climbing lunch at The Ivy where paparazzi roam and valets carefully pilot one through the tight spaces. Unfortunately, Veronika and Katie get drunk and can't drive the Rolls home. Katie calls Shawna, who's still at Tania's discussing weddings, to play designated driver. If Shiva is the Mom, Shawna is Don't Tell Mom The Baby-Sitter's Dead big sister.
Shawna is glad to leave Tania's, however, because Morissa comes over and SHE hasn't been bestowed with a Save The Date, so Shawna had to hide hers. In the parking lot of Taco Bell, Katie and Veronika have no idea how to get into Shawna's Mustang and act like they're going on an old-time amusement park ride. Katie marvels that Shawna can back up without that camera-thingy. Life married to a has-been is decidedly less glam.
The next day, Katie gets a surprise in her mailbox – Tania's save the date! She dutifully calls all the girls to see who got invited and who got ditched. Shiva and Morissa did not make the cut, but Veronika did. Katie decides they need a nice dinner to reconnect so everyone can be invited. Obviously, that's not gonna happen.
At dinner, Veronika gets right down to business of congratulating Tania for FINALLY getting those Saves out. She doubted this wedding was actually gonna happen, then low-and-behold now it's official-ish. Tania is instantly on the defensive believing Veronika is being shady, but Veronika was actually trying to for-real apologize. Shiva defends Veronika, and she's not at all salty over being left off the guest list (sarcasm). For this, Tania blames Shiva being dismissive towards her at the recent wedding for a mutual friend. Shiva denies it, then calmly excuses herself from the table to cool down. And this is why Shiva never made it on RHOBH.
Veronika gasps that Tania has thrown Shiva away the way she threw out Dr. Obeng's old wedding band!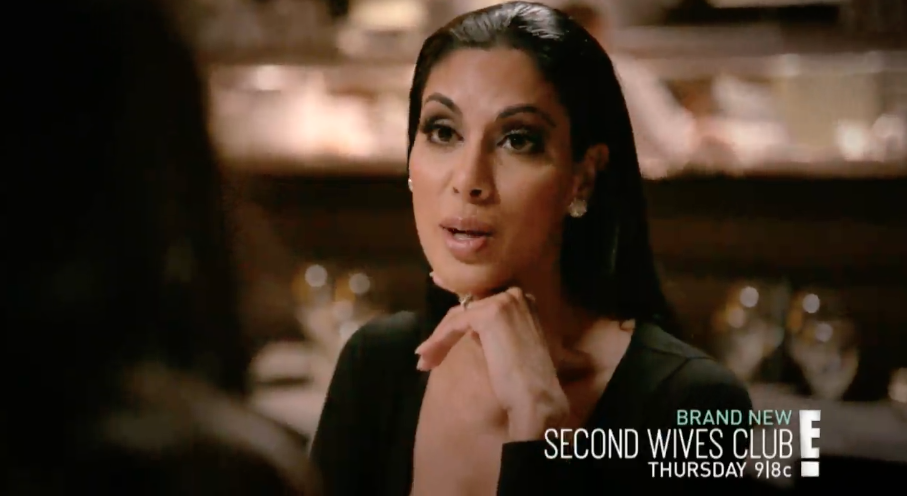 Katie is appalled by Tania ripping into Shiva, the sweet benevolent Mother Teresa guiding these upstarts through the nuances of appropriate behavior. She goes to check on her. Outside, Shiva is upset that Tania isn't being honest about their interaction and that she doesn't want to invite her to the wedding. Inside, Morissa, who also wasn't invited but doesn't seem to care, tries to smooth things over by offering to loan Tania her wedding dress. Why – because they all suspect this marriage won't last, so why buy a dress?
Shiva collects herself and returns to the table to announce that she's fine with not being invited, but she will not be lied about! Maybe Shiva is Housewives material after all!? Mohamed, wife that, so Shiva can be upgraded to the big leagues of trophy wives.
TELL US – DID YOU WATCH SECOND WIVES CLUB? THOUGHTS? SHOULD SHIVA HAVE BEEN INVITED TO TANIA'S WEDDING, OR BLESSING IN DISGUISE? WILL MOHAMED EVER MARRY SHIVA?
[Photo Credits: E!]