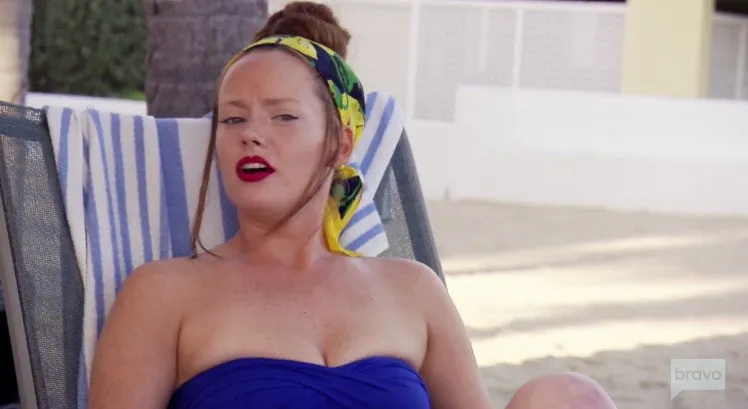 In all honesty Southern Charm would be nothing without Kathryn Dennis. If Kathryn did not show up for Season 1, there is no chance that this show would have made it to a second season. Sure, most of the people in the cast ostracize her and refuse to accept her, but they should really just thank her for making the show what it is today.
Kathryn is the gift that keeps on giving. She never holds back and she doesn't have a boring bone in her whole body.
Kathryn had no issue sharing all of her opinions and spilling some major tea during her interview with the Be Here For A While podcast. And of course that included a lot of shade and outright insults directed at Landon Clements.
The redhead admitted, "I typically don't communicate with her when we're filming. When I see her on screen, I'm like 'This girl is so socially unaware and ignorant.'"
She continued, "Everyone on Twitter is telling her what she's doing. Everyone around her is like 'Landon, you can't do that. Landon, you're kind of being a ridiculous bitch.'" Someone telling Landon that is something that would have made great TV.
And of course Kathryn (and anyone with eyes) didn't fall for Landon's tear fest at the reunion.  According to Kathryn, "She had a strategy. Whenever I started crying and stuff, there was going to be strategy of her having sympathy or empathy for me because she's probably been told that she hasn't shown that yet. It was like all of a sudden she just started saying, 'I just feel so bad. You can't trust anyone. That must be such a sad life.' It was like a dig, but also her trying to pretend to feel something. I remember I just looked at her with that face of 'What? Are you kidding me?'" Don't worry, Kathryn. Everyone saw right through that charade.
Kathryn took a break from hating on Landon to talk about her most random enemy: Patricia Altschul. She said, "Stop with your orchestrated one-liners and five second scenes. It's ridiculous. I still don't know the real reason she dislikes me so much."
Clearly this has something to do with Kathryn's vague "history" with Patricia's beloved son Whitney Sudler-Smith, who Kathryn decided to call out with this anecdote: "There was a night he called me when we just began filming Season 1 and he was like 'Can you hurry up and come to the house? We're talking about politics and need a woman's view. Thomas Ravenel is here.'"
I have no idea why she would ever fall for that, but she explained, "And he knew that the Thomas thing would get me to come because at the time, that's when our relationship was sprouting. It was really late and at the time I was like 'I don't know how production works. Maybe this is normal.' So I show up. Thomas isn't there. There's two other men. They're all sitting around drinking bourbon on the rocks. He's wasted." Surprise. Surprise.
Then Kathryn shared, "He takes me to that apartment place where he was living and tries to make out with me." Sounds about right.
When asked if she's ever "actually hooked up with him" after telling that whole story, Kathryn vaguely admitted, "Only like once." Then she said, "He had admitted to Thomas that we had hooked up, he goes 'in a moment of weakness,' but I was staying at his house for a week and a half or something. I can't remember the exact dates at this point."
And that could certainly explain all the tension we've seen between Whitney and Kathryn throughout the years. Still, it seems like the two of them are pretty cool these days since Kathryn said, "He's really nice. I think he's had a lot of friends who have gone to rehab or have been in recovery so I think that he can somewhat sympathize with me."
Don't get me wrong, the whole podcast was an entertaining listen, but it was all child's play in relation to this confession Kathryn made: "I never told anyone this. After this year's reunion – you know how in the past we [she and Thomas] hooked up afterwards – that happened this year. This is the first time I'm saying it." YES. There might be something wrong with me (well, a lot of things), but I am such a proponent of a Thomas and Kathryn reconciliation. Like it or not, this relationship has become the nucleus of Southern Charm.
Still, Kathryn doesn't seem super optimistic about them actually getting back together since she admitted, "I don't know if he has the ability to commit long term."
Not only that, but she added, "A friend convinced me to get on Bumble." And she also shared, "I actually just went on a second date with a really, really, nice guy. He's actually from Michigan."
RELATED: Kathryn Dennis Describes Landon Clements & Thomas Ravenel's Interaction As "A Joke"
TELL US – ARE YOU SURPRISED KATHRYN & THOMAS HOOKED UP AFTER THE REUNION? SHOULD THEY GET BACK TOGETHER? WERE LANDON'S REUNION TEARS GENUINE?
[Photo Credit: Bravo]