Luann de Lesseps is a free woman once more! OK, well, kinda. She's home from rehab at least. After getting arrested in December for drunken and disorderly behavior, Luann checked herself into a 21-day treatment program for alcohol.
Luann celebrated her first day home on social media updating the masses on her progress and expressing her gratitude. "It's good to be home. I'm doing great. Spending time with friends and family. Thanking everyone for your continued good wishes and support," she tweeted. 

A source told E! that after her voluntary stay Luann is, "very clear-headed. She's in a good space right now." Additionally, we won't see the old partying 'cool' Lu back on Real Housewives Of New York! The Countess plans to stay sober – and "she's serious about it."
According to a different insider Luann's arrest and subsequent rehab stay was a huge reality check! "She feels terrible about what happened and wants to make it right. She is very humbled."
Humble or not, she's still a reality TV pro! Luann left treatment and jumped right back into filming for Real Housewives Of New York.
Ramona Singer shared a now-deleted photo of Luann enjoying a post-rehab dinner with all her co-stars. Bethenny Frankel confirmed the photo was taken at a spa. Interesting, considering that the planned RHONY trip was reportedly canceled (or postponed) after Luann's arrest and rehab stay.
"She is back and better than ever," reports the Daily Mail. "LuAnn looks fantastic, she really has made great progress in rehab." So that means she's not letting petty Housewives drama get to her?
Apparently one of Luann's first priorities is to dispel the bevy of untrue statements reported about her in the press while she was 'away.' She's now on the warpath to confront acquaintances who took advantage of her situation! "She's also taking names and kicking ass. She is well aware of who spoke to the press about her and told lies and she will deal with them," adds the insider.
Luann is also making plans to "tell her story properly and set the record straight." Well it's good to be a gal with a plan.
The first people Luann may have to set the record straight with are her co-stars. While Luann was in rehab, they got their fitness on at ConBody. A "prison-style bootcamp" run by ex-cons that is all the rage in NYC. As part of the workout participants get their own 'mugshots'.
Kind of a shady place to sweat considering Luann's predicament, especially when they were all about supporting her?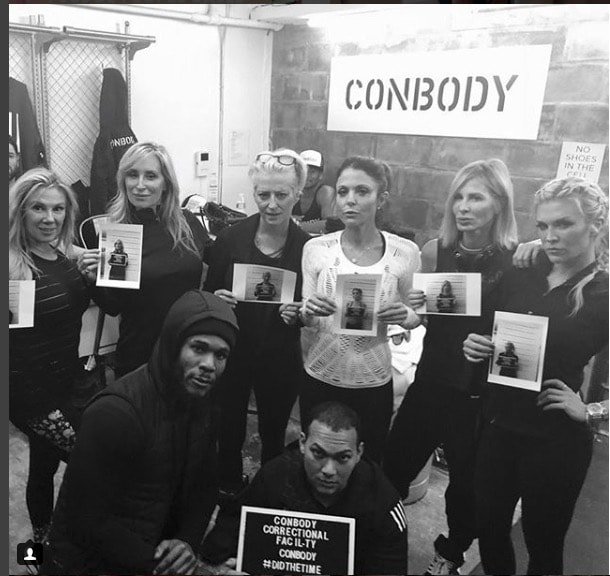 "RHONY in the big house," captioned Bethenny. [Credit: Instagram]
Carole shared, "Armed & Dangerous. #crew @conbody @cossmarte @sultanphyzique #solidarity #dothetime#rhony #toosoon?" [Credit: Instagram]
2017's Reality TV Divorces – Other Than Luann & Tom See Who Split Last Year!
TELL US – DO YOU THINK WE'LL SEE A DIFFERENT LU POST-REHAB? CONBODY: TOO SOON OR TOTALLY HILARIOUS? 
[Photo Credit: Bravo]