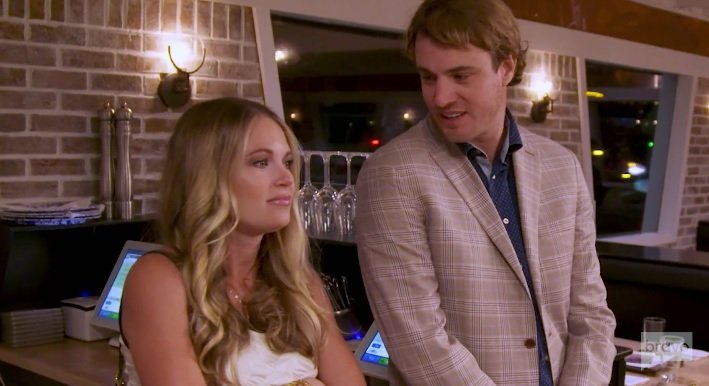 Is it just me or is the gang from Southern Charm growing up before our very eyes? What's with all the maturity and decent life choices? Listen, I realize they still have a long way to go, but I'm proud of this motley crew!
Cameran Eubanks has a stubborn cervix, so her OB may have to induce labor. She calls husband Jason with this news, but as an anesthesiologist, he has nary a reaction. He gives epidurals all day, every day. She warns him not to be one of those husbands who says "we're in labor," and I love it! Meanwhile, Kathryn Dennis is on the phone with Marshall, the owner of Gwynn's department store, which is a very she-she and expensive place to shop. She's hoping to work with them in some capacity, but there isn't exactly a position available. However, he's always willing to speak with people who could potentially be a good fit, so they set up an interview time. It's nice to see Kathryn minding her Ps and Qs again.
Naomie Olindo is helping with the opening of her family's restaurant. Her father owned several restaurants in France, but Nico's will be his first in Charleston. She's impressed with the menu and looking forward to the soft opener. On Shem Creek, Austen Kroll and Craig Conover get together to dish on Austen's party and the lashing Peyton received thanks so Naomie. At Nico's, which is right across the street, Naomie shares what happened with her father, and he urges her to apologize. She wasn't raised to be mean or aggressive. She calls Austen to ask for Peyton's number and also invites him to the soft opening of Nico's. Craig chimes in to see if he's included as well. Naomie rolls her eyes, but extends an olive branch to Craig. He jokes that he'll bring Peyton as his plus one, but in truth, he'll be out of town. Naomie is relieved. She plans to ask Peyton to Nico's, but she also likes keeping some distance between the would-be social climber and her ex-boyfriend.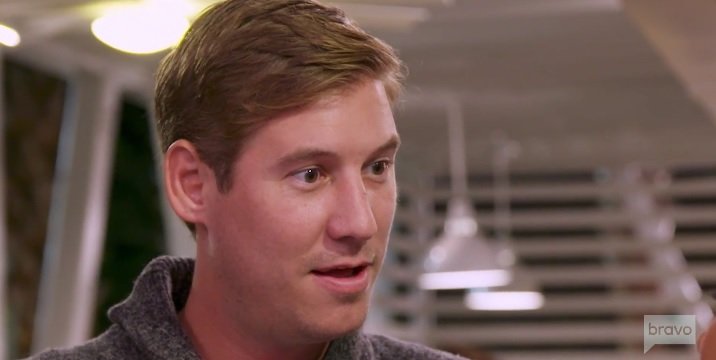 After dinner with his parents, Austen got the kick in the pants he needed. He's heading to my hometown of Greenville to meet with Thomas at Thomas Creek Brewery. The pair tours the facilities, and Austen is drawn to passion fruit and grapefruit, and he's totally speaking my beer language. Austen admits to doing extra research when it comes to his beer. For $400, he can get a test batch with almost sixteen kegs. Back in Charleston, Shep Rose picks up Cameran for lunch, and she convinces him to take a few trips down Chalmers Street, a cobblestone street once jokingly called Labor Lane as the bumpiness could induce labor. Cameran is worried she let a little pee slip out so Shep calls it. They hit up Brown Dog for lunch in lieu of more cervix shuffling. Cameran grills Shep on his future goals, but she's all but given up on him ever settling down and getting married.
Patricia Altschul is hosting Craig in her home to discuss his recent issues. Michael the butler, fetches the dogs and mixes some cocktails. Pat offers Craig the opportunity to design a pet pillow for her company. Craig is excited for the chance to be a designer, but the looming decisions alone are enough to paralyze him into lethargy. Patricia tries to offer a pep talk but finally tells Craig she believes a design will come to him. He's got two weeks to get her a prototype.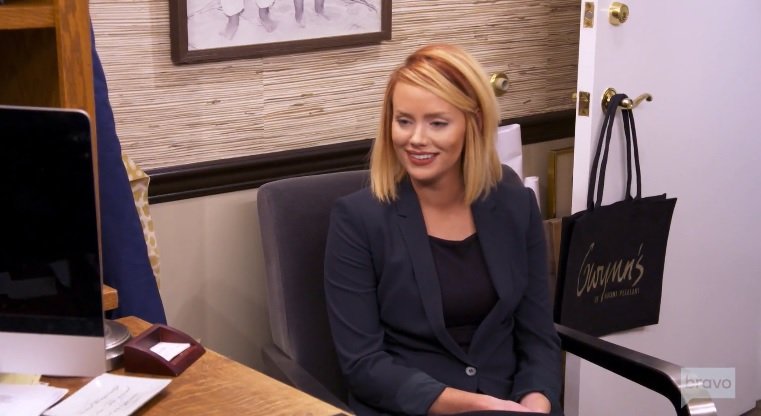 Kathryn heads to Gwynn's for her interview, she's nervous but she's ready to sell herself. Meeting with Marshall and his daughter Madison, Kathryn stumbles over her answers and her nerves completely get the best of her. It's incredibly awkward to watch. After a brief moment with friend Madison, Kathryn pulls herself together to finish the discussion. Sort of. In West Ashley, Shep heads to Chelsea Meissner's salon for a much needed haircut. As they discuss the evening at Nico's, Shep is surprised that Naomie invited Peyton. He reveals that he thinks Peyton would be a good fit for Craig. Austen is too much of a partier on the bar scene bedding lady after lady. Chelsea takes Shep's stories with a grain of salt. He always tries to make Austen look bad to her. It's like a minor punishment for Chelsea picking Austen over Shep.
Thomas Ravenel and Ashley Jacobs are getting ready for the opening of Nico's. Ashley is taking her own sweet time getting ready as T-Rav brags about his bespoke jacket and his silver belt buckle decorated with the Ravenel family crest. Ashley feigns hurt after not getting a text back from Kathryn after their lunch. She really wants Kathryn to reconsider her decision not to join her, T-Rav, Kensie and Saint when they go trick-or-treating. Thomas notes that Kathryn is making a mature decision, and Ashley should refrain from pissing off the mother of his children by continuing to bring up the subject.
The crew convenes on Nico's, and T-Rav approaches Kathryn for a hug. He stands awkwardly as she chats with Danni Baird. Ashley follows her beau, and T-Rav turns on the charm…flirting unmercifully with Kathryn while Ashley watches. When Chelsea arrives at the restaurant, Cameran jokes that both Austen and Shep missed their shot with her. Chelsea relays to Austen that he's now the Shep of two years ago, according to Shep. Austen is peeved because he's certainly not that guy. However, he's not going to confront Shep for the smack talk. Chelsea is disappointed. Passiveness is not a trait she finds attractive.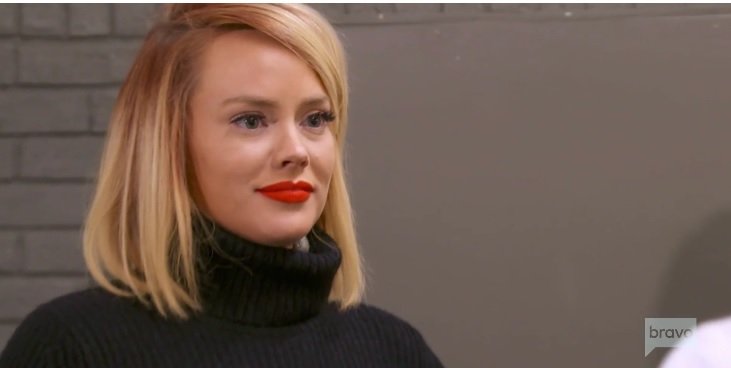 Peyton shows up, and Naomie recognizes it is time for her to put her tail between her legs and make amends. Kathryn reminds her to kill Peyton with kindness. Peyton likens Naomie's lashing to middle school mean girl, and she cringes when she sees Naomie sidle up to her for a hug. Naomie pulls her aside for an apology. Peyton assures Naomie that she isn't after Craig, but Naomie interjects that her behavior isn't acceptable even if Peyton was into Craig. She let jealousy get the best of her and projected onto the wrong person. Also, she finally admits she's not over Craig. Thanks for the update Captain Obvious.
Everyone sits down for dinner, and Austen winds up between Chelsea and Peyton. Shep is gossiping with Whitney Sudler-Smith about how uncomfortable Austen looks and how hot Chelsea is. On cue, Chelsea starts batting her eyelashes at Craig to prove to Shep that, once again, he has no chance with her. At the other end of the table, Kathryn is proud that she feels nothing while watching T-Rav sloppily make out with Ashley in front of the mother of his children. She excuses herself to go talk with Shep. He's nostalgic over their past friendship while staring at her a bit longer than a friend would.
Austen then slides into Shep's seat to complain about Shep's recent stories about him. As his voice raises, Thomas and Ashley leave the table to join Shep and Kathryn. T-Rav claims its because he's uncomfortable around Austen's shiz talking, but it's obvious he is just patrolling Kathryn's whereabouts and doesn't trust Shep for a second around his ex. Forever the pot stirrer, Whitney summons Shep to defend himself. Austen's anger fizzles because it's more important for him to be liked by Shep. Chelsea is disappointed. Why can't he man up? She rebuffs his advances when he later tries to make a move.
TELL US – WHAT DID YOU THINK OF LAST NIGHT'S EPISODE? IS IT WEIRD HAVING KATHRYN BEING THE MOST MATURE CHARMER THESE DAYS? WAS AUSTEN TOO EASY ON SHEP? 
[Photo Credit: Bravo]