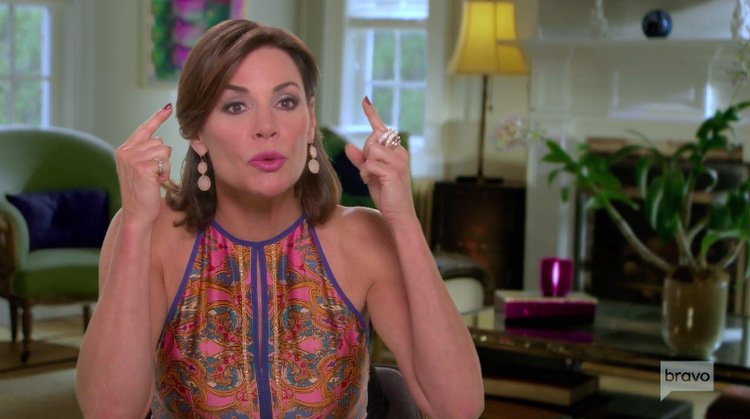 When it comes to Real Housewives comebacks, Luann de Lesseps is up there with the best of them. After a short marriage, drunken arrest, rehab stint, a lawsuit from her ex-husband Alex de Lesseps and children Victoria de Lesseps and Noel de Lesseps, and second rehab stint, Luann is back on stage for her cabaret show Countess and Friends.
Not only that, but now Luann is joking about her recent hard times- the rehab stint and the lawsuit from her own family members- in her cabaret act.
According to an article from People, Luann sang Amy Winehouse's song "Rehab" at The Paramount in Long Island, New York on Saturday August 4. She apparently joked, "I actually loved rehab. I loved it so much I went back." Is it too soon for that joke? Or is it good that she's finding humor in a tough situation?
During a question and answer portion of the show Luann credit her rehab stint for her figure. She said, "Revenge body and rehab, darling."
She also told the audience, "You have no idea how happy I am to be here." She also pointed out the obvious: "It's been a rough year for me." Luann said, "Just being onstage, I couldn't wait to get onstage. I've been through so much in the last year, and you know, most recently, so I needed to get out, and get here. It was just therapy for me."
This isn't the first time Luann "joked" about rehab on stage. She also joked about the struggles of being sober after her first rehab stint so this isn't surprising.
It is surprising that she did mention the lawsuit that her ex-husband and children filed against her. She told the crowd, "Yeah, I have a little problem, driven by the ex-husband, who I'm not happy about right now, okay? And I'm resolving it as quickly as possible." She also said, "I'm gonna see my children this weekend. It's not about the children, it's about the ex."
Apparently Luann also said that her ex-husband has "always been very supportive" and that she had to "to wait until this is resolved first" before opening up further about the situation. Maybe it wasn't the best idea to discuss this is in such a public manner. Then again, I'm sure her fans were living for it.
TELL US- WHAT DO YOU THINK ABOUT LUANN DISCUSSING HER REHAB STINT AND THE THE LAWSUIT FROM HER EX-HUSBAND AND KIDS DURING HER CABARET SHOW? WOULD YOU SEE LUANN'S SHOW IF IT WAS IN A CITY NEAR YOU?
[Photo Credit: Bravo]