Sooooooooooo excited!!!!!!!!! Teen Mom OG is back and this season looks like it will be loaded with drama and twists and turns. The show will definitely be interesting given the absence of Farrah Abram, who was never lacking in the crazy drama department. This season we have two new Moms, Bristol Palin and Cheyenne Floyd and I find both picks to be very interesting for different reasons.
First, Bristol is no stranger to being in the public eye, given her stint on reality TV and her mother Sarah Palin's political affiliations. Apparently a lot of people were surprised about MTV's choice, including cast mate Tyler Baltierra, who called it "weird". Cheyenne is also an interesting choice because she is not actually a "teen" mom; she had her baby in her 20's with a fellow co-star, Cory Wharton. But I think both have real stories to tell and it will be fascinating learning more about them along with the other cast mates we have grown to love or hate over the years.
We jump right into the drama that Maci and her family are currently facing. Ryan Edwards, Bentley's sperm donor father allegedly called Maci's husband Taylor in a fit of rage and threatened to kill him after Taylor posted a message on social media, calling him a 30 year olds who is jobless and doesn't know how to wipe his own BLEEP. Considering Ryan's struggles with drugs and alcohol in previous seasons, this isn't completely unbelievable.
Maci files an order of protection based on the threat that will ban him from coming around the family excluding Bentley and their home. Somehow this arrangement still allows Ryan to still be able to come to Bentley's games and events as long as he stays away from Maci and her family. He also cannot call, text or email her or Taylor or he will be in violation and possibly go to jail. I find this arrangement to be quite problematic, I don't know how he would be able to attend events but not potentially run into Maci. Ryan's parents worry this may affect their visitation with Bentley. But it seems like they may get to see Bentley even more, because someone will have to be a buffer between Ryan and Maci.
Bristol Palin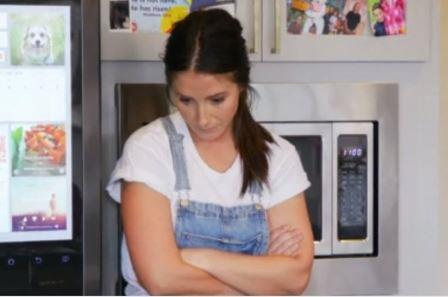 Enter Bristol Palin, new cast member and mom of three.  She reveals her husband, Dakota Meyer is a veteran who is suffering from PTSD and it has really put a strain on their marriage. He feels like Bristol isn't being supportive when he has anxiety issues and nightmares from his time in the military. There is a very tense conversation in the car about this in front of the kids. Bristol seems numb, while trying to be compassionate. She feels Dakota uses his anxiety to make her his punching bag.
It seems like this household is very toxic and I found several scenes difficult to watch. I felt like a nosy neighbor by the fence that was pretending to prune the bushes, while listening to the couple next door argue. It just felt like I was not supposed to be a witness, but of course I still watched while snacking on popcorn.
There were several arguments were she seemed like a shrinking violet, while he yells angrily at her. This family is definitely in need of some intense counseling, together and separately. It's hard to discern what is at the root of all of the issues, because both seem to have some fault in the situation, but don't seem to know how to communicate in a healthy way.
Catelynn Baltierra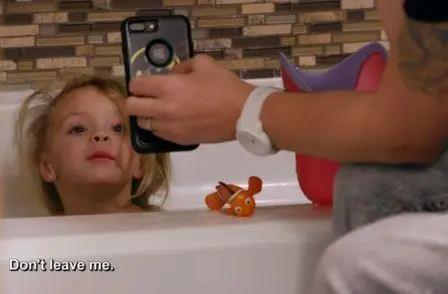 First let me say, Nova is so cute! Last season we witnessed Catelynn's battle with depression and the decision she made to seek help, which has left Tyler to feel like a single father. Catelynn is still in treatment for her anxiety and depression for the next six weeks and Tyler confides in his mom that he feels "sucked dry" and is becoming bitter. My heart goes out to this couple, depression is no joke and difficult for the person suffering as well as their family. But I am glad that this topic is being highlighted and may inspire someone to seek help if they are experiencing similar emotions.
Catelynn FaceTimes with Tyler to check in with him. It broke my heart to hear Nova in that little voice ask "Mommy, are you feeling better".  When Catelynn attempts to get off the phone, she says "Don't Leave Me".  Tyler looked completely defeated and you can tell that Catelynn's absence and taking care of Nova all alone is really weighing on him.
At dinner with his mom, both Tyler and his mom talk about how they are losing empathy for Catelynn and how revolting it is to watch her just sit on the couch and do nothing. I understand how someone who doesn't suffer from anxiety or depression can see it as maybe laziness or the person just not trying. But, I really felt bad watching them both speak so poorly about Catelynn and neither one come to her defense. I believe they may need to go to family counseling when she returns, there are definitely some cracks in the foundation at this point.
Tyler decides to go see a therapist and explains the resentment that has been building. He feels like there wasn't a discussion about her leaving and he is always playing the caretaker and he isn't receiving that back. He reveals that he has not been happy in the relationship for the last couple of years. I can understand how overwhelming it can be to always be in a position to care for someone else and often ignore you own needs. But, I think both Tyler and Catelynn are taking the right steps to seek help to understand their feelings and resolve lingering issues.
Amber Portwood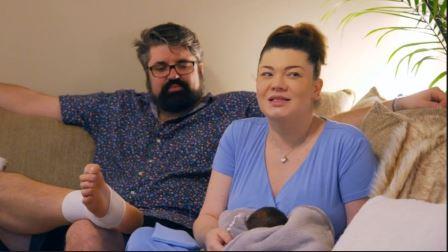 We first see Amber towards the end of her pregnancy with "Baby James", who surprised her with an earlier than expected delivery. Her relationship with Leah's father, Gary has improved since the last reunion. Gary and the family even decide to go as a family to visit Amber and the baby and come bearing gifts.
Amber and baby James come home with daddy Andrew Glennon, who honestly I still can't figure out. I am questioning is he just shy and uncomfortable on television or does he just seem strange… I haven't decided yet, but for now I am giving him the side eye and watching him closely. I still find it strange that they met on show that Amber was on to fix problems with her ex and how quickly their relationship has progressed. But let's face it, anyone is an improvement from Matt.
Despite all of their differences, they both seem genuinely happy together. Amber seems to be happy and in a much better place than previous seasons, which is a nice change considering all of the turmoil she has had in her life. As happy as Amber appears, she can't shake her guilty feelings in about how different her life was when Leah was a baby in comparison to James.
Cheyenne Floyd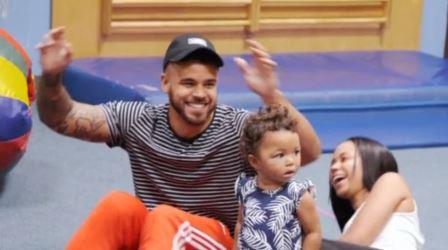 Cheyenne is a new cast member who was featured on other MTV shows such as, Are you the One and The Challenge. She actually met the father of her child on 'The Challenge' and cheated on her boyfriend, Zach with Cory after the reunion. She wasn't sure who the father was until six months later a blood test, confirmed Cory as the dad. Can I just say, baby Ryder is such a little cutie pie! When she said "Bye daddy, I love you" my heart just melted. We see Zach, having a conversation with Cheyenne's family about his feelings about being blended family. I think for Zach to forgive Cheyenne and help raise Ryder really shows the type of man he is.
Cory and Cheyenne are trying to co-parent, and he does not like that Zach lives with the mother of his child and baby. Cory's ego is bruised because another man gets to spend more time with his child.. He shares it would be easier for him, if she was just single. Cheyenne is playing a dangerous game she seems to be having her cake and eating it too. The lines are definitely blurred between both men. She has personal conversations with Cory concerning her relationship and seems to have flirtatious encounters as well. Girl, my advice is to tread lightly. She definitely is walking a tightrope trying to balance both relationships, and someone is bound to fall. I think they all need to sit down and have a mature conversation about the situation and decide to do what is best for the child and not their egos.
I have watched numerous shows with Cory, let's just say he is known for showmances, if you can even call it that, with multiple women on all of these shows. Cory clearly isn't ready to settle down, so she may not want to jeopardize her relationship, if Zach if he is…
Her mom gives her some sage advice, and tells her to put herself in Zach's position and be more cognizant of his feelings. Cory thinks she still has feelings for him and he thinks he could have her back if he wanted. From where I am sitting, he may be right under the right circumstances. Nonetheless, I am rooting for Zach, who seems to be a much more solid choice.
Bonus- Teen Mom OG Aftershow
The last 30 minutes of the premier was an after show hosted by EJ Johnson. As viewers, we get to gain a little more insight about the newcomers, Bristol Palin and Cheyenne Floyd. They are put to the test answering fan questions and even more from OG vet, Catelynn Baltierra, who wishes she would have received a call about her new cast mates.
Both newbies are grilled about all sorts of topics from controversial tweets in their past to how they felt about joining an already tight knit cast. Both were nervous about joining the cast, but ultimately thought that people would be able to relate to their story. When Cheyenne was asked about her not technically being a "teen" mom, she felt although she doesn't share being pregnant in her teens, she does feel the entire cast can relate to where they all are currently in their lives.
Bristol is even asked about Farrah Abram's comments about her trying to be her, to which she replies vehemently that she is NOTHING like her!
Cory, the father of Cheyenne's baby, surprises everyone when he makes an appearance. Cheyenne reveals the door with Cory may not be all the way closed, which is no surprise if you saw the first hour and a half, where clearly there seemed to still be chemistry. The audience votes for Zach vs.Cory and Cory wins with a landslide. I personally would vote for Zach who seems like marriage material in comparison to the Cory the playboy.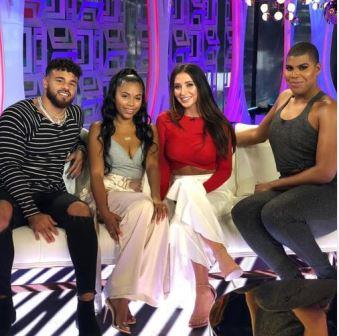 All in all, this 2 hour season premiere did not disappoint! There was a little of everything, drama, love triangles, cute babies, and police reports. What more could you ask for? This season is looking like it is going to be action packed and I can't wait to see what else our favorite Teen Moms are have in store this season.
TELL US – WHAT WAS THE HIGHLIGHT OF THE PREMIER EPISODE FOR YOU? WHO IS YOUR FAVORITE NEWCOMER TO TEEN MOM OG?
[Photo Credit: MTV]