In tonight's episode of Jersey Shore Family Vacation, we continue where last week's drunk broccoli-throwing Nicole "Snooki" Polizzi left off.
Ronnie Ortiz-Magro is excited about being back in the Jersey Shore area. In the meantime, drunk Snooki is smacking around Angelina Pivarnick and they play fight in the limo. When did Jenni 'JWoww' Farley become the mature one?
The group heads to Headliner where they started out their Jersey Shore 'careers' back in the day. Angelina starts leaning on Vinny Guadagnino again. Angelina is engaged, yet here she is grabbing Vinny's crotch. Jenni wants to pay the bill and get out before Angelina gets more onto Vinny.
Snooki and Jenni try to push Vinny into Angelina's bed, but he won't. Angelina says that Vinny "annoys" her. She calls him a "little bitch," but climbs into his bed anyway. She grabbed his crotch and grinded on him. Understandably, Vinny is pissed and pushes Angelina off of him.
Plot twist: Vinny teases her by pulling down his pants and telling Angelina to get in the bed. Angelina pushes Vinny into the bed and grabs his crotch again. Vinny jokingly runs himself into the wall. Snooki feels bad because she egged it on. Angelina calls him "annoying," but yet she won't leave him alone.
In a stark contrast from the night before, Mike "The Situation" Sorrentino asks JWoww to go with him to his speaking engagement at a rehab facility. This is something Mike does every month.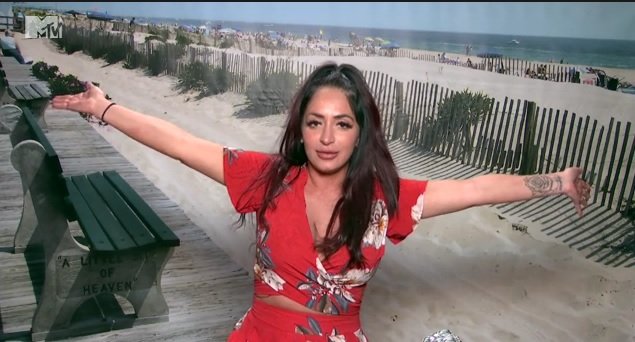 Angelina is back to talking about Vinny during her on-camera confessionals. Meanwhile, Vinny says she went too far with her last night. Angelina tells the camera that he needs to tell her she loves him. Snooki tells Angelina to apologize for grabbing him. Vinny said that she "isn't all there."
Mike talks about how he stayed at the rehab for 60 days and that he's proud of himself for getting through it. Mike meets Anthony, a new attendee at the rehab center, and Mike talks about giving away a to those who can't pay for treatment. Anthony tells his story and how Mike inspired him to get through rehab and Jenni starts to cry.
Mike heads to Burger King with Jenni and says that it's the definition of "living your best life."
Back to reality and the group heads to the shore to …… drink, of course! Vinny says that he doesn't want to talk about "that little psychopath," anymore. Jenni and Vinny come up with a safe word, "nuclear fusion," in case he feels that something is crossing the line. I can't imagine how many shots we'll take with how many times Vinny says this. LOL
Snooki says she's in a good mood and she's drinking, but of course, she ends up on the floor. "When I lose Nicole I feel like I lose my child," Jenni remarked. Ronnie stays behind when Vinny leaves to go back to the house and wait for DJ Pauly D.
Back at the house, drunk Angelina keeps asking Vinny questions over and over and over in the kitchen. Angelina says that Vinny is being too dramatic. DJ Pauly D is in the building and says "Angelina needs to get over Vinny because he's mine." He's not wrong.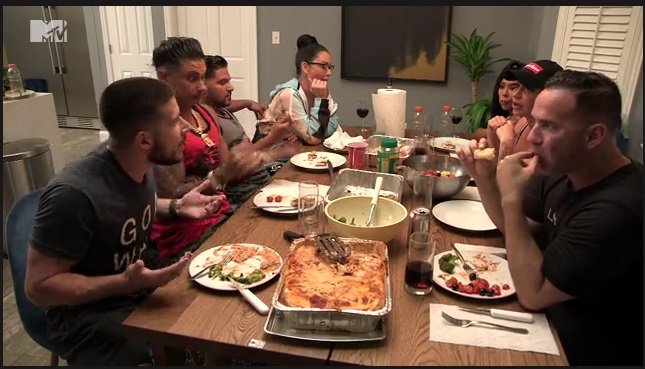 The clan tells Pauly about Angelina touching Vinny. As expected, Angelina claims that Vinny is "obsessed" with her. How many times are we going to keep hearing about this? This girl has a serious problem.
Vinny finally screams at Angelina, "STOP TALKING ABOUT ME!" Even Jenni finally yells at Angelina to stop. When the show ends, Angelina still hasn't stopped talking about him. Of course.
TELL US: IS ANGELINA ABSOLUTELY OUT OF CONTROL WITH VINNY? OR CAN VINNY NOT 'TAKE IT' LIKE SHE SAYS? WERE JENNI AND NICOLE WRONG FOR TRYING TO PUSH ANGELINA INTO VINNY'S BED? 
[Photo Credit: MTV]