Last night Shahs of Sunset concluded with Part Two of the reunion. Let me tell you, the Shahs of Sunset crew did not hold anything back! This episode has everything from shocking accusations about cast member Destiney Rose to even some surprising news for the group. How did the drama  unfold? Did good friends leave as enemies?
Part One of the reunion ended with Golnesa "GG" Gharachedaghi  storming off the set when Mercedes "MJ" Javid and Reza Farahan admitted that they invited  her ex -husband to the reunion to get his side of the story. In Part Two,  host Andy Cohen went in  GG's dressing room. He asked her to return to the stage. She feels that she was being baited by her cast mates constantly bringing up her ex, but decided to finally come back out. Reza and MJ claim they only want her to be open and honest… not sure I am buying that. They definitely have been coming for GG this season, especially when they invited her ex's past girlfriend to MJ's engagement party.
Andy asked Mike Shouhed if he "outted" Destiney as a lesbian on a radio show. The audio is played and he claimed he has very good "gaydar" and thinks she likes women. Reza calls out Mike and says it may not be that she likes women. It could be more that he is delusional and egotistical because if a woman isn't fawning over him he is coming up with some reason for it. She never confirmed or denied the claim, but it's clear she didn't appreciate Mike's statement. With the mess of a life Mike has created, I think he may want to focus on himself and his own relationship status. He is the last person who should be commenting on somoene's love life.
 Destiney still hasn't found her father and still dealing with the emotions from it. During the season, her mom wasn't very forthcoming with details to help find him. It is clear that not knowing the whereabouts of her dad is taking an emotional toll on Destiney.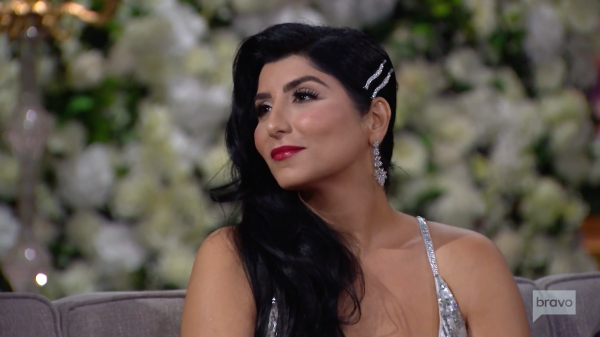 Mike admitted Morgan broke up with him after she realized he wasn't taking her seriously. They revist the fight between Reza and Mike in Las Vegas. Mike felt betrayed by Reza revealing his relationship status with Morgan to the group in Vegas. They have made up since the incident and all is well in their friendship at this point.
Andy asks the newest member of the cast Nema Vand if he pursued GG just to solidify his position on TV. He says  he had no ulterior motive, but no longer has a soft spot for her after disrespectful comments she has made to him on social media and in group chats. The comments made by GG are very explicit to say the least. She threatened to sodomize him with his own sister's hand! Insert shocked face, but you have to give it to GG she is at least creative in her threats.
Things get a little tense, when Nema says that he doesn't appreciate Reza making fun of him for being an unorthodox Persian male. He feels that Reza of all people should understand how that feels. Reza doesn't think they could be friends if he is that sensitive, but nonetheless apologizes if his comments have hurt him.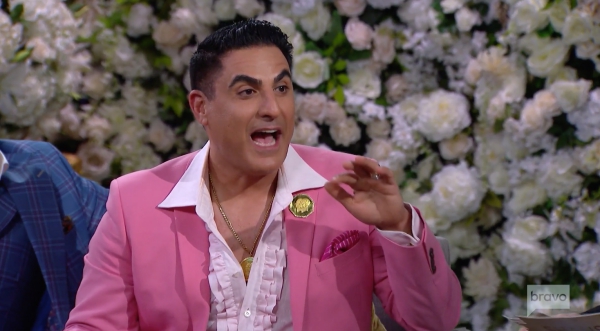 The topic of GG's shit show of a presentation for her company comes up and the cast questions if she may need to slow down with her marijuana intake. Then the strangest thing happens…. GG reveals she will be getting pregnant and doing it by herself very soon. WTF!!!! Where the heck did that come from? I'm not sure GG could fully take care of a dog on her own, let alone a baby with her lifestyle.
Everyone is shocked, but she says she will be slowing down on the marijuana but continuing to a degree. Ummm… I  think this is pretty common sense, but I am pretty sure you shouldn't be smoking anything while pregnant????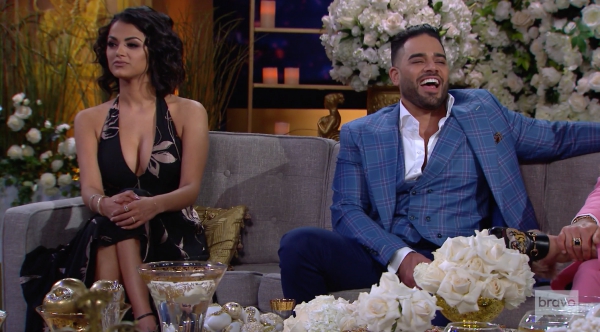 Of course, this prompts MJ to tell the cast that she is pregnant!!! She went through the IVF process and the transfer was successful. She and her husband, Tommy Feight also told her mom the good news backstage at the reunion.  Things take an emotional turn when her mom, Vida Javid and Tommy come onstage and discuss MJ's dad's passing.
Her mother says that she tried to be less harsh and closer to her daughter after her dad passed. They may be closer, but she definitely didn't lighten up on the nagging throughout the season. MJ has to have the patience of a saint to deal with that constantly. Vida even criticized her dress and makeup on her wedding day. That has to be tough!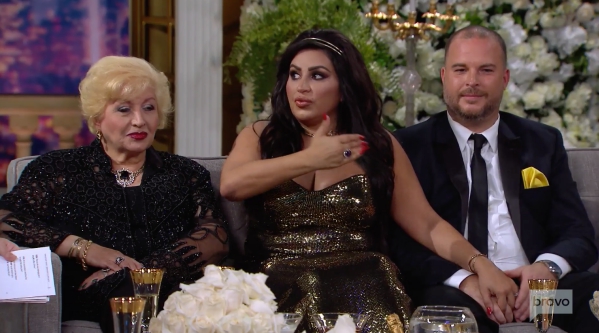 The reunion ended on a very nice note, Andy asked the cast to do a traditional Persian ritual to burn away the bad energy and attract the good. Each person was asked to state what they want to keep out of their life and good thing they want to come into their lives. I thought that was a great way to end a drama filled hour. Hopefully, they let go of any hurt feelings and leave as friends as well.
TELL US – DO YOU THINK REZA AND MJ REALL INVITED GG'S EX TO THE SHAHS OF SUNSET REUNION? DO YOU THINK NEMA WAS USING GG TO SECURE HIS SPOT ON SHAHS OF SUNSET? WHAT DO YOU THINK ABOUT SHAHS OF SUNSET SEASON 7?
[Photo Credit: Bravo]