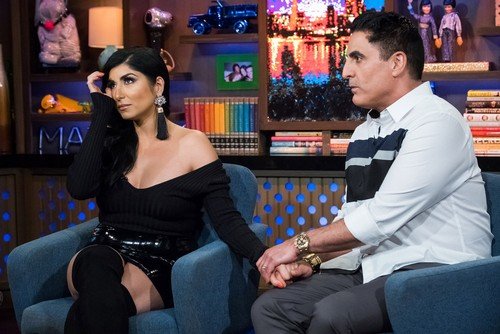 The post-walk-of-shame fight between Mike Shouhed and Reza Farahan during the Shahs of Sunset cast trip in Las Vegas was nothing short of explosive. Was it necessary? No, not really, but it also wasn't necessary for Reza to tell Shervin Roohparvar that Mike's girl Morgan moved out of his place. How did he think that one was going to end up?
It was great TV, and they did end up making up before the episode ended, so all is well that ends well- except that this never ends. There is a reunion show and other press interviews; i.e. opportunities to throw more shade. Reza and Destiney Rose appeared on Watch What Happens Live to discuss the last Shahs of Sunset episode.
Andy Cohen asked Destiney and Reza, "You've known each other for how long?" Destiney answered, "I was like a month." Wait. What? Reza revealed, "Yeah. I remember when she was born." Wow. The relationships on this show really are long lasting.
They also discussed Destiney's quest to get in touch with her father. Reza remarked, "It means the world. The fact that her dad wasn't in her life shows up all the time. So to have answers, to get some information, I think would be really helpful." Destiney explained, "You don't realize that you're going through this until you really have to feel. You're so good at hiding things and emotions."
And then they got to the drama. Andy pointed out the obvious: "If you kept your mouth shut to Shervin, arguably none of this would have happened." Reza admitted, "It wouldn't have, but Andy."
Reza continued, "What I should have said was 'You go to the raunchy, nasty straight places that I'm not going to show up to. Keep an eye on him so he doesn't do something he can't come back from.' That's why I wanted to enlist his help for later on that night. Then Shervin blurts it out. I asked you to keep an eye on Mike for when you guys end up at the strip club. This is not helpful." Sharing private information while consuming copious amounts of alcohol was just not going to end up well.
Then a viewer asked about Mercedes "MJ" Javid's pregnancy. Reza shared, "She's amazing. We're so happy for her, it's like literally a dream come true. You would think I was pregnant, as excited as I am for her."
A caller asked Destiney, "What was going through your mind when Mike made those comments about your sexuality?" She explained the situation perfectly: "The first thought that came to my mind is that every female has encountered one of those kids in high school that was like sprung on the cheerleader, the cheerleader didn't give him the time of day, and because of that her goes around and spreads rumors. That's the kind of vibe I got."
Destiney clarified, "I'm the cheerleader in this scenario. He's that nerd who wants attention from the cheerleader and is not getting it and because of that he makes up these stupid ass things. And that's just one of the things he has said."
A fan asked, "Do you think there's a real connection between GG [Gharachedaghi] and Nema [Vand] or do you think they're just horny due to heartbreak?" Reza theorized, "I think there may have been a connection, but Nema might have seen Lochnessa rear its ugly head. So I think it's potentially a maybe done dizzle." Destiney commented, "Sexual tension, yeah." Absolutely, but does anything ever happen between these two? It's really been building up all season long.
TELL US- WHAT DO YOU THINK ABOUT DESTINEY'S ASSESSMENT OF MIKE'S INTERACTIONS WITH HER? DO YOU THINK THE SEXUAL TENSION BETWEEN NEMA & GG IS GENUINE?