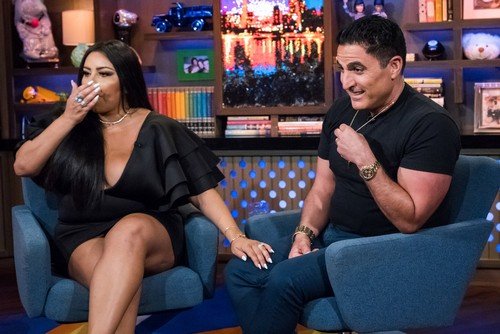 The great thing about Shahs of Sunset is that most of the people in this cast have known each other for decades before they ever started filming this show. This means that they have genuine relationships, strong chemistry, and most importantly they know exactly where all the bodies are buried.
Mercedes "MJ" Javid and Reza Farahan have known each other since high school and they have a very interesting past, even though MJ will not fully admit it. Even though they are both married and Reza is interested in men, the two of them had sex back in the day.
During last night's episode of Watch What Happens Live, Andy Cohen asked MJ, "You've denied sleeping with Reza in the past, is this the first time you've admitted it?" MJ hit him with a non-answer: "It's my zero time admitting it. I've still never acknowledged it."
Andy pointed out the obvious: "I feel that we're acknowledging right it now." So of course he decided to ask Reza questions instead. He asked, "Did it only happen once, Reza?" Reza told him, "Twice."
Apparently this is the first time MJ heard this because she asked, "Twice? Oh my god did you take me on a trip?" Reza swore, "On my mother's life." Then he revealed, "It started in the shower and then it moved to the bed." MJ asked, "It really did?" Wasn't she there? Why is there so much confusion? Reza told MJ, "I swear on my mother's life."
Andy asked them both, "What word would you each use to describe the experience?" MJ answered, "non-existent." Reza's word was "juicy." Clearly they will never be on the same page when it comes to this situation- ever.
Aside from taking a super interesting dive into the past, Andy asked MJ and Reza to share their first impressions of new cast member Mona Vand. MJ said, "nice" with the least amount of enthusiasm possible. Reza didn't really share an opinion, but he did say, "I mean, she's a doctor. I didn't realize pharmacists are doctors." Alright then.
Joining the cast with Mona is her brother Nema Vand who has a romantic interest in Golnesa "GG" Gharachedaghi. What are MJ and Reza's reactions to that potential pairing? Reza just said, "gross." MJ declared, "That's a rebound for Golnesa and later on you'll find out- I don't a spoiler alert- but…" She did not actually end up spoiling anything.
A caller asked, "When is the last time that either of you have seen or spoken to Asa [Soltan Rahmati]?" MJ shared, "I knew that was gonna be the question. I received a really nice message from her, condolences to my father passing." On the other hand, Reza said, "We text. She's good. Her baby is beautiful. All is well. We're friends."
Another viewer asked, "On a scale of one to ten, how shocked were you that GG's marriage ended so quickly? Do you think there's any chance GG and Shalom will end up together?" MJ admitted, "I don't think that I was shocked because they didn't get to know each other." She also pointed out that they were dating for "eight weeks tops" before they got married.
Speaking of GG, a viewer wanted to know if Reza and MJ felt like they were making "low blows" about GG's relationship and Reza wasn't having it. He said, "As far as GG is concerned, no one makes lower [blows]. GG digs at the bottom of the barrel literally." Well, not "literally."
TELL US- WHAT DO YOU THINK ABOUT REZA & MJ HOOKING UP? WHAT ARE YOUR FIRST IMPRESSIONS OF NEMA & MONA ON THE PREMIERE OF SHAHS OF SUNSET?