This season on Married to Medicine, we have witnessed fights, fake reconciliations and even threats of choke outs.  Hopefully the finale episode is one to remember. Last week's episode was to be continued, after Mariah Huq received a scary phone call informing her that her husband, Aydin Huq has been admitted to the hospital. She rushes off the bus to her husband's side, while he is still fighting off viral meningitis in the hospital.
All the ladies check on Aydin's condition as a show of support, in light of his scary diagnosis. Mariah has been at Aydin's bedside while he is in the hospital. She believes he may have contracted the virus from a patient in the ER. Although she is stressed about her husband's health, she is hopeful that he will get better and they will be out of the hospital soon.
Simone Whitmore and Cecil Whitmore sit down to discuss whether or not they should speak about their dinner from hell (for Cecil) in therapy. Clearly, she has screamed him into submission, since she stormed out on the last episode. He doesn't make any excuses and takes full accountability for his friendship with Tammy and the state of their marriage. Dr. Ken asks Simone what is needed for her to finally let the situation go. She angrily states that he can't create any equivalency between something she has done and this situation.  But she will "try" not to bring it up again. Dr. Ken calls her out quickly and suggests instead of "try" she just shouldn't bring it up again. Thank you!!! If we took a shot every time Simone brought up Tammy, we would all be drunk and screaming like Simone.
Toya Bush-Harris and Eugene Harris take the kids to go visit the construction site of their new home. They decide to write bible verses on the foundation as a way to bring good energy into the home. Eugene is especially interested in the verse about wives submitting to their husbands. Toya thinks the perfect place for that verse is near a toilet. Toya reminisces about all of their previous issues with money and downsizing.  She is brought to tears about how far they have come. It seems like it was only yesterday, they were in debt and renting a home they couldn't afford…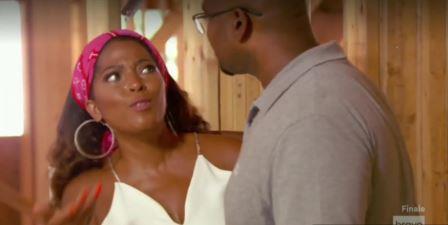 Aydin finally returns home after being in the hospital for a week. He is happy to be home. He can finally get some rest. Anybody who has ever been in the hospital knows that they literally come in every couple of hours, which prevents you from ever really resting.  Mariah questions whether they should cancel their Doctors on the Dock party since Aydin is still recovering. He wants to continue with the party as a way to celebrate being healthy again. Mariah is also looking forward to the party now that she is finally in a good place with all the ladies. It has been five years since the last party so everyone is anticipating this one.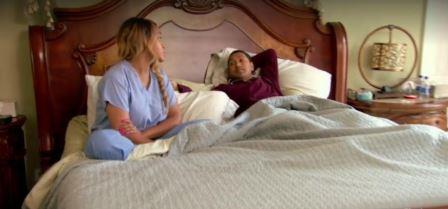 Jackie Walters takes Curtis Berry to view some land in hopes of making it the location of their new home. Just before Curtis was outed as a cheater, he had convinced her to move to the suburbs. This is a stark difference from a few seasons ago when she only wanted to live in a high rise in the city. Jackie wants to build a home and even take Toya's idea of a two-story closet. Personally, I think it makes more sense for Jackie to have the closet; she has the style for it. Is Toya going to fill two stories with holey t-shirts, shorts and anything too tight fitted?
Contessa Metcalfe and Heavenly Kimes visit the set of the" Sister Circle" to support Quad Webb-Lunceford.  Afterward, Quad talks about what a hard year it has been with the divorce. It seems like it's been even harder for her soon to be ex-husband Greg Lunceford.  He has been ousted from the group, was promised a baby and was in what seems like a loveless marriage. Let's not forget, she didn't even leave the man a bed to sleep in after she left. Hopefully, Greg is not crying into a pallet on the floor at night…
It's the day of the Docs on the Dock party and everyone is starting to arrive. Mariah has really outdone herself.  Her home has been totally transformed and everything looks beautiful. There is ambiance, live music, and even a cigar roller. Everyone seems to be having a good time, even Mariah's mother, Mama Lucy who thinks the musician is fine and wants an introduction. All seems well with the group until Toya and Contessa are side by side. They are being fake cordial with one another.  We can only hope Contessa doesn't get a sudden urge to "choke out" Toya.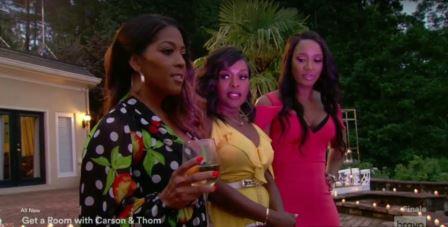 Hellishly Heavenly arrives to the party in the perfect color for her…. red. She feels comfortable being at Mariah's house now that reached a truce. Big clumsy Curtis arrives with Jackie and immediately crushes some of the candles lining the stairs with his feet. Mariah joins the group and recalls the story of her and Heavenly's reconciliation at the church. Everyone seems impressed but Quad, who doesn't trust Mariah and thinks her apologies don't amount to much.
For some unknown reason, Toya tells Eugene to be nice to Contessa despite the fact that she called him fat at their last outing. I guess she forgot she was also called him fat. Eugene takes the high road and decides not to get involved in his wife's disagreements.  After hanging with this group for so long, he knows better. Toya has fought with almost everyone in the cast at some point.
Quad thanks Contessa and Heavenly for their support. Heavenly tries to be messy and asks when she will have time for her man. Quad's response is that she doesn't have a man. To this, Contessa suggests that she doesn't necessarily have to have a man.
Meanwhile, Heavenly talks to Simone and Jackie about her reconciliation with Mariah. She feels really good about it. Ok… let's just see if she keeps that same energy, at the reunion.  I doubt it! Quad joins the conversation and they let her know that they will be there to support her. Mariah tells everyone how much she appreciates the ladies being there when she needed them. It's all smiles and camaraderie at this party, but we all know this kumbaya moment won't last for long.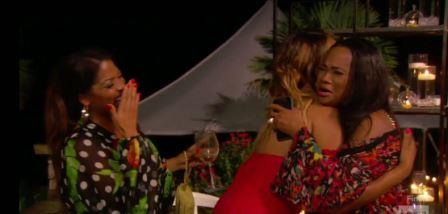 I must admit this finale was pretty uneventful.  I will be forced to forgive Bravo sooner than later. There is no way, I am missing the reunion after the preview that just aired. The reunion will be in three parts and this uncharacteristically friendly finale, is apparently the calm before the storm. It appears to be filled with as much contempt as bad wigs. Seriously… Mariah looks like the lion from Wizard of Oz in this clip (what the hell were some of their stylists thinking). I can't wait to see what is revealed, when all of the gloves come off!!!
TELL US – WHAT DID YOU THINK OF THE MARRIED TO MEDICINE FINALE? DO YOU THINK MARIAH AND HEAVENLY WILL EVER BE REAL FRIENDS? WILL YOU BE WATCHING THE MARRIED TO MEDICINE REUNION?
[Photo Credit: Bravo]