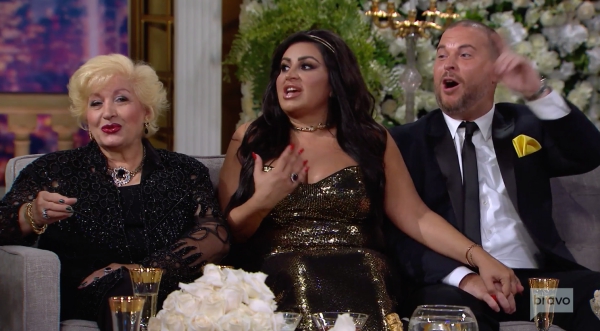 Mercedes "MJ" Javid has been making up for lost time. The Shahs of Sunset star finally settled down and married Tommy Feight last year. Then they quickly got moving and tried to get pregnant through IVF. Didn't they want to enjoy the honeymoon phase just for a bit?
Luckily for MJ, she was able to get pregnant. Unfortunately, it wasn't without several complications along the way. Such as a miscarriage scare and several bouts of bed rest. Then when MJ gave birth to her son, she almost had a near death experience! However, this isn't stopping MJ from already wanting to expand her brood.
In an interview with US Weekly, MJ explained why she's already thinking about trying to have another baby. And after what she went through, this doesn't seem like the best idea anytime soon.
MJ said, "We had 12 [embryos left], and I don't think all of them made it, so now we still have less than a baker's dozen." Somewhere I hear Tinsley Mortimer and her mother Dale Mercer crying in the distance.
She added, "Some of the times I think about baby No. 2, and then I say, 'Shut up. Enjoy the moment. You'll get there when you get there.'" MJ is forty-six years old, so the phrase "you'll get there when you get there" doesn't really apply. She might need to get a surrogate for the second go round.
MJ also talked about her relationship with Tommy and if he is ready to have a second baby. She said that she and Tommy have "strengthened" their relationship since having baby Shams. MJ stated, "For couples to really get to know each other, you have to go through things." I'd say a near death experience counts for that.
She continued, "When my father fell ill, [my husband] showed up for me, and when I was going crazy on the [IVF] hormone medication, he showed up for me, and so it builds a really strong foundation that I'm extremely appreciative of."
Still, she didn't sound so appreciative of Tommy and his feelings when she discussed if he wanted a second baby or not. In typical MJ fashion she said, "He'll do whatever I say." Sounds like a great partnership to me!
TELL US – DO YOU THINK IT'S A GOOD IDEA FOR MJ TO TRY AND HAVE A SECOND BABY SO SOON? DO YOU THINK TOMMY WANTS TO HAVE ANOTHER BABY?
[Photo Credit: Bravo]