On last night's episode of 90-Day Fiance The Other Way, Sumit had Jenny come all the way from the US, despite knowing his family wouldn't accept her. Not only that, he has to lie to them to sneak away when she arrives. Why wait until the day that your girlfriend is coming to talk to your family? Tsk, tsk, tsk… I don't see this going well, at all. Honestly, I envision his family tying him down to a chair to stop him from embarking on his new non-traditional life with his American love. I use the word "love" lightly because I still sense a scam in the works. I could be wrong… hell, I hope I am wrong… Jenny's childlike optimism makes me just want to protect her heart. One part of me wants her love story to come true, but the realist in me just doesn't see it happening. Sigh!
Jenny nervously awaits her love, Summit, to arrive at the airport to begin their love story. Despite him arriving an hour late, Jenny is smitten. I guess he found a way to escape the interrogation at his parent's home. To Jenny's surprise, Sumit reveals that there is no hot water. Ummm… seems like that is a question you may have wanted to ask beforehand. The apartment is actually pretty nice, but the  $350 a month apartment is considered expensive in India. Sumit doesn't know how long he will be able to afford it. Hmmmm…. and here is when the scamation (yes, that is a made-up word.) begins. One day he can't afford rent and the next Jenny is paying for his new upgraded lifestyle.
Jenny, 60 (Palm Springs, California) & Sumit, 30 (India)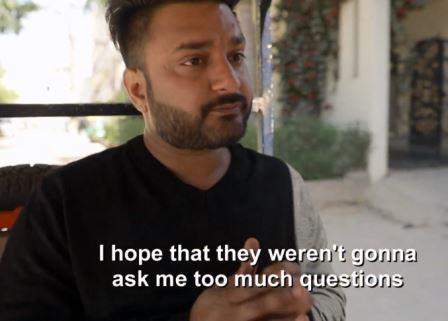 Sumit finally admits that he lied to his family. He told them that he was moving with friends for a job opportunity. Jenny worries he will have second thoughts about getting married. I doubt he will be sending wedding invites if he can't even claim Jenny. How does this plan make any sense to Jenny? You have essentially agreed to hide like a dirty secret in his country where you have no friends or family. Insert side eye emoji here.
Laura, 51 (Eustis, Florida) & Aladin, 29 (Qatar)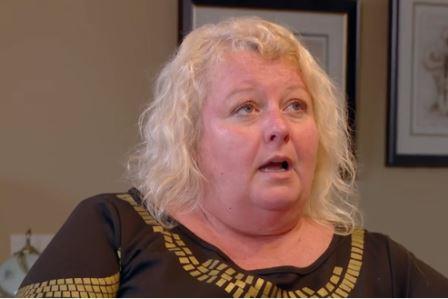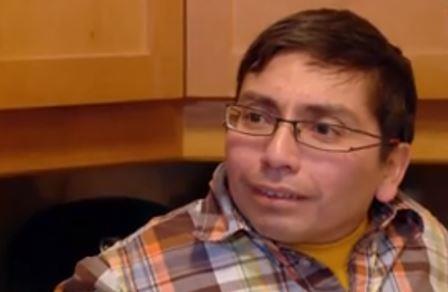 Laura visits her brother, Ludwig, to discuss moving to Qatar to be with Aladin. She drops a bomb that she is ALREADY married to her boy toy. She literally married him 90 days after meeting him so she could sleep in the same room. In Tunisia, you can't stay in the same room if you are not a married couple. I guess Aladin is on the Azan Tefou stimulus package now too. SMH… Listen, Ludwig actually has common sense and tries to warn Laura to no avail. He looks at Laura like she has three heads as she gushes about her relationship.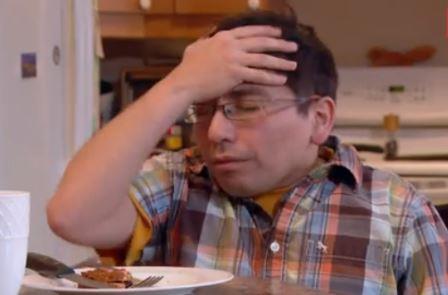 Paul, 35 (Louisville, Kentucky) & Karine, 22 (Brazil)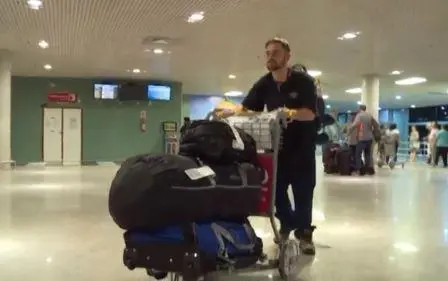 Paul Staehle arrives back to the airport with fewer bags, but more nervous energy. The bag may only have a mosquito net to sleep in, but at least he will be in Brazil for the birth. Meanwhile, after being 7 months pregnant with Paul's baby, Karine Staehle is finally learning English. Karine hopes once the language barrier is removed, the couple's relationship will improve. Chile, please! Who are we fooling? This mess was doomed from the start.  Karine meets with her brother to discuss her relationship pitfalls. Neither seems to have much faith that Paul will get it together to become a better husband and father. I would feel bad for Karine, but if you didn't run when you saw that penis wrap and mosquito net…then no backsies! I don't think his arsonist ways will be missed in America. You may have saved some other desperate woman, unknowingly.
Paul surprises Karine by just arriving at their apartment. Although she has been ignoring his calls and texts, she seems genuinely happy to see him.  He proudly shows off all of the gifts he brought for her, such as makeup and books. The only thing he brought for the baby is a bulletproof diaper bag and carrier. SMH… who the hell buys this? And moreover who creates it? Who is in the market for something like this besides Paul, an assassin dad?
Tiffany, 27 (Frederick, Maryland) & Ronald, 29 (South Africa)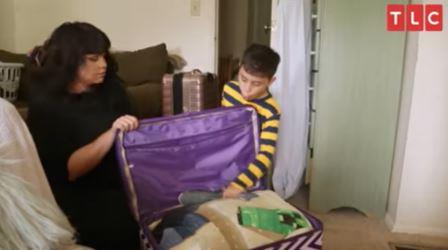 Tiffany Franco and her son, Daniel prepare to possibly move to South Africa. She meets a friend and her son at the park to talk about the upcoming trip. She reveals her son can't wait to meet her boyfriend, Ronald Smith and even calls him dad. Tiffany claims she has never let anyone get that close to her son. So is anyone besides me wondering why she is letting him get close to a guy she barely knows now?????????  It's one thing for you to introduce him and hope to start a life together, but it's another to have him call a random man dad. SMH…. Daniel has an emotional goodbye with his best friend knowing he will be leaving the country soon.
Today is the day that Tiffany and her son fly to South Africa. Daniel will finally get to meet the man he has been calling daddy all this time. SMH…. Tiffany has chosen to be optimistic and ignore Ronald's criminal past and lies. I'm glad she has faith in her man, but I on the other hand, am suspicious.
TELL US – DO YOU THINK SUMIT WILL EVER MARRY JENNY? WHAT DO YOU THINK ABOUT TIFFANY'S SON CALLING RONALD DAD ALREADY? WHAT DID YOU THINK OF THE BULLETPROOF BABY BAG THAT PAUL BROUGHT FOR THE BABY? WILL ANY OF THESE 90 DAY FIANCE: THE OTHER WAY COUPLES ACTUALLY LAST? WHICH 90 DAY FIANCE: THE OTHER WAY COUPLE IS YOUR FAVORITE? WHAT DO YOU THINK OF 90 DAY FIANCE: THE OTHER WAY SO FAR?
[Photo Credit: TLC]