I can't believe this season of The Real Housewives of Potomac is almost over. I say it a lot, but the women of Potomac are in the midst of such a breakout season. The Ashley Darby/Michael Darby marriage drama and feud between Gizelle Bryant and Karen Huger is prime reality TV. JUST SO GOOD. Last week's episode proved that.
The show itself isn't the only entity having a breakout season. Candiace Dillard is delivering in every possible way this season. Her personal storyline, and her fights with the women are INCREDIBLE. The knife incident is already legendary. I bet she brings it at the reunion as well. Let's not forget Katie Rost, and her wigs of doom. Speaking of Katie, has anyone seen her?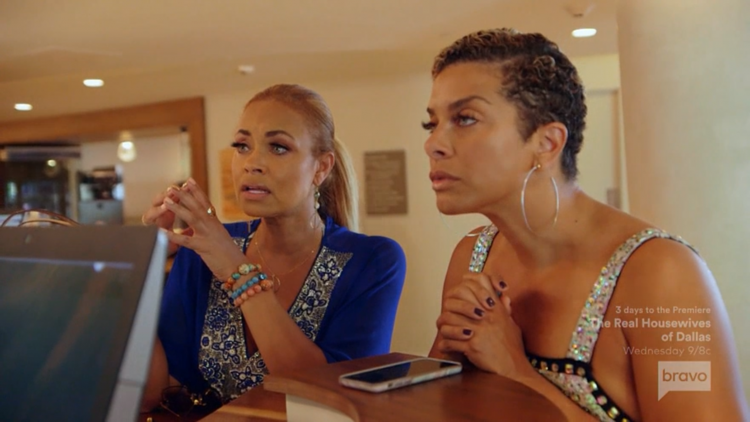 Katie is GONE. Her stuff is out of her room, and nobody can find her. Gizelle, Candiace, and Ashley wonder what could have made her leave.
Ashley questions if Katie really is pregnant and if that is what caused her to leave. She hasn't checked out of the hotel yet, so she's technically somewhere at the resort.
They run into Karen, who isn't shocked at all to hear Katie is missing. She calls Ashley's treatment of her "inhumane" and leaves it at that. This is so bad. Katie isn't in a good place right now at all, so this is SCARY.
Robyn Dixon calls Katie's boyfriend and fills him in, and he hasn't heard from her either. Where in the world is Katie Rost? With no idea where Katie is, Gizelle and Robyn want to file a missing person's report. They talk to the front desk who tells them the show's security located Katie.
Production security tells them they know where Katie is, and the suspense is killing me. I hope everything is alright with her. Her behavior on this trip is so off the rails, and maybe she hit her breaking point.
Security says Katie is at the airport, and Gizelle is upset she didn't give any notice. One of the producers tells them she isn't feeling well, and she needed to get back to Potomac.
I love how much this Real Housewives of Potomac season has broken the fourth wall. We are seeing the producers, security, and cameraman, and it has such a unique feel.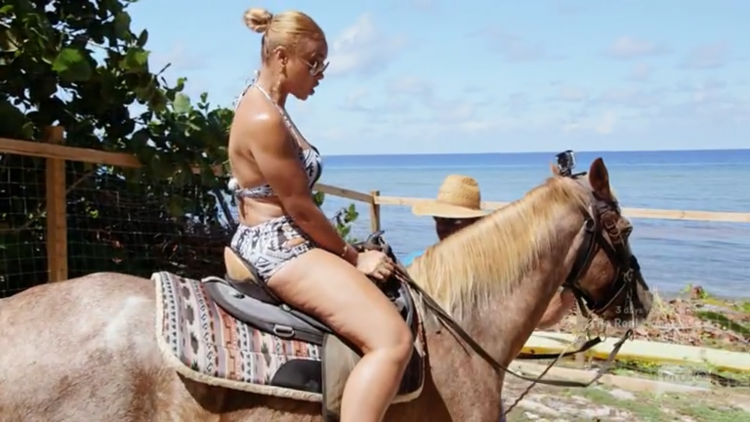 Karen isn't upset with Katie, but Gizelle wants to get her mind off of the situation. She wants to go horseback riding, but Ashley is against using animals in that manner. Candiace and Gizelle call out the double standard of her killing Australian animals in her restaurant.
Nevertheless, the other women are ready to have fun on the horses in the water. Gizelle's terrified, so she calls it quits early on. She elects to spend time on the beach with Ashley instead. She's missing out! It looks so fun.
Monique Samuels is back in Potomac fishing, but her kids are so over it. She calls it their babymoon, but that doesn't sounds very fun with her kids around complaining.
One of the water horses starts to fight with another one while Karen is riding it. The most hilarious moments happen to the Grand Dame. At least she tried.
The group is splitting into two because not everyone wants to go on a cave dive. Robyn, Ashley, and Karen are tackling the caves while Gizelle and Candiace do a submarine excursion.
The submarine looked magical. THAT MERMAID WAS SO COOL. Ugh jealous. This trip is everything someone could wants in a vacation. The cave didn't get me as excited. SO. MANY. BATS. Hard pass. Ashley says she enjoys this new fun side of Karen though.
Candiace and Gizelle talk about Candiace's yoga time with Ashley. Candiace says Gizelle is right about her need to let some things go when it pertains to Ashley. Holding grudges won't get you far Candiace, but your feelings are understandable.
Back on the cave side of things, Karen says she allowed herself to try new things and experience growth on this trip. Robyn asks about her new fragrance, and she expects to actually see a full perfume. Karen's making major money moves this season.
It's time for a group dinner, which means drama is coming close. Candiace calls Monique so the table can talk to her, and she's shocked to learn Katie left the trip early.
Karen tries to pin it all on Ashley, but Ashley retorts saying Katie triggered the conversation. Fair point. Although, she was still a little too harsh to Katie on the patio. It then turns to Gizelle trying to blame Karen and Candiace for not saying something sooner when they saw Katie in winter attire.
This is not on them at all. How would they know she was making a full bolt off the island? Ashley says she shouldn't have taken Katie's bait because it didn't end well.
It's time to turn up! Everyone is taking shots, so anything can happen. Karen's demonstration about kissing Ray Huger was way WAY TOO MUCH. Lucky Ray, I guess. Karen looks really lit and threw subtle jabs at Gizelle for not being able to keep a man.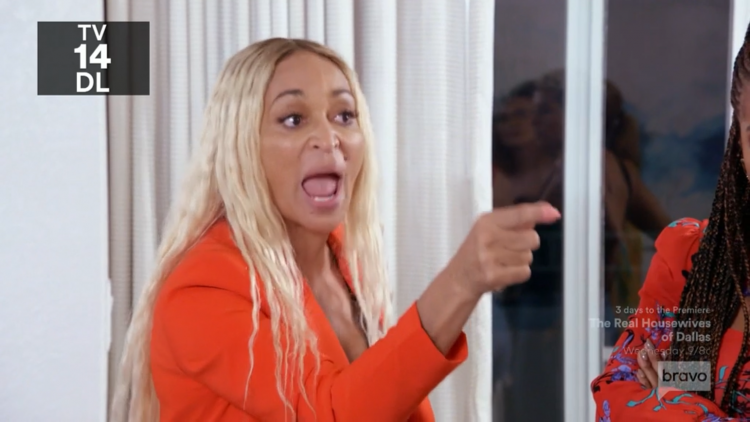 Karen doesn't think the cameras are listening to her and Ashley, and she says things about Michael. She says she wanted Michael to be vindicated and charges dropped isn't the same thing.
Another lobby screaming match takes place, and Robyn says they need to switch to a room. Ashley says Karen is so sideways, and this is why she has no real friends.
Karen says that contact without consent is questionable. Is she letting her past cloud her judgement, or does she have a valid point? What do you guys think?
All I do know is that this night went left so fast, and any peace these women made is erased. It also seemed to me that Karen knows more than she's saying about Katie's departure. She did not seem surprised whatsoever.
I love Karen, but that's just shady. The group looked genuinely concerned for her well being, so any and all information would have really helped.
Candiace chimes in and asks why would the cameraman say "don't do that" if nothing actually happen. Karen thinks a question mark is lingering over his innocence, and Ashley snaps.
Candiace tries to intervene to break it up despite her own issues with Ashley. However in her interview, she says facts are facts and many of them feel the same way.
The next morning, Karen and Gizelle break down the events of the previous night. Gizelle thinks Karen's approach was the reason that Ashley blew up.
She thinks Karen had valid points, but gave a horrible delivery. Karen agrees to apologize to Ashley about how she handled it, and we have progress guys!
Ashley feels the interaction between her and Karen was a necessary conversation to have. Due to this, she's open to a discussion with her. This might end terribly wrong, but Karen has good intentions.
Karen is really trying here to be Team Ashley, but Ashley is upset that Karen thinks Michael is guilty. Things didn't look good for Michael, so give the group some leeway Ashley.
Karen wishes Michael never did a Fox interview, but Ashley said he needed to clear his name. Ashley says Karen never reached out to her the way she reached out to Karen when her parents died. She says she reached out when both of her parents died, but Karen was crickets about her issues.
She apologizes to Ashley, and says they can move forward now that she's expressed herself entirely. Cheers to growth and progress! Ashley says her boobs are sore, and she's thinking she might finally be pregnant.
The ladies are going on a sunset cruise, and Robyn hopes they can have one peaceful event. She jokes that someone is getting thrown off the boat if they don't comply. GIZELLE OVERBOARD PLEASE AND THANK YOU. Robyn jumps in possible shark infested water which I personally wouldn't do, but I support her.
The trip is over, and this is a big moment for Ashley. She has so much stress, so she's hoping for a positive pregnancy test result. NOW WE WAIT.
TELL US – WAS KATIE WRONG TO LEAVE WITHOUT SAYING ANYTHING? ARE YOU TEAM KAREN OR TEAM ASHLEY? ARE YOU ENJOYING THIS SEASON OF THE REAL HOUSEWIVES OF POTOMAC?
[Photo Credit: Bravo]