Last night's episode of Married to Medicine was very interesting to say the least. The men had their revenge on the ladies after Toya's scandalous Sip and Paint party. I couldn't help but find it funny that Hellishly's "buddy" finally gave her a taste of her own medicine even if it was involuntary.
Contessa Metcalfe and Scott Metcalfe get into a heated argument. Jackie Walters finally apologizes to Buffie Purselle. Quad Webb-Lunceford gets a special girl's night. Damon Kimes winds up in the doghouse with Heavenly Kimes. Let's get straight into the Married to Medicine recap!
The Married to Medicine ladies and their husbands are still in Cabo enjoying their trip. Simone Whitmore suggests an honesty game for the group. Sigh! These games never go well. The questions get messy with topics like cheating and a list of issues the group has had in their relationships.  Simone asks if a couple can get through one person working in another state. Scott questions if it's okay if a spouse yells at another in public. Contessa says that Scott has actually yelled at her in public and she had to walk away.
When Simone asks if a person needs permission to change careers and go back to school, Mariah Huq says that every decision made affects everyone in the household. Contessa thinks there is a double standard for men. She feels women always have to make sacrifices in the relationship. Men aren't told to put their families first like women.
Damon Kimes would support Heavenly deciding to leave dentistry. When Heavenly says that's what a man does, Contessa interrupts to say that's what Damon would do, not all men. Scott chimes in and says that Contessa going back to school complicated things in their household, but he supported her. Contessa gets upset and storms from the table.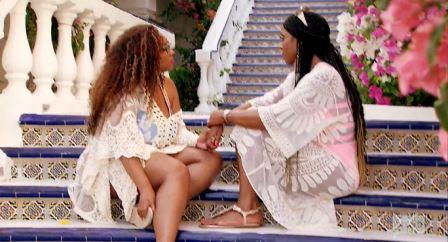 Buffie goes to check on Contessa. Scott tells everyone that things could have been simpler if Contessa went to school in Atlanta. Meanwhile, Contessa shares that Scott never brought the kids to visit in Nashville. In an interview, Contessa says she loved being in the Navy, but quit when Scott decided he didn't want to keep moving around with the kids. Buffie agrees that it's a double standard, but emphasizes that communication is very important. They have to work on their issues if they want their marriage is going to last. Although there is a double standard, Contessa can't truly believe constantly uprooting her young children's lives is a good choice.
Later that night, Simone wants to have a Living Single Night for Quad without the men. Cecil Whitmore takes the guys out to dinner and the strip club. Umm… something tells me that this won't go over well with some of the ladies.  Before the party, Jackie pulls Buffie to the side to finally admit she was wrong for telling strangers that Buffie is infertile. Although Buffie appreciates the apology, she feels Jackie should have known better. After the way the way Jackie acted when Buffie told her she was hurt by the comments, I wouldn't have accepted an apology or anything else from her.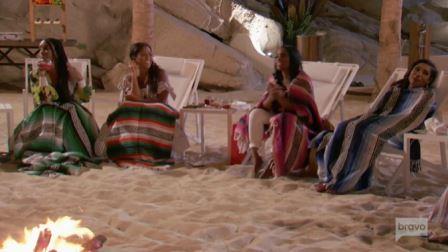 At the party, the ladies play Shag, Marry, and Kill. Meanwhile, Cecil and the guys hit the strip club. One stripper gives Damon a lap dance and propositions him for sex. When they get to Quad and ask her who she would marry, Heavenly names the rapper Common. She then adds that Quad already slept with Common. Quad denies that this ever happened. I could see Quad lying about sleeping with Common, but I can't see a woman like Quad being his type at all.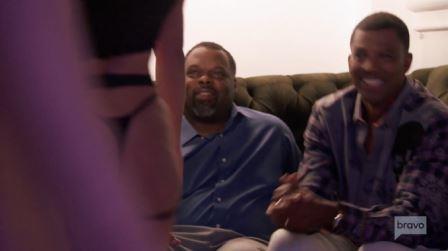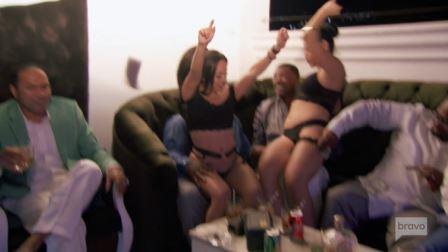 The guys don't make it back to the hotel until around 2:30 in the morning. Aydin Huq tells Mariah where they went. Eugene Harris tells Toya all about the stripper giving Damon a lap dance. Damon is woken up by Heavenly asking him where he went the previous night. He admits they went to the strip club. Heavenly is livid when she learns that a stripper was in his lap. Damon reminds her that a stripper grabbed her at Toya's birthday party.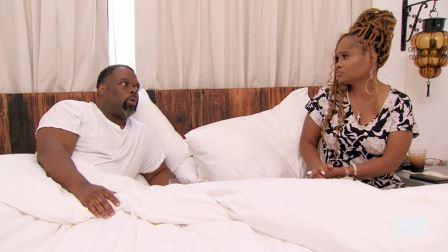 Heavenly goes to talk to Simone and Jackie. It's clear she is trying to hide her anger, but eventually admits she doesn't want any woman touching her man. Maybe Heavenly's marriage isn't perfect after all. She seems very insecure for someone who is a self -proclaimed relationship expert.
TELL US –DO YOU THINK QUAD SHOULD BE INVITED TO MARRIED TO MEDICINE COUPLES' TRIPS? WAS HEAVENLY OVEREATING ABOUT DAMON GOING TO THE STRIP CLUB? DO YOU THINK CONTESSA'S MARRIAGE IS IN TROUBLE? DO YOU THINK JACKIE'S APOLOGY WAS SINCERE?
[Photo Credit: Bravo]